If you've been riding for a few years and are looking to take your PWC experience to the next level, chances are you're looking at purchasing a high-performance, top-tier PWC. All three major PWC manufacturers—Yamaha, Sea-Doo, and Kawasaki—updated their flagship, high-performance models in 2022.
The question is: which one is right for you? All three of these PWCs are fast, powerful, performative machines meant for serious riding, touring, and competition.
Fear not: we've done a deep dive on all three models to compare them across the most important categories: specs, price, and performance.
Sea-Doo GTX Limited 300 – Best for Comfort and Budget
Sea-Doo first introduced their GTX series back in 1992, but the Limited 300 didn't hit the market until 2016.
The GTX Limited 300 is the most powerful model in the GTX family and Sea-Doo's flagship PWC. It's one of the most powerful Sea-Doos ever built, but still retains the comfort and stability that make Sea-Doos so desirable.
Specs and Features
LxWxH (in)
Weight (lb)
Passengers
Horsepower
Fuel (gal)
Top Speed
Storage (gal)
136x50x45
Dry: 849

Curb: 950+

3
291HP
18.5
65-70 mph
26.1
The GTX Limited 300 boasts a high-performance 4-stroke Rotax 1630 ACE300 engine. It's boosted with a supercharger and tops out at around 300HP and 8,000 RPM. Inspection of the user's manual reveals that although the engine is rated at 300HP, the actual HP is around 291.
Key engine features include
Closed-loop water cooling
Electronic fuel injection
Supercharger with external intercooler
iBR (Intelligent Brake and Reverse), iTC (Intelligent Throttle Control), iBF (Intelligent Debris-Free System)
In addition to the supercharged engine, the GTX 300 also features tons of other great specs like the Ergolock two-piece seat, Variable Trim System, and 8" Panoramic Bluetooth Color Display.
Sea-Doo's patented Ergolock two-piece seat, which securely locks riders in place, provides a super comfortable and very safe ride. The Ergolock handlebars provide a fully ergonomic steering system that facilitates more comfort and longer riding.
The Variable Trim System allows the rider to easily change the position of the bow for either improved handling or higher top speeds through the push of a single button.
The 8" Panoramic Bluetooth Color Display is one of the most advanced new features, providing a big, bright, clear, and easily accessible interface where a rider can pull up directions, receive calls and even read text messages without ever letting go of the handlebars.
Performance
The GTX Limited 300 is a large, fairly heavy vehicle, which makes it very stable. It's a PWC that can go fast while still providing a comfortable, boat-like experience.
Unfortunately, the larger dimensions and increased weight also mean a less nimble ride. Handling is a bit sluggish, and the machine is less nippy than other performance Sea-Doo models, or the 300's Yamaha and Kawasaki competitors.
That said, the Limited 300 is no slouch—it tops out at around 70mph under stock conditions. With the speed, limiter bypassed you can expect to hit around 72mph+, and with some high-performance mods, it's possible to achieve speeds of 80-85mph.
Price
The 2022 Sea-Doo GTX Limited 300 is available for $18,299. It's the cheapest PWC on this list by about $1,000. It comes with a one-year factory warranty.
Final Word
If you want to save a bit of money, and enjoy a fast, high-performance PWC that's still comfortable, then this is the watercraft for you. Those riders looking for slightly more performative handling, and who don't mind spending a bit more may want to check out one of the other vehicles on this list.
Yamaha FX Limited SVHO – Best for Long Tours
Yamaha's FX Limited SVHO is a high-performance touring PWC built on the stable WaveRunner platform.
It's the largest WaveRunner available and is considered Yamaha's top-of-the-line model. The 2022 updates include killer features like factory-installed audio speakers, and an all-new, full-featured infotainment system.
Specs and Features
LxWxH (in)
Weight (lb)
Passengers
Horsepower
Fuel (gal)
Top Speed
Storage (gal)
141x50x48
Dry: 877

Curb: 1000+

3
250HP
18.5
68 mph
44
The FX Limited SVHO's engine is the powerful and proven 4-stroke 1.8L supercharged SVHO Yamaha Marine Engine.
It offers the largest displacement in the industry, resulting in incredible longevity and reliability. Compared to the Sea-Doo engine, it's a more durable choice.
Key engine features include
Fuel-injection
Supercharger and intercooler
Open-loop cooling system
RiDE (Brake and Reverse System)
Beyond the usual key features, the Limited FX SVHO comes standard with a unique accessory package, including a factory-installed audio system, a Garmin GPS fish-finder, and a 7" InfoConnect System with Color Touchscreen.
Yamaha's audio system features two 4.5" waterproof Bluetooth speakers, a 2-channel stereo amplifier, and a conveniently accessible control pad.
The Garmin GPS fish-finder would normally set you back about $170-$200 to buy as an after-market add-on, making this PWC perfect for long tours, camping, and fishing.
The full-features infotainment system, including the beautiful 7" touchscreen display allows you to easily connect all your gadgets for stellar musical playback, navigation, enhanced drive control, and communication via phone and SMS.
Performance
It's no secret that this PWC is big. At 140 inches long and with a dry weight of a whopping 877lbs, this is a vehicle clearly meant for tow sports, fishing, and long-touring. You're not going to be doing tricks, and you'll find that handling is less than stellar.
The hull is made from SMC fiberglass, rather than the lightweight NanoXCel2 material of its predecessors. That makes the ski highly durable, and easy to clean, repair, and maintain, but it does increase the weight by quite a bit.
That said, with its increased stability and incredible 44 gallons of storage capacity, it's an excellent ski for long-distance touring. It can reach a top speed of around 68mph in stock condition, and up to 75mph with some after-market modification.
Price
You can the 2022 Yamaha FX Limited SVHO up for a tidy sum of $19,099. This is more than the Sea-Doo and slightly less (by about $100) than the Kawasaki model on this list. IT comes with a one-year factory warranty.
Final Word
If your plan is long-distance touring, fishing, or tow-sports, this is the ski for you.
Additionally, if you're a music fan who wants Bluetooth speaker capability and doesn't want to mess around with portable speakers or after-market modification, the SVHO is a great option.
Kawasaki Ultra 310LX – Best for Kawasaki Lovers
Kawasaki makes three versions of the Ultra 310—the 310LX, 310LX-S, and 310X. All three feature the same engine and same basic specs, but the 310LX is considered the flagship model because it comes with the most features.
Specs and Features
LxWxH (in)
Weight (lb)
Passengers
Horsepower
Fuel (gal)
Top Speed
Storage (gal)
141x47x49
Dry: 950

Curb: 1089+

3
310HP
21.1
67 mph
44.5
The 2022 Ultra 310LX features the same engine as its predecessors: the 1498cc 4-stroke supercharged Kawasaki jet ski engine. It has the most horsepower of any engine on this list by far.
Compared to the other models on this list, the displacement is comparable—more than the Sea-Doo, less than the Yamaha.
Key engine features include
KSRD (Brake and Reverse System)
Eaton Twin Vortices Series Supercharger
Electronic fuel-injection
Open-loop water cooling
The Ultra 310LX is the only Kawaki model to date that features braking and reverse. Before this, Kawasaki jet skis featured a manual lever that was rather cumbersome to use, rather than the electronic brake and reverse systems used by Yamaha and Sea-Doo.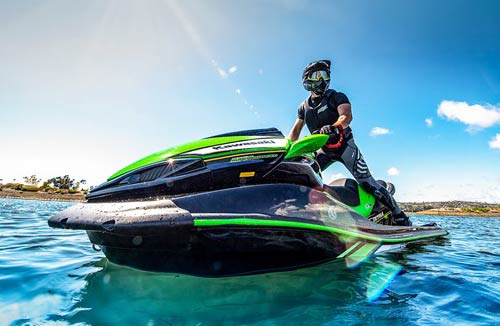 The other major updates to the 2022 310LX model have been the hull redesign and improved ergonomics. The hull has been completely redesigned from scratch. The new hull is a deep V that was designed with an ocean environment in mind.
The top deck has also been completely overhauled to feature new Multi-Mount handlebars that can hold more accessories and racks, as well as a new front bumper with Kawasaki Splash Deflectors and a completely redesigned Kawasaki Ergo-Fit saddle.
The 30LX also features 4 built-in Bluetooth speakers, LED headlights, and a rearview camera that comes in handy for tow sports.
Performance
Despite having more horsepower than either of the other PWCs on this list, the Ultra 310LX is actually the slowest jet ski on the list.
It tops out at around 67mph in stock condition, however, with aftermarket modifications, it can hit between 75-80mph.
The reason for this slowness is its weight. The Ultra 310LX is the heaviest ski on the list.
However, with the newly designed hull, handling is excellent, particularly in choppy water. This makes it ideal for offshore riding, whether racing or touring.
Price
At $19,199, the Ultra 310LX is the most expensive option on this list. It comes with a one-year factory warranty.
Final Word
For Kawasaki fans who have been waiting years for intelligent braking and reverse, the 2022 Ultra 310LX is an exciting release. Throw in nifty features like the backup camera, headlights, Multi-Mount handlebars, and Bluetooth sound system, and you've got a Kawasaki that really competes.
For some, however, Kawasaki has been dragging in recent years, and these improvements just show that Kawasaki is finally catching up to the competition. For its hefty price tag, this model may only be truly exciting to Kawasaki fans who have been waiting for these features for a long time.