Build a Paradise for Boat Lovers
We're made up of a group of industry experts to provide well-researched and informative guides.
Feel free to say hi!

Steve Dye
Former Media Development Director for the American Watercraft Association, producing their membership magazine Ride PWC. Editor in chief for Watercraft World magazine. (Also served as a staff writer for sister magazines Trailer Boats and Powerboat Magazine.) Over 20 years of experience in the field.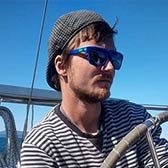 Ryan Langley
Since the age of 5, sailing has been my life, and as a teenager, I chose to make a career on the water by delivering yachts and writing about boats and the sea. I have spent 29 years on the water, and logged over 60,000 nm sailing a wide variety of boats all over the world.


On board - How Can We Help?