When I first started sailing in the early nineties, pretty much every boat on the water used paper charts for navigation. Even the boats that were equipped with early models of GPS and chart plotters carried backup paper charts for their cruising grounds since GPS was often unreliable and prone to failure.
Paper charts were loved by mariners because they were always reliable and didn't depend on electricity or finicky electronic equipment, but they were extremely expensive. A single chart could easily cost 50 dollars or more, and most vessels needed dozens of paper charts to cover a single cruising ground. A world cruise could cost thousands of dollars in charts alone!
Today, it's possible to navigate all the way around the world with just the smartphone in your pocket and the Navionics web app. All of those separate charts have been consolidated into one app, and it's safe to say that paper charts are now a thing of the past.
If you want to learn more about the Navionics app or are thinking about downloading the app to use on your own vessel, keep reading. In this guide, we will cover everything that you need to know to start navigating with the Navionics app yourself.
Most people use the Navionics app because it's a cheap and easy way to get all the charts that you need on your phone or tablet.
When it comes to convenience, Navionics is hard to beat. Instead of digging through the chart table to look for the chart you need or pushing buttons on a chart plotter, with Navionics you always have the charts you need right in your pocket.
Since the Navionics app can be used on a phone or tablet, it's perfect for keeping track of your position as you move around the boat or take the dinghy for a ride.
Navigating with a portable device also has the added benefit that you can still navigate even if the primary electrical systems on the boat fail. Just plug your smartphone into a portable solar panel or power bank and keep on sailing!
The Navionics app is also a much more affordable way to navigate than paper charts or a chart plotter.
While you do have to pay for a subscription, you can download all the charts for the USA and Canada for just $21.99. In comparison, paper charts for this region could cost thousands of dollars, and a traditional chart plotter could easily set you back between one to three thousand dollars or more.
If you use Navionics on your primary Chartplotter, you can sync your Chartplotter to your smartphone or tablet. That way, you can continue to navigate with the same charts and data info from your device even when you pop down below for a cup of coffee or move around on deck.
Related: Navionics Cards For My Navigation System? Your Questions Answered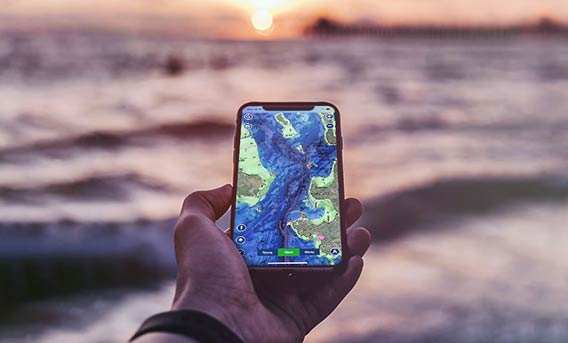 Setting up the Navionics app on your phone or tablet is fast and easy. Just visit the play store and download the app, or search for the Navionics app online. Once it's downloaded, open the app on your device and pay for a subscription for the regions where you plan to sail.
With an active subscription, it's now possible for you to download charts for specific areas. Just click on "menu" and select "download maps". You will be able to select the exact area you want to download detailed charts. The charts that you have downloaded will be available even without an internet connection, and they will remain on your phone after your Navionics subscription has expired.
I like to download as many charts as possible right away so that I don't have to do it later as I am approaching a new cruising ground.
When you are ready to go sailing, open the app and press the "start" button. The app will now show your current position and boat speed, as well as track the time and distance that your vessel has covered underway.
As you sail, you can use the app to keep track of depth and watch out for hazards to navigation. Of course, the depths may have changed since the data was collected, so it's always a good idea to use the app in conjunction with a reliable depth sounder. The app also shows sea current and tidal information for many areas.
If you plan to sail in remote regions, make sure that your device is able to receive GPS coordinates without a cell tower signal, or you may lose your position as soon as you sail outside areas that are covered by normal cell phone reception.
When the trip is over, you have the option to either save or delete the track and trip data.
Here are tips for creating routes:
Here are tips for using the weather:
Yes, the Navionics app is convenient and easy to use, but how much does it cost? It may be hard to believe, but with a Navionics subscription, you can sail all over the world for far less than the cost of just one traditional Chartplotter.
Since most boaters already carry a tablet or smartphone and you can access your subscription through multiple devices, the total cost is kept quite low.
Below are the current subscription fees for all regions covered by Navionics as of April 2022:
Africa and the Middle East – $54.99
Asia and Africa – $49.99
Australia and New Zealand – $21.99
Baltic Sea – $39.99
The Canaries, Azores and Madeira – $23.99
Central and West Europe – $30.99
Central Volga River – $29.99
Chile, Argentina, and Easter Island – $54.99
China Sea and Japan – $26.99
Europe – $42.99
Greenland and Iceland – $129.99
The Indian Ocean and South China – $26.99
Lower Volga River – $29.99
The Mediterranean and Black Sea – $19.99
Mexico, the Caribbean, and Latin America to Brazil – $28.99
Moscow Area – $29.99
Norway – $34.99
Pacific Islands – $26.99
Skagerrak and Kattegat – $89.99
The United Kingdom, Ireland, and Holland – $39.99
Upper Volga River – $29.99
United States – $14.99
The United States and Canada – $21.99
As you can see, charts for popular cruising areas are generally very affordable on the app, while more remote cruising grounds tend to cost much more.
If you plan to sail in remote areas and you are looking for a cheaper navigation app, read the section below on alternatives to the Navionics app.
Despite the clear benefits, the Navionics app isn't for everyone. In this section, we will cover some of the downsides to the Navionics app.
The Navionics app requires a subscription and isn't free, unlike some of the alternatives. Some regions cost significantly more than others.
There are limits to the coverage. Navionics may not be the best option for boaters who plan to visit remote areas, like the high latitudes or the Antarctic since their data is limited in some of these regions.
Like any electronics on a boat, your phone or tablet may fail, which could leave you without a means to navigate if you don't bring backup.
The app requires electricity to operate, unlike paper charts.
Navionics charts use up a significant amount of data, which some devices may not be able to handle. The Navionics charts cannot be downloaded onto an SD card to save space on your device.
Your phone or tablet's screen may automatically turn off after a certain period of time even with the app open, which can be a nuisance or even a safety hazard if you aren't able to set it up to stay on while underway.
There are various competitors to Navionics that have become popular in recent years. Unlike Navionics, some of them offer navigation capabilities and marine charts for free.
Below is a list of fourteen popular alternatives to Navionics for boating navigation on your phone or tablet:
SEAiq Fee
Transas iSailor Free
iNavX
iSailGPS
Boatbeacon
PolarView MX Free
Navimatics Charts and Tides Free
Marine Navigator
Garmin BlueChart Mobile Free
SeaNav US
Skipper Free
Marine Navigator
MX Mariner
Fugawi PathAway GPS Express
Summary
Navigating around the world used to be a frustrating and expensive feat, but with the invention of boating apps like Navionics, anyone can safely plot a course with just a smartphone in their pocket.
The Navionics app is affordable, easy to use, and features excellent, regularly updated charts for all of the most popular boating destinations around the world.
Even if you choose to sail with paper charts or use a traditional chart plotter, keeping an extra device with the Navionics app handy is a great backup navigation system for any boat.
If you want to have the ability to navigate all over the world with just a smartphone or tablet, Navionics is one of the best options available in the world today.