Among modern boaters, it's become less and less common to depend on antiquated paper charts for navigation. Many mariners have gone so far as to call them a relic of the past.
Today, most boaters use electronic charts on a chart plotter, computer, or cell phone to study coastlines and maneuver around hazards to navigation.
Navionics is one of the most popular brands when it comes to electronic charts and navigation. They offer two ways for boaters to obtain charts – either by downloading the navigation app or purchasing an sd card that can be inserted into your chart plotter.
In our previous article "A Complete Guide to the Navionics App" we covered the Navionics web app in detail, so in this piece, we will focus on the Navionics card.
Many boaters are split between using a Navionics card or using the web app for navigation. Each has its advantages and disadvantages, and in this section, we will explore some of the main reasons why one would choose to use the Navionics card on their boat.
The Navionics app is nice because it enables users to download charts directly onto their phone or tablet and keep their charts just a hand's reach away at all times. But many boaters prefer to use a permanent Chartplotter for navigation, which requires an sd card to upload the charts.
Why prefer a Chartplotter over a phone or tablet? There are various reasons. While a handheld device can be easily misplaced or dropped overboard, a Chartplotter will remain in the same location, ideally securely mounted near the navigation station or helm. In addition, a Chartplotter that is wired into the boat's electrical system is much less likely to run out of battery than a small handheld device.
Many boaters also find a large Chartplotter much easier to read than the small screen of a phone or tablet. The last thing you want while trying to navigate your way into a tricky harbor in a storm is to be unable to read your charts!
If you have a basic understanding of marine electronics, it's fast and easy to use a Navionics card.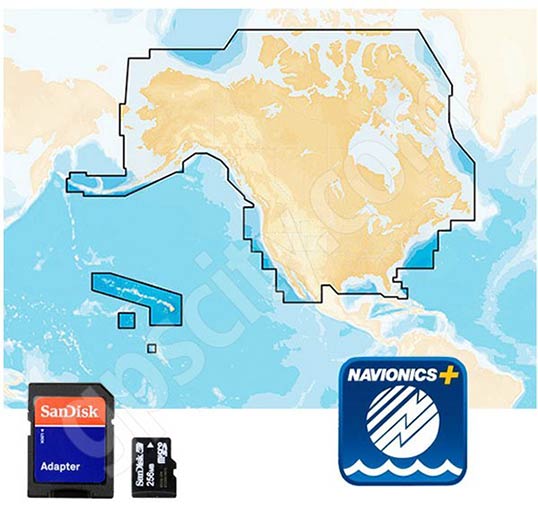 Navionics cards are sold at most boating stores with the local cruising grounds already uploaded onto the card. You can also obtain Navionics cards through the company website, Navionics.com. Once you have purchased the card, you won't need to pay again to use those charts except for the annual subscription fee which you can pay online.
Cards purchased through the Navionics website don't need to be activated prior to use, but if you bought your card at the store, you will need to activate it before cruising. Here's how to get started with your Navionics card.
To activate the card, first connect the sd card to your computer, either through a designated sd slot or a USD card reader.
Download and install the chart installer on your computer, then create an account and sign in.
The application will ask you what model of Chartplotter you use – select all models that apply.
Your card has now been activated and linked to your Navionics account. You can also download chart layers and updates while the card is connected to your computer. If you want to update the charts at a later date, simply log in and select the areas you want to update.
You can now insert the sd card into your Chartplotter and begin navigating. Always test the GPS and inspect the charts prior to departure on a boating adventure to make sure that everything is working fine.
Navionics sells a variety of cards for cruising grounds all over the world. If you want to obtain charts for a different cruising area, you will need to purchase a new card that covers that region. You cannot download new charts onto the card, only updates to the region already covered. We will cover the cost of each card in the section on pricing below.
Recommended reading: Starlink Satellite Internet For Boats
You may wonder if Navionics cards can be read by the Chartplotter on your boat, and the answer is that they are compatible with most newer models that are on the market. If you have an older style Chartplotter, chances are that it was designed to read a different type of card. Here are the main Chartplotter brands that are compatible with a Navionics card:
Actia
Alphatron
B&G
DeLorme
Faria
Furuno
Garmin
GeoNav
Hummingbird
JMC
Lorenz
Lowrance
Magellan
Raymarine
Simrad
Some boaters may wonder how the Navionics sd cards relate to the web app. In this section, we will answer some questions that boaters have with regard to how the Navionics web app and cards are related.
Do I need to buy a Navionics card in order to use the navigation app?
No. You can download charts on the Navionics app without first purchasing an sd card.
Can I link my Chartplotter to the Navionics app on my cell phone or tablet?
Yes. With a Navionics subscription, you can link your portable device to the boat's primary Chartplotter and navigate with both navigation systems simultaneously.
Will charts from my Navionics card automatically be uploaded on the Navionics app on my phone or tablet?
No. You will need to upload charts separately on the app in order to have the same coverage as your Chartplotter, but you can access them through the same subscription.
Is there any difference between the charts on the card or on the navigation app?
As long as you regularly update both the charts on your Navionics app and the Navionics card, they will be exactly the same charts.
While Navionics cards offer excellent charts for almost every popular cruising region on the planet, they do come at a significant cost.
Navionics cards come in two tiers: Navionics+ and Platinum+. Navionics+ offers traditional charts and Platinum+ has extra features like sonar imagery, aerial photography, and 3D view.
In this section, we will show some examples of the price of Navionics cards for different regions. Keep in mind that in order to update your charts, you may also need to pay for an annual subscription ($49.99) to Navionics+.
Navionics+ pricing based on region:
US and Coastal Canada: Regular – $149.99, Large – $199.00
US North: Regular – $149.99, Large – $199.00
US South: Regular – $149.99, Large – $199.00
US West: Regular – $149.99, Large – $199.00
Northwest Africa: Regular – $159.99, Large – $199.00
Greenland: Regular – $159.99, Large – $199.00
Iceland and Orkney Islands: Regular – $159.99, Large – $199.00
West Africa: Regular – $159.99, Large – $199.00
West Australia: Regular – $129.99, Large – $199.00
East Africa: Regular – $159.99, Large – $199.00
Platinum+ pricing based on region:
Mexico, Caribbean, and Northern South America: Regular – $249.99, Large – $399.99
Chile, Argentina, Falklands, and Easter Island: Regular – $249.99, Large – $399.99
Africa and the Middle East: Regular – $249.99, Large – $349.99
Australia and New Zealand: Regular – $249.99, Large – $349.99
Norway: Regular – $249.99, Large – $349.99
Meditteranean and Black Sea: Regular – $249.99, Large – $349.99
Navionics has dominated the market for navigation sd cards for a number of years now, but it doesn't come without its downsides. Below are a few of the reasons that some boaters choose not to use Navionics cards for navigation on their boat.
They are expensive! Navionics cards may not be as expensive as a boat full of paper charts, but they are still very pricey compared to most navigation apps, especially considering that there are some free options available.
Navionics cards can only be used with a Chartplotter that is compatible with their charts, which means that you are out of luck if you use an older Chartplotter or one of the models that weren't designed for Navionics.
Unlike Navigation apps, a fixed Chartplotter cannot be easily moved to different parts of the boat. In an emergency, the Chartplotter cannot be taken into a liferaft to determine your position, unlike a phone or tablet.
Navionics cards require a Chartplotter to work, unlike the apps which can be used with any regular smartphone or tablet.
Navionics is one of the most popular companies when it comes to electronic navigation, but they are by no means the only boat in the sea. Below are a few of the leading competitors that also offer sd cards that can be used to upload charts to your Chartplotter:
Microsoft i-Boating
C-Map
Hummingbird Lakemaster
Hummingbird Coastmaster
HotMaps Platinum
Garmin Bluechart
Of course, if you want to avoid using a traditional Chartplotter, you can always use paper charts, the Navionics App, or one of the many Navionics competitors that offer navigation apps or charts that can be downloaded on your laptop.
Summary
For boaters seeking a simple, easy-to-use, and accurate mode of navigation, there are few better options than to use a Navionics card with a high-quality Chartplotter. Navionics charts can be regularly updated and cover just about every popular cruising ground on the planet.
For me, the ideal navigation system is to have both a Navionics card for my Chartplotter and the Navionics App for my phone and tablet onboard the boat. That way, I can use the primary Chartplotter while at the helm or navigation station and use the app while moving around the boat.
Navionics truly offers boaters the best of both worlds!