Back in the day, Yamaha's WaveBlaster was introduced as a "motorcycle on water."
Although technically a sit-down craft, its hull design was more closely aligned with Yamaha's stand-up SuperJet than with the far more stable WaveRunner lineup. You had to be able to ride the WaveBlaster to ride it, and its sharp lean-in handling package would easily throw the uninitiated over the high side and into the wind.
Then Sea-Doo introduced its HX, upping the ante on corner carving and chasing the Blaster out of the sport class in relatively short order with a still more aggressive lean-in hull design. The HX would also highside even more violently than the Blaster. Although I was toiling as a journeyman professional motocrosser at the time, I managed to suffer one of my worst knee injuries ever crashing an HX – flying through the air at 40 mph only to stick a leg in the water doesn't work much better in a lake than it does on land.
A few years back, renowned motorcycle stunt rider Robbie Madison made waves – literally – with a KTM450 dirt bike fitted with a front ski and a paddle tire. You can watch the amazing "Pipe Dream" video on the YouTube channel of DC Shoes.
The pursuit of a motorcycle feeling while riding on the water has been chasing after for years.
This story is not about that.
Now For Something Completely Different
Turning the idea of "motorcycling" on the water upside down, some nut jobs have inverted the equation by building a PWC for the road.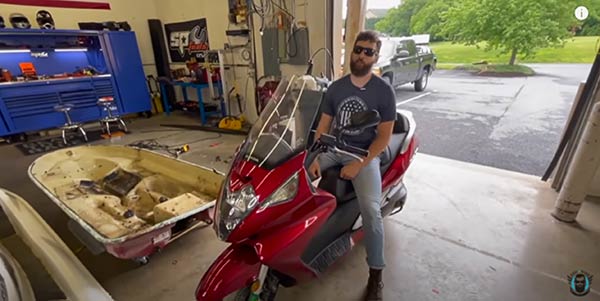 The video is on the Bikes and Beards YouTube channel. Bikes and Beards – Sean and his sidekick Craig – have a vast audience with 1.21 million subscribers built upon crazy schemes interspersed with just a small sprinkling of useful real-world information.
The channel is largely homebuilt motorcycle content.
Their general approach is summed up with this line from the video "I think our plan is to line everything up as best we can, then start cutting stuff and putting it back together with a lot of spray foam and duct tape."
Donor bike
The boys started the project with a Honda Helix scooter.
Choosing a scooter for a platform offered certain advantages. As a scooter uses an essentially automatic transmission with only hand controls – throttle, front and rear brakes – no fabrication would be necessary to accommodate a traditional motorcycle's foot shifter and rear brake. Smaller diameter wheels would also keep the center of gravity low, and require less removal of structural fiberglass from the lower hull half.
The Helix was Honda's first "touring" scooter, with a 244cc liquid cooled single cylinder four-cycle engine that allowed a rider to cruise comfortably at about 60 mph, with a top speed approaching 75 mph. But the Helix weighed only 349 pounds.
After tussling with separating the upper and lower decks of the donor bike, and realizing the true heft of the fiberglass shells, the two fabricators made a wise decision – namely, more power.
They then procured a Honda Silver Wing scooter. Now, being the fastest scooter ever made is a dubious distinction at best. But Honda threw all the technology at the Silver Wing. Beneath the seat was a 582cc parallel twin cylinder powerplant with electronic fuel injection, liquid cooling, and four valves per cylinder. Developing close to 50 horsepower, the engine would propel a Silver Wing to just over 100 mph.
Still, a Silver Wing weighs 449 pounds with stock bodywork. I don't have an accurate figure for what the GTX hull weighs on its own, but Bikes and Beards weighed their contraption on a truck scale. It tipped over 800 pounds, suggesting that the hull is something like 350 pounds of fiberglass.
Though the video is billed as "I build the FASTEST and Biggest Jet Ski Motorcycle," the former is likely only true by default.
To equal what little the Silver Wing once offered in acceleration and top speed, Bikes and Beards would have to drop their amalgamation from an airplane.
Tipping the scales
Honda's Gold Wing, an actual motorcycle aimed at long-term comfort and loaded with amenities like a full stereo system and much more, features a 1833cc opposed six-cylinder motor that puts out 125 horsepower. And it still weighs just 808 pounds.
So… the Bikes and Beards road-going Jet Ski is both longer and wider than the motorcycle, weighs about the same, has less ground clearance by far – and has one third the engine displacement and one fifth the horsepower.
Hmmmm. I guess we could post up a new Gold Wing's $25,000 price tag against whatever the going rate is for a used Silver Wing – about $3000-4000 – plus another grand or so for a crusty GTX with a junk motor to come up with an arguably favorable comparison?
Moving on.
Success?!?
Spoilers: They make it happen. The hull of the GTX is successfully affixed to the Silver Wing chassis, and highway hijinks ensue. Sean takes it out on the open road, wheels through downtown, and even stops for some fast food along the way.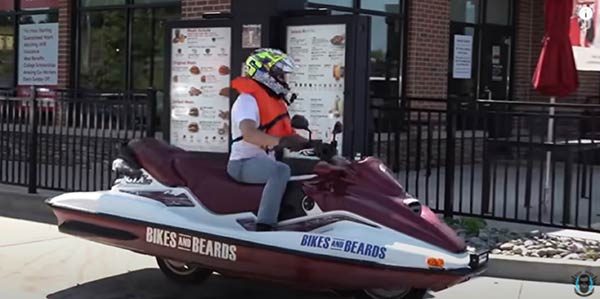 Is it legal? Well, I've never done anything like this. And won't be!
However, I have built some motorcycles out of bits and pieces and bits and bobs. And as long as you have a frame with a valid VIN number along with required safety equipment – headlight, tail, and brake light, turn signals, mirrors, a working speedometer, and so forth – most local Department of Motor Vehicle stations will issue a tag and registration in exchange for money.
I should expect it would be legal in most states. And certifiable in all of them – by which I mean mentally certifiable.
Sean is stopped by the local police on video. Although he hasn't gone to the trouble of having the vehicle inspected – and is thus likely to be riding with a license tag simply transferred over from the original machine – he is released with only a slight admonition to complete the required procedures.
The boys note that they were subsequently able to legally register the contraption in Pennsylvania.
Takeaway
So what they've done is take the largest scooter Honda has ever made, the Silver Wing, and married a 50-hp engine with a three-seater Sea-Doo GTX hull to produce a boat that won't float featuring half the power and twice the weight of the "motorcycle" it's built from.
It's also longer than any production motorcycle ever made, and has less ground clearance than a 1960s BMW motorbike with opposed parallel cylinders.
At the end of the video, Sean says they will try to introduce the machine back into the water. As no subsequent video documenting that can be found, I think it's safe to assume that idea didn't float either.
It is, if nothing else, more practical than when Bikes and Beards built the world's longest motorcycle at over 100 feet.
Honestly, I'm torn between whether it's genius or lunacy. And I lean towards it being both.