If you love to jet ski, you know that nothing turns a day on the water into a party like music. Hanging with your crew, cracking open a few beers, bumping your perfectly curated Summertime Jams playlist, and carving up the lake on your SeaDoo – is there a better way to spend a weekend?
It's easy enough to rock out at the dock or on the beach, but what if you want to take your music along when you're out on the water? Many jet ski models don't come with built-in speakers, meaning you'll need to figure out an alternative.
While you could invest the time and money in installing a fully-integrated system, Bluetooth technology has come so far in the last few years, that a portable Bluetooth speaker is an excellent choice for your PWC audio.
Disclosure: We may get some commission on purchases from affiliate links, which help us operate the site.
What Should You Look For in a Jet Ski Bluetooth Speaker?
There are a lot of variables to take into consideration when choosing an audio solution for your PWC.
First, you'll be contending with the noise of the motor, and also with the noise of the wake and any waves or chop you encounter.
Second, you run the risk of not only splashing but also potentially dunking your speaker if you lose it underway or if you fall off. Next, you're going to be blazing along at pretty high speeds and bouncing around quite a bit.
Finally, you're probably going to be out on the water all day, or at least several hours, so you need something that can keep up.
So when considering an audio solution for your jet ski, you need something that meets the following requirements:
Gets loud
Good sound quality at high volume
Waterproof
Can be easily secured
Long battery life
Let's take a look at some of the top contenders for the best jet ski Bluetooth speakers.
Best Overall Jet Ski Bluetooth Speaker – JBL Charge 5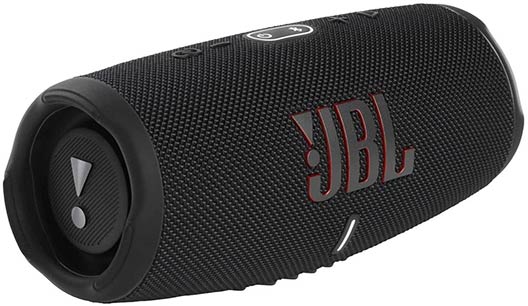 JBL has been making the Charge Bluetooth speaker for a while – four iterations before this one, to be exact – so by now, it's safe to say that they've nailed the design. Though it's not made specifically for jet skis, this rugged, compact Bluetooth speaker makes a great PWC audio option because of its IPX7 waterproof rating, superb sound quality, and long battery life.
JBL is the industry leader when it comes to packing a sonic punch in a small package: their in-ear Bluetooth headphones are some of the most highly recommended earbuds on the market. This speaker continues their tradition of excellence. The addition of a 10W tweeter to the Charge 5 is what really kicks up the sound quality and makes it the best sound you can get in a Bluetooth speaker for under $200.
It's also tough: fully dustproof and submersible up to 1.5 meters. The only drawback we could find to using this speaker on a jet ski is its size. It's roughly the size of a bottle of wine so depending on the size of your ride it might be a bit tricky to mount or stow. Tucking it into the top of a backpack might be the easiest way to take it with you.

Pros
IPX7 waterproof rating
Rugged, shockproof, dustproof
20-hour battery life
USB-C and USB-A connections
Cons
Might be too big to easily mount or stow
Doesn't come with mounting equipment
Best Budget Jet Ski Bluetooth Speaker – Ultimate Ears Boom 3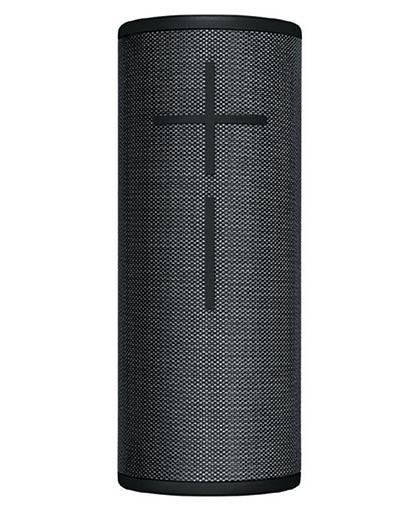 Ultimate Ears has some of the loudest, best sound you can get on a budget, and the UE Boom 3 is no exception. With 360-degree sound, a thumping bass, and a dBA rating of 90, you will have no problem at all hearing this over the roar of your engine. Not only that, it's waterproof to 1.5 meters, shockproof, and super portable, so you can easily take it with you to the beach or dock.
The simple volume controls are large and easily accessible, and it's easily controllable from your phone. If you have multiple UE products, you can connect multiple speakers to the same sound source so it's a nice option for partner (or party) rides.
As with the JBL Charge 5, the only drawback here might be size – it's smaller than the Charge 5 but still pretty hefty. We recommend investing in the Toovren speaker mount as a good option for mounting this or the JBL Charge 5 to your rig.

Pros
IPX7 waterproof rating
Shockproof
20+ hours of battery life; takes just 3 hours to fully charge
USB-C and USB-A connections
Cons
Size
Doesn't come with mounting equipment
Best Handlebar-Mounted Jet Ski Bluetooth Speaker – Kuryakyn Road Thunder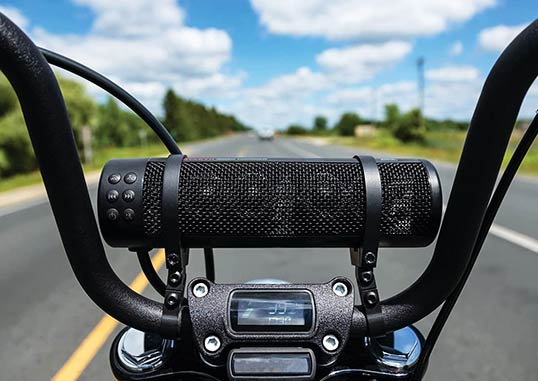 This handlebar-mounted speaker was originally designed for motorcycles, so it's loud enough to hear over the roar of a motor.
It's durable, water-resistant, and weatherproof – but not IPX7 rated, so it will withstand being splashed but make sure not to fully dunk it.
The mount is designed to fit any handlebars between ⅞" and 1¼" but is not completely adjustable, so check the specifications on your jet ski before purchasing.
This is the only Bluetooth speaker on the list boasting a whopping 300W of power – so if the volume is what you're after, this is the speaker for you. In our opinion, this is as close as you can get to a fully installed speaker system without drilling holes in your jet ski.

Pros
Powerful – 300W
Securely fits most handlebars
Water-resistant
Cons
Not IPX7 waterproof rated
Must connect to jet ski battery for power
Best Clip-On Jet Ski Bluetooth Speaker – JBL Clip 3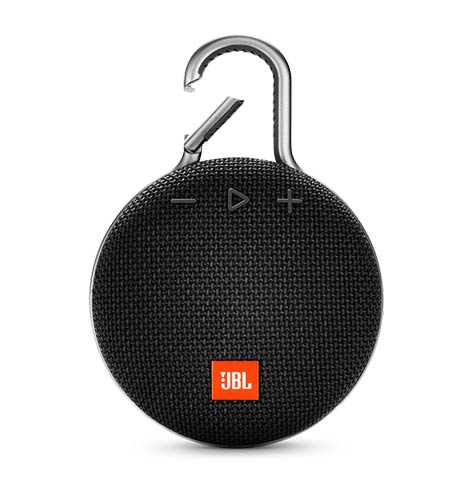 This ingenious little clip-on speaker comes with its own carabiner and attaches to pretty much anything. We recommend hooking it to the front of your life vest for the best sound quality.
It's small but mighty, packing an impressive 10 hours of battery life and surprisingly clear sound for such a small speaker. It's IPX7 rated – and unlike other speakers on this list, it's easy to clip a floaty onto it so it doesn't sink to the bottom if it falls in.
In our opinion, the JBL Clip 3 is your best option if you don't need something super loud. If you're just looking to cruise around the harbor at low speeds, this is a cheap, simple solution that still sounds great. If you need something you can hear at high speeds, we'd recommend going with one of the other options on the list.

Pros
IPX7 waterproof rating
10 hours of battery life, 3 hours to fully charge
Clips easily to your bag or life vest
Can attach a floaty to it to prevent it from sinking
Cons
Not loud enough to hear at high speeds
Flapping around on your jacket/handlebars at high speeds might be irritating
Most Innovative Jet Ski Bluetooth Speaker – The Groove Vest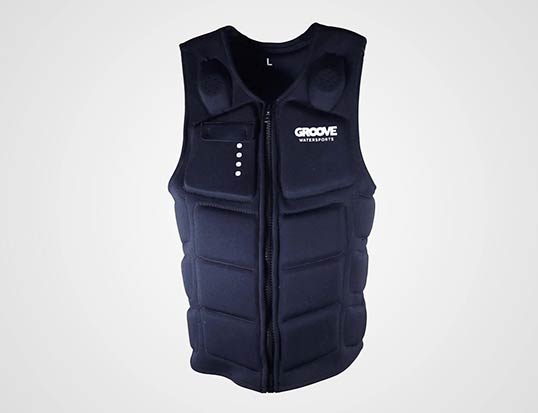 This is a jet ski speaker solution like no other – the world's first jet ski impact vest with built-in speakers. The vest has two speakers embedded into the shoulder area as close to the ears as possible, so your music comes through loud and clear. Even better are the vest's built-in playback controls and media storage, so you never even have to take your phone on the water with you.
This is the only solution on the list specifically designed for jet skis, so it's likely to be easy to use and work well. Unfortunately, it's also the priciest option, and without a recognized audio brand like JBL backing it, we can't make any promises as to the quality of the sound compared to the other Bluetooth speakers.
Pros
Doubles as protective gear
Comfortable
Sound comes through loud and clear
Built-in playback controls and media storage
Cons
Waterproof rating not clear on the site
Only 8 hours of battery life
A Word About Headphones
We don't recommend using headphones while on a jet ski, for a couple of reasons. Over-the-ear headphones are too likely to fly off your head at high speeds, which is not only a bummer for you, it's also dangerous to the people around you.
You're less likely to lose in-ear earbuds while you're blasting around, especially if you wear a helmet, however they block out too much of the surrounding noise to be safe.
Riding a jet ski is like driving a car – you need to be aware of what's going on around you at all times, and your sense of hearing is crucial for noticing and responding to changes in the environment.
Plus, if you fall off, those earbuds are going right in the drink, and even if they're waterproof, they probably won't float.
A Word About Fully-Integrated Jet Ski Audio Solutions
You might be thinking that a fully-integrated speaker solution is the best way to get high-quality sound on your jet ski, but this approach has some drawbacks.
For starters, most jet ski companies don't make after-market speakers, and we don't recommend trying to install a sound system designed for a different type of jet ski as it's unlikely to fit correctly.
A fully-integrated solution is going to be many times more expensive than a portable Bluetooth speaker – especially if you need to pay for professional installation on top of the cost of the speakers.
Finally, installing a fully-integrated system is going to require putting some holes in your ride, which might lower the resale value or even void the warranty even if you do get it professionally done.
With the Bluetooth speaker technology where it is today and so many excellent Bluetooth speakers available on the market, we don't think a fully-integrated solution is worth the cost.