The first jet ski to become popular in the United States was the stand-up Kawasaki Jet Ski. It was released in 1972 by a Japanese company, based on an American design that borrowed from the older European models of the 1950s. It was immediately popular, quickly becoming a fad, and later an obsession, among American water sport enthusiasts.
PWCs have come a long way since then. The original Kawasaki Jet Ski was powered by 400cc 2-stroke twin cylinder engines. In 2016, Kawasaki re-launched its original stand-up Jet Ski, this time with a monstrous 160HP inline 4-cylinder 4 stroke engine!
PWCs today are bigger, faster, more comfortable, and many would say all-around better than their predecessors. Let's take a look at some of the insane jet skis available today.
A Quick Note on Language
The term "Jet Ski" actually only applies to one brand of PWC: the Kawasaki Jet Ski. It's a portmanteau, like Xerox or Aspirin—a brand name that has become so widely used that we now refer to all manner of PWC as "jet skis." Technically, though, the Yamaha Waverunner and Sea-Doo are different vehicles.
The main difference between Jet Skis and Waverunners is that you stand up to ride a Jet Ski and sit down on a Waverunner. The Sea-Doo combines the best of both worlds, combining the high performance of a Jet Ski with the comfort of a sit-down Waverunner.
For the purposes of this article, we'll be discussing all types of PWC, and for that reason, we'll refer to them by their generic name, "PWCs" (or Personal Water Crafts.)
Fastest PWC
First of all, let's include a caveat here that we are talking about unmodified models that can be purchased off the shelf.
We're not talking about modified racing scooters, some of which can reach speeds of over 120mph! Uva Perez, for example, previously clocked a peak speed of 123.2mph.
There's no single jet ski or PWC that holds the current title of World's Fastest, because there are a few models that can all reach the same maximum speed.
The fastest speed clocked by a consumer jet ski today is an impressive 67mph, although it's possible to reach speeds of up to 71mph. Other PWCs are hot on their heels, reaching speeds from 50-65mph.
Legally, that's as fast as they can go: in the early 2000s the US Coast Guard began regulating speed limits for jet skis after the injuries and deaths of inexperienced renters and consumers caused concern.
Some contenders for the top spot include the following models.
1. Kawasaki Ultra 310X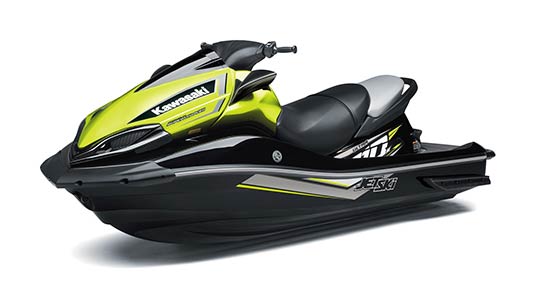 This Jet Ski boasts an impressive 310HP, 1498ccm, supercharged 4-stroke 4 cylinder engine. It clocks in with a top speed of 67mph and an acceleration of 0-60 in 3 seconds.
An open-ocean crossing of 20 miles (from Long Beach to Catalina, for example), can be completed in about 30-40 minutes on a Kawasaki Ultra, vs almost two hours on a slower model.
2. Yamaha GP1800R
This Waverunner is the fastest Yamaha has to offer, with a 250HP, supercharged, 1812ccm 4-stroke 4 cylinder SVHO engine. This is another PWC that can reach speeds of up to 67mph.
3. Sea-Doo GTR-X 230-300
The fastest Sea-Doo models currently on the market come with 230-300HP, supercharged, 1630ccm 4-stroke Rotax engine, featuring closed-loop cooling.
Most Expensive PWC
If you own a jet ski, you know they aren't cheap.
Beyond the initial purchase price, you also have to pay for routine maintenance and upkeep, fix any damage or repairs that crop up, cover insurance, and pay for other incidentals like gasoline, trailering, and storage.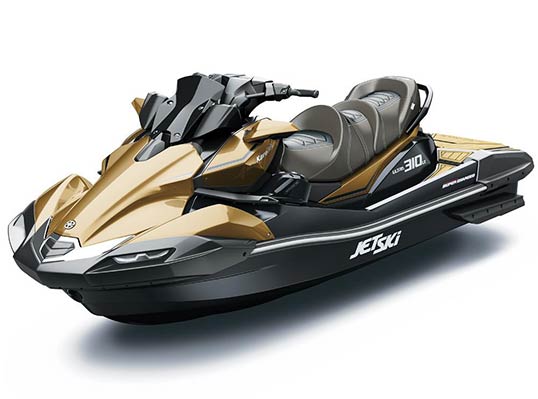 The most expensive PWC in 2022 is the Kawasaki Ultra 310LX, which has a price tag of $19,199. It's the luxury version of the incredibly powerful 310X mentioned above.
Keep in mind when shopping around for a jet ski that you will need to pay sales tax on the purchase. You will also most likely need to pay a freight service to ship it for you or purchase your own trailer.
Additionally, you need to consider registration and storage or docking fees. When all is said and done, you could end up paying as much as $25,000 for this baby!
A commendable runner-up to the 310LX is the Sea-Doo GTX Limited 300, a luxury jet ski from Sea-Doo. This luxury model offers the same acceleration and top speed as its performance counterpart but comes with a ton of extra features. It's also heavier than the GTR-X 300.
Most Affordable PWC
Maybe you're not looking for a ton of speed and power. On the other end of the spectrum, there are more affordable models that come in under the $10,000 mark—and sometimes as low as $5,000.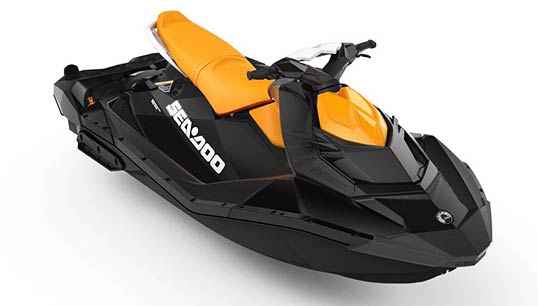 The Sea-Doo Spark is the most affordable PWC currently on the market, at a surprisingly reasonable $5,499 for the base model. The three-seat model can be purchased for $1,700 more.
The cool thing about this PWC is that the hull is made out of polypropylene, which is much lighter than fiberglass, meaning that although it's equipped with a fairly tiny 899cc 60HP engine, it can still reach speeds of over 40MPH.
Another excellent choice, if you're looking for an affordable model with a bit more power, is the Kawasaki SX-R. At $9,999, it boasts a 1498ccm 4-stroke engine and can reach speeds of up to 60MPH.
Unlike the Sea-Doo Spark, it's big and heavy, which many riders prefer as it makes for better stability and more predictable handling.
Most Luxurious Jet Ski
There's one insanely expensive jet ski out there that wasn't listed above because it's so nuts it gets its own category.
The Mansory Black Marlin jet ski is the ultimate in high-end PWCs. Priced at an eye-watering $62,000, it's based on the Sea-Doo RXT-X 260RS, but Masonry has given the Sea-Doo an aggressive luxury makeover.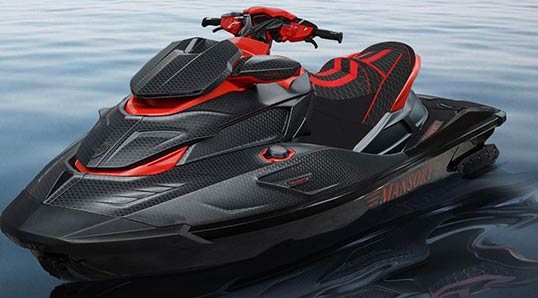 Masonry is best known for its high-end car modifications, which usually involve wrapping already expensive luxury vehicles in carbon fiber. They've taken this one step further with the Black Marlin, using carbon fiber as the hull material, which makes the craft at least 10kg lighter than its Sea-Doo counterpart.
On top of that, they've equipped the Marlin with a 550HP engine, and hand-crafted luxury seats made of patented seawater-resistant artificial leather.
The Marlin is luxurious and powerful, and with its sleek black and red exterior, it looks like something James Bond might like to get his hands on someday.
Most Futuristic PWC
Looking for a high-performance PWC that's on the cutting edge of technology? The Elaqua PWC A1000 is a super sleek, super modern electric PWC that's the very first 3D printed, environmentally conscious PWC on the market.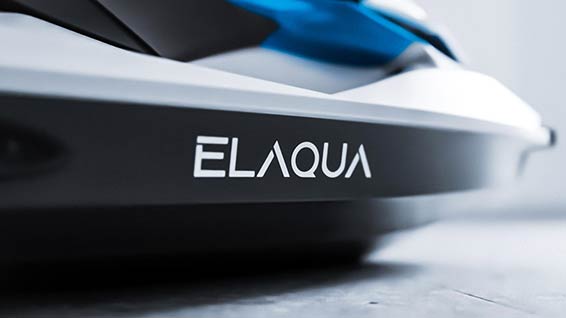 Before you roll your eyes and tell me that electric jet skis can never be as fun or high-performance as gas-powered ones, listen to the stats.
It has a top speed of 60MPH and is powered by state-of-the-art lithium-ion batteries that give it an impressive 81 hours of ride time. The base model has room for two riders, and there's an upgrade available for a third rider.
The A1000 is 3D printed with Carbon Fiber, which gives it an incredible strength to weight ratio and total freedom of design and customization. The company's patent-pending additive manufacturing process allows for after-market modifications to be added with ease.
Finally, no futuristic vehicle would be complete without a sexy touchscreen display, and the A1000 does not disappoint here. The modern digital interface feeds real-time data into the enormous 10" display, so you can track your battery life, GPS position, speed, torque, and horsepower. You can also call emergency services with a single touch, and track your ride to share with friends.
The company sells an optional add-on drone that can be stored in and launched from the watercraft.
With traditional gasoline-powered PWCs emitting upwards of 70,000lbs of CO2 into the atmosphere every year and polluting waterways with up to 3.5 gallons of fuel-oil mixture during a single day's use, the A1000 looks to be the way of the future for climate-conscious riders.
The Final Word
We continually update this list to include information about the newest models and most insane statistics.
Do you have a favorite PWC? Want to see more lists about insane jet ski models? Get in touch through our contact page and let us know!