Customizing your jet ski to make it perfect for you is probably the most fun part of jet ski shopping. Choosing the right horsepower, adding accessories, buying apparel—they don't call it a "personal" watercraft for nothing!
You could add some sweet Bluetooth speakers to your ski, or you could go all out and completely convert your Sea-Doo into a Jet Kart!
But what are your options if you want to go beyond just customizing the parts? What's the best way to truly personalize your personal watercraft and make a statement on the water? The answer, of course, is to customize the paint job.
There are several ways to change and update the hull of your jet ski. One option is to pay for a full repaint, but this can be expensive. Other options include purchasing graphics and decal kits or stickers, but these won't cover the entire hull and can often look tacky.
What about vinyl wrapping a jet ski?
Vinyl Wrapping
Vinyl wrapping is an after-market process typically used in the automotive industry. It involves completely or partially wrapping a vehicle in a thin layer of vinyl over the original paint. Each panel is wrapped separately, and the vinyl is designed to look like paint. When installed professionally it looks like a slick custom paint job.
The vinyl wrap comes in a huge range of colors and finishes like matte, satin, gloss, and metallic. Graphics and decals can be baked right into the wrap, so the color and design combinations are literally endless. You get complete control over how your vehicle looks.
There are pros and cons to choosing vinyl wrapping.
Pros
Easy to change
More design and color options than paint alone
Protects the original paint
Eco-friendly
Less trouble to do than a custom paint job
Easy to maintain (no waxing required)
Easy to remove and won't leave residue unlike decals and stickers
Cons
A high-quality wrap and professional install can cost more than a paint job
Needs a highly skilled specialist to install properly
Life expectancy is 3-7 years at most
Tears easily
By now, you're probably thinking that vinyl wrapping sounds like a pretty great option—but can it be used for a jet ski?
Can I wrap my jetski?
The short answer is yes!
You can absolutely vinyl wrap a jet ski. It's cheaper and easier than a full custom paint job, and a great way to protect the original paint of your ski.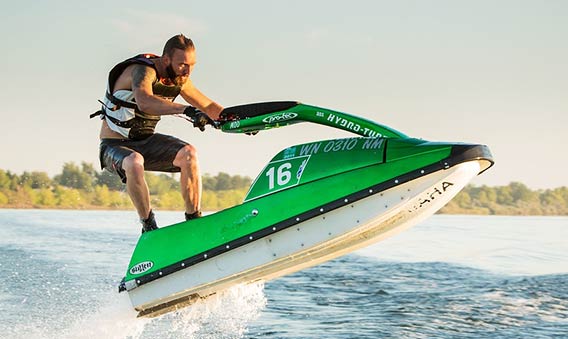 However, there are a few special things to take into consideration when wrapping a jet ski instead of a car.
Type of Vinyl
There are several different types of vinyl used for vinyl wrapping, and some are better for wrapping a jet ski than others.
Cast Vinyl
Cast vinyl is durable and doesn't shrink much. It's typically between 2-4mm thick. It's best for covering large areas of your hull.
Calendared Vinyl
Calendared vinyl is better for small sections and decals. It's not heat resistant, so don't put it anywhere near the engine.
Air Egress Vinyl Wraps
Avoid using wraps that use "air egress" technology. These wraps are designed to apply easily without air bubbles by releasing air through special channels built into the vinyl.
If not properly installed, these channels can take on water. At high speeds, this could tear the vinyl off. Saltwater could be particularly damaging for this type of wrap.
Wear and Tear
Sun
Your jet ski is potentially going to be exposed to a lot more sun than your car (depending on where you live, where you keep your jet ski, and where you keep your car.)
Sun can quickly damage vinyl wrap, so if you store your jet ski outside, vinyl wrapping may not be a good choice.
Saltwater
The other major wear and tear that jet skis face is saltwater. Salt is incredibly abrasive, and repeated exposure can quickly wear down vinyl wrap.
It's important to always rinse your jet ski with fresh water after use, and never wipe saltwater off with a rag or sponge—doing so can scratch the vinyl.
Sand
Another consideration to keep in mind if you land your jet ski on the beach is sand. Sand is another abrasive that will quickly wear away your vinyl wrap if not properly rinsed off after use.
Trailering, Docking and Beaching
These are all things that can scratch or tear your vinyl wrap. Be careful when landing and docking your jet ski, and take special care while trailering to prevent dents and scratches.
The Complexity of Jet Ski Design
Wrapping a jet ski is more complicated than wrapping a car or another type of boat because the hulls of jet skis are smaller and more complicated. This means that the cost to wrap a jet ski is higher per square inch than the cost to wrap a car.
What's the best vinyl wrap for a jet ski?
The two most common types of wrap for boats are 3M's Wrap Film Series 1080 and Avery Dennison SW900.
3M Vinyl
3M vinyl has a reputation as the best vinyl wrap for marine vehicles because of its high quality and a huge selection of colors and finishes. You can get 3M vinyl in over 269 variants including satin, matte, carbon fiber, and brushed metal.
Avery Dennison Vinyl
If you're going the DIY route, Avery Dennison vinyl is an excellent choice. It's extremely pliable at room temperature and has a mild adhesive, so it's easy to pull off and reposition. The only downside is that it comes in a much more limited range of colors and finishes.
What can I do with the vinyl wrap?
Vinyl wrap is incredibly versatile and gives you a huge range of colors, finishes, and designs to work with. It's also highly customizable. You can design your own wrap to include race numbers, driver names, sponsors, custom art and graphics, and more.
Most shops will give you the option of customizing your own wrap. You can choose the designs and patterns you want online, and the shop will print up the vinyl for you. Many places will also perform the installation.
How much does it cost to wrap a jet ski?
It can cost anywhere from $300 to $1500 to vinyl wrap a jet ski. The price depends on how much of the ski you want wrapping, the labor required to wrap it, and the complexity of the design and type of finish.
You'll need to ask around and find out if your local shop does design and installation or just one or the other.
It's possible to wrap a jet ski yourself. There are videos online that show you how the process works. If you choose to go this route, you only need to pay for the wrap itself, not the installation. The cost of the wrap will be anywhere from $300-$500.
Because of the potential for the wrapping process to go wrong and introduce bubbles and creases, we don't recommend trying to install it yourself unless you are experienced in this kind of thing.
It's worth paying a professional to install the wrap for you to ensure a completely smooth, flawless finish.
How long does it take to wrap a jet ski?
One of the main advantages of vinyl wrapping is that it's much less labor-intensive and quicker than a paint job. There's less prep work involved than when undertaking a repaint because you don't have to strip off the existing surface—you can even leave decals and stickers on.
There's also less downtime for the vinyl finish to cure. A custom paint job can take up to a month to fully cure, while a vinyl wrap will take just a couple of weeks at most, and usually as little as 72 hours.
Can decals be used on a vinyl-wrapped jet ski?
It's not recommended to use decals over vinyl wrap, since removing them will likely damage the vinyl.
Instead, you can use the vinyl wrap as a decal (for example if you don't want to cover the entire surface of the hull), or you can customize the full wrap to include decals and other graphics.
How much does it cost to repaint a jet ski?
The cost to do a full repaint on a jet ski can be anywhere from $300 to $1000 depending on the quality of the paint, and whether you do it yourself.
If you go the DIY route, you might get it done for as little as $100. It's also easier to do a good job on a DIY repaint than on a DIY vinyl wrap, so if you plan to DIY and this is your first time, it's probably better to repaint than a vinyl wrap.