Shopping for a jet ski can be a daunting process. There are many things to consider before you can get out there and start having fun in the sun. What kind of PWC do you want? Which model? What specs? Then there are logistics like taxes and fees, freight, shipping, storage, and insurance to think about.
No matter where you are in the PWC buying process, a good dealer can help answer all your questions and match you with the vehicle that's perfect for you. So how do you go about choosing a dealer? What should you look for? What's the best way to find a dealer? Who are some of the best dealers in the United States?
We've put together this guide to help you navigate the process of choosing a jet ski or PWC dealer. We'll talk about what to look for in a dealer, and look at some of the top dealers in the United States by geographical area. Then we'll compare them across a range of criteria including price, location, customer service, and reviews.
What to Look for In a PWC Dealer
Local
According to most online reviews, small, local shops always beat out chains and megastores when it comes to customer service, price, and quality. A small shop with a few salespeople and mechanics will always have more time to spend with you than a megastore crammed with back-orders.
Laid-Back Salespeople
Fortunately, shopping for a new jet ski isn't like shopping for a new car. On the whole, jet ski salesmen and women are more laid back and less pushy or sleazy than car dealers.
Why? They're selling a luxury product, and they generally deal with people who have money to spare. They're selling a lifestyle–and a super fun one at that–not a boring necessity.
If you find yourself dealing with a pushy salesman or saleswoman, it may be an indicator that the dealership you're considering isn't the best choice.
Efficiency
Generally, jet ski dealers want to get you out the door and onto the ski as quickly as possible. They aren't going to waste your time with a lot of talk or paperwork.
So if you feel like a salesman is wasting your time with that stuff, it could be another indicator that you're in the wrong place.
You want a dealer who cares about their customers' time, not just their money.
Helpfulness
Despite their preference for speed, a jet ski salesperson should be willing and able to answer all your questions.
Don't be afraid to ask every question you can think of. If they can't answer it, they should at least make an effort to find someone–a mechanic or superior–who can.
Who Are the Best PWC Dealers in the United States?
The list below is a sampling of some top-rated dealers in the US. Obviously, it would be impossible to cover every dealer in the US, as there are thousands of them.
If you live in the area near one of these dealers, we highly recommend buying your PWC from them.
If you don't live near one of these dealers, use these examples as a guide to compare and assess the local dealers in your area. Any dealer you choose should meet or exceed the quality of these dealers in all the relevant areas.
| | |
| --- | --- |
| West Coast | Bert's Mega Mall |
| | Del Amo Motorsports |
| East Coast | Flamingo Motorsports |
| | Stamford Motorsports |
| South | Cycle Springs Motorsports |
| Midwest | Kommander Industries |
West Coast
Bert's Mega Mall
Don't let the name fool you – Bert's Mega Mall isn't some national big-box chain store. They're a well-reviewed dealer and service provider in Covina, CA. They serve customers all over Southern California and the West Coast.
Selection
Bert's carries all types of PWCs: Kawasaki Jet Skis, Sea-Doos, and Yamaha Waverunners. They are also one of the only dealers to carry Gibbs Amphibians. They have a huge selection of new models, as well as used vehicles.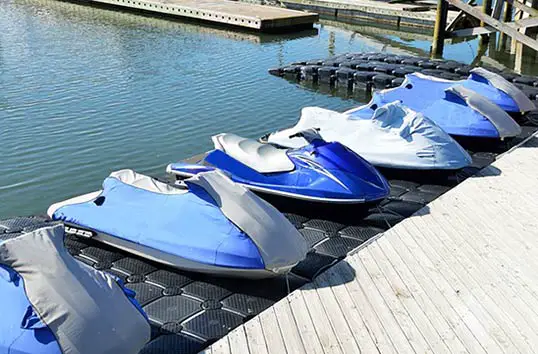 Bert's is not a PWC-specific dealer: they also carry motorcycles, ATVs, and custom UTVs. If you're concerned about finding a dealer who specializes in PWCs only, Bert's may not be the choice for you.
Price
Bert's prices are standard for PWCs. You can expect to pay around $10,500 for a baseline 2022 Kawasaki Jet Ski STX 160X, for example. They also offer trades and cash for used watercraft, which can significantly offset the cost of your new vehicle.
Bert's run promotions frequently. You can easily check what promotions are currently running by visiting the promotions page of their website. At the time of writing, they are offering a $150 discount and 2-years of coverage when you pre-order and new Sea-Doo and spend at least $1500 on accessories and apparel.
Customer Service
Bert's Mega Mall's customer service starts with its outstanding website. Easily browse their huge selection of PWCs and get quotes on specs and customizations. See what's in stock, and easily place pre-orders if what you want isn't available.
Bert's also has a repair and service shop. Their hourly labor rate is lower than many of their competitors in the SoCal area, and they continuously train and certify their repair technicians.
Reviews
Bert's Mega Mall is well-reviewed. They have a rating of 4.3 stars on Google with over 2000 positive reviews. Their Yelp rating is 3.5 stars with 1.2K reviews. They're rated 4.8 stars on Snap21 with nearly 1200 reviews.
Del Amo Motorsports
Del Amo Motorsports is a premier motorsport dealer with 5 locations in Southern California. They specialize in ATVs and motocross vehicles, however, they also sell new and used Sea-Doos.
Selection
When it comes to PWCs, Del Amo has all brands, from Sea-Doo to Yamaha to Kawasaki. Their selection of Sea-Doos includes Sparx, GTS/GTI, Wake/Wake Pro, GTX, GPR, and RXP.
Price
Del Amo's prices are standard and reasonable for new PWCs. As an example, they carry the 2022 Sea-Doo touring model starting at $13,099. 2022 Sea-Doo GTI SE 130 with sound starts at $11,899.
Del Amo runs Sea-Doo promotions as a licensed Sea-Doo dealer. At the time of writing, they are offering 2.99% financing for 36 months on new Sea-Doos. They are also offering a $150 discount with the pre-order of a new Sea-Doo and purchase of $1200 worth of accessories.
Customer Service
Del Amo is fully bilingual, which is a bonus that not every dealer on this list boasts. Their website is somewhat difficult to navigate, but it's possible to browse their selection of models and get quotes for customizations. The quotes page is slow to load and a bit buggy.
Del Amo's service department specializes in stock and high-performance motocross vehicles, especially Ducati, but they service watercraft as well. If you're looking for a repair shop that specializes in PWC repair, you may want to look elsewhere.
Reviews
Del Amo reviews are grouped by location, but all locations are well-reviewed. Their Orange County location has the best reviews, with a rating of 4 stars at 597 reviews on Yelp. Their worst-rated location is Redondo Beach, with 3.5 stars and 907 reviews on Yelp.
East Coast
Flamingo Motorsports
Flamingo Motorsports is a small shop in Palmer, MA. They deal in motorcycles, ATVs, and PWCs. They have a limited selection of PWCs in stock at any time. They are extremely well-reviewed for their customer service and repair shop.
Selection
Flamingo carries
Price
At the time of writing, Flamingo Motorsports carries the 2022 Kawasaki SX-R for $10, 549. They have the 2022 Sea-Doo Spark Trixx 3UP with sound for $9299. They also carry used PWCs, but at the time of writing, they didn't have any pre-owned models in stock.
Flamingo doesn't appear to run promotions on their inventory.
Customer Service
Flamingo Motorsports is known for providing top-quality customer service. All of their salespeople and repair technicians are listed on their website's contact page, with phone numbers and emails available for each. You can contact a specific salesperson with questions at any time.
Flamingo's repair shop is highly regarded as a small shop with a dedicated team. You can visit their website for a quote on a repair, and if you aren't sure what's wrong you can call to talk to a repair tech.
Reviews
Flamingo Motorsports has a 4.5-star rating on Google with 127 reviews. On Facebook, they have a 4-star rating with 57 reviews. They are noted in online forums as providing top-quality repair service.
Stamford Motorsports
Stamford Motorsports in Connecticut is a well-regarded dealer of everything from motorcycles and dirtbikes to power equipment, snow-blowers, and, yes, PWCs. They carry a surprisingly wide range of PWCs considering that they also deal in so many other types of equipment.
Selection
Stamford carries all types of PWC. They have a huge selection of new models in stock, as well as a limited number of pre-owned vehicles. If you're shopping for a used model, you may want to look elsewhere.
Price
Stamford's prices on new PWCs are standard. They offer financing on all models, and their website makes it easy to get pre-approved. They take trades and offer cash for used vehicles.
At the time of writing, the cost for a pre-owned 2017 Sea-Doo Spark Trixx is $6999, and the cost for a used 2013 Sea-Doo GTX S-155 is $8799. At the time of writing, Stamford is running the Sea-Doo promotion for 2 years of coverage and $150 on a new pre-order and purchase of $1500 of accessories and apparel.
Customer Service
Although Stamford is a larger dealer rather than a local shop, their customer service is well-reviewed online. Their website is easy to use and navigate, and you can get quotes on new purchases and repairs.
Reviews
Stamford is rated extremely well online, with no rating under 4 stars. They have a rating of 4 stars with 209 reviews on Google, 4.2 stars at 44 reviews on Facebook, and 4 stars with 12 reviews on Yelp. They are also noted in online forums as providing good repair service.
South
Cycle Springs Motorsports
Another small, local shop, Cycle Springs specializes in motocross vehicles but has a limited inventory of PWCs in stock, with the ability to pre-order from a large selection of new models. They are the world's largest Yamaha Waverunner dealer.
Selection
Cycle Springs' in-stock selection is limited, but their website makes it easy to customize, quote, and order from a wide range of Kawasaki, Sea-Doo, and Yamaha PWCs. When it comes to new PWCs, you can find pretty much anything you're looking for.
Their used selection of watercraft is limited, but their website encourages customers to check back often, as used inventory changes frequently.
Price
Prices at Cycle Springs are not listed on the website. You must either request a quote or contact them for information.
At the time of writing, they don't appear to be running any promotions.
Customer Service
Cycle Springs' website features a "Customer Corner" section that contains instructional videos, information on local boat ramps and race tracks, and information on local upcoming events. Customers are encouraged to leave reviews.
Their repair and service department is small but able to service most models, including all PWC brands. They encourage you to get in touch via the webpage to check that they can handle your repair before making an appointment.
Reviews
Cycle Springs is well-reviewed. Their lowest rating is a 3-star rating on Yelp, with 40 reviews. On Google and Facebook, they're rated 4.5 stars with 916 and 209 reviews, respectively.
Midwest
Kommander Industries
Kommander Industries is the number 1 Yamaha Waverunner dealer in Arizona. They serve customers from all over the state.
They are a dedicated Yamaha Waverunner shop with 6 years of top ratings in both sales and customer service. They also sponsor professional jet ski racers.
Selection
Kommander deals in Waverunners exclusively, so if you're looking for a Sea-Doo or Kawasaki, look elsewhere. They carry the latest Yamaha models. Their selection is limited, in fact, at the time of writing they had just one new model and did not have any pre-owned vehicles in stock.
Kommander sell their own after-market upgrade kits. They offer a TR-1 Turbo Kit for Yamaha TR-1 1050cc PWC engines. They also sell a Kommander GP1 hull, built for improved handling at high speeds, which can be bolted to a variety of Yamaha craft.
Price
Kommander's prices are competitive and consistent with expectations. They run manufacturer promotions, however at the time of writing they did not have any that were active. They accept trades and offer cash for used vehicles.
Customer Service
Kommander Industries has won awards for customer services for the past 6 years in a row. The shop started as a performance shop serving top PWC professionals from all over the world and became a full-service Waverunner dealership in 2014.
They maintain their commitment to providing professional-level parts and service to professional and amateur jet skiers alike.
Reviews
Kommander Industries is one of the top-rated dealers on this list, with 4.8-star ratings on both Google and Facebook. They have a 5-star rating on Yelp and many positive reviews from former clients in the customer review section of their website.