Riding on a lake or in a protected bay is fun, but if you're a jet skier with a sense of adventure, you might be itching to take your ski out on some longer excursions. Maybe you've even considered jet skiing out on the open ocean, or attempting a channel crossing.
Open water jet skiing is an exhilarating experience. Depending on where you live, it might be a very challenging undertaking or a walk in the park. Either way, it's a great way to see the ocean, connect with nature, and test both your skills as a rider and your physical and mental endurance.
One of the most popular places in the United States to cross an ocean channel on a jet ski is in California, from Long Beach in Los Angeles out to Catalina Island. The crossing is a fairly short trip—between 40 and 75 minutes depending on your experience level—and depending on the time of year can be a great intro to open water riding.
Related:
How to Prepare for Open Ocean Riding
Riding on the ocean is not the same as riding on a lake or in a small bay. There are many factors to take into consideration when preparing for an open water trip, and such an undertaking should not be approached casually.
Weather
Weather on the ocean can be rough and unpredictable. Take time to learn about how the wind and tides affect conditions, and plan to make your trip in the calmest conditions possible. A wind speed of 10-knots or above creates choppy waves that will make your ride uncomfortable, and anything over 15-knots becomes extremely unpleasant or even dangerous.
The wind is very dependent on the time of year and time of day. In Southern California, conditions are usually calm throughout the morning, and the wind picks up in the afternoon. This part of the world can also be very foggy during the morning hours. During the winter, Santa Ana winds make the crossing dangerous, so it is not recommended to attempt this during the winter months.
Other Vessels
The Santa Barbara Channel is an incredibly busy waterway; pleasure yachts, powerboats, and large container ships frequently crowd it. You should always carry a radio, wear a high-visibility vest, and keep your eyes and ears open all the time for approaching vessels.
Never attempt to cross the channel at night or when it is foggy—you will not be able to see other ships approaching, and they will definitely not be able to see you.
Safety
Never attempt a crossing like this on your own, even if you are an experienced rider. At the very least, you should ride with a buddy on another ski in case something goes wrong. It's not recommended for inexperienced riders to attempt ocean riding without the accompaniment of a coach or more experienced rider.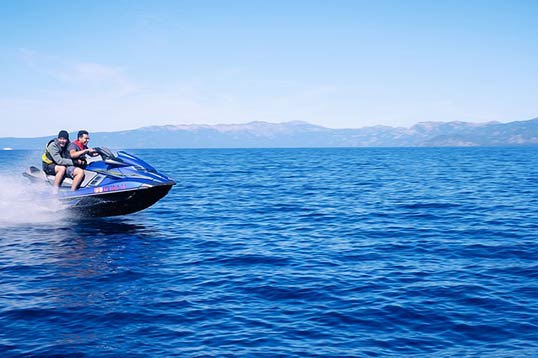 Wear a life jacket and wetsuit. It's highly recommended that you carry a GPS tracker like this one or an EPIRB. At the very least you should carry your cell phone and a radio.
Always carry a VHF radio and keep it turned on and tuned to channel 16. This is where the Coast Guard makes safety announcements and where yachts and large ships alert others to their presence. This is also where you should call for help if something goes wrong.
VHF Radio Signals
The following signals are good to know when operating a VHF radio.
Securite, Securite, Securite. You will hear this frequently when listening to channel 16. It's used to indicate that a radio broadcast is not urgent. For example, you might hear the Coast Guard say "Securite, Securite, Securite" before they announce information about a port closure.
Pan pan, Pan pan, Pan pan. This is used to indicate that a radio broadcast is urgent but not life-threatening. Typically, this means a vessel is in distress—for example, you might hear this from a powerboat that needs a tow because their motor has failed.
Mayday, Mayday, Mayday. This indicates that a broadcast is extremely urgent or life-threatening. You will rarely hear this. If you do, it could mean a vessel is sinking, or someone on board has been severely injured. Only use this if you are in real trouble.
Gear
For a successful trip, there are some additional preparations to make and a few extra things you should pack that you might not take on a normal ride.
Full tank of gas. It's not necessary to take extra fuel because there are two fuel docks on the island.
Extra water
Tow rope
Gloves
Helmet
Wet suit
Cell phone
EPIRB or GPS tracker
VHF radio
Snack
Recommended reading: Best Bluetooth speaker for your jet ski
Organized Tours
If the above preparation sounds a bit daunting, then you might prefer to make the trip out to the island with a tour group. There are several companies that operate jet ski day trips from Long Beach and San Pedro to Catalina.
These tours cater to riders with all levels of experience, so a guided ride will take much longer than doing the trip yourself. A tour company will handle all of the safety requirements, and provide you with everything you need to make the trip.
You must be 16 to operate a jet ski on these tours. Children as young as 12 are allowed to ride behind an adult. No experience is required, however, both companies state that the trip is an intense experience, and that "a sense of adventure is a must!"
All trips are weather-dependent, and subject to cancellation or delay if conditions are unsafe.
JetSki2Catalina
This company operates out of Long Beach, providing year-round day trips out to the island. The ride takes about 2.5 hours, with a swim stop at Blue Cavern point and a 4-mile marker stop to view the sea lions. Once on the island, you will land at the company's private beach for a 3-hour block of free time, during which you can eat lunch, snorkel, hike, etc.
The day starts at 7:30 and ends at 4. The company provides the jet ski, fuel, wetsuit, a guide, safety equipment, and pictures or video of your day. You must bring your own lunch and any additional gear should you want to snorkel or hike.
Uncharted Society
Also located in Long Beach, this company runs tours very similar to JetSki2Catalina. They leave at 7:30 AM and return by 3:30, and include stops at the 4-mile marker and Blue Cavern. They provide everything needed for the jet ski trip, and recommend guests bring their own lunches and any equipment they might want for other activities like snorkeling, fishing, or hiking while on the island.
They offer private tours for a minimum party size of 10 jet skis.
Catalina Island
The island of Catalina lies about 20 miles off the Southern California coast, west of the Los Angeles area across the Santa Barbara Channel. It's a spectacular location, known for its rugged natural beauty and bountiful marine life.
A popular destination with sailors and power-boaters, its many secluded bays offer protection from the Pacific swells and wind, and although it's just a short trip from one of the biggest cities in the States, it feels like a remote getaway.
Two Harbors
The tiny town of Two Harbors is a favorite destination for both water-based and land-based travelers. So-called because it sits on the isthmus between two harbors—Isthmus Cove and Catalina Harbor—it is a great stop for sailboats, powerboats, and PWCs. There is a campground, bar, small grocery store, and one restaurant.
There are about 200 moorings in Isthmus Harbor, most of which are privately owned. Some are available to rent, and it is possible to tie up your PWC on a mooring ball. Hail the harbor patrol on channel 16 when you arrive to ask for assistance. Mooring balls are not always available, so call ahead to make sure you will be able to find a spot.
If you don't want to tie up on a mooring ball, you can use the dinghy dock, but be aware that, as with mooring balls, there may not be room during the busier months.
Avalon
A much bigger, busier town than Two Harbors, Avalon is the most famous spot on Catalina, well known for its beautiful opera house, restaurants, shopping, and the Mediterranean feel. The harbor here is very busy, especially during the high season, so be sure to call ahead and plan your trip carefully. You will need to tie up on a mooring ball here, as there is no space at the dinghy dock.
When you arrive, do not enter the harbor right away—hail the harbor patrol on channel 16 and someone will come out to meet you and escort you to your mooring.
Other Coves and Beaches
There are many other small coves and beaches on the island where it may be possible to beach your jet ski. Many of these are privately owned by various yacht clubs and organizations, so do your research and check whether landing is allowed in the bay you are considering.
Dolphins and Other Marine Life
It's highly likely that you will see dolphins or other marine life during your crossing. While it is an amazing experience to see these creatures in the wild, it's important to treat them with respect.
Do not approach any animals, as they are not always aware that you are there and can easily injure themselves and you by crashing into your vehicle. Do not throw food into the water. Do not attempt to dismount your jet ski and get into the water with them.
Final Word
Undertaking a trip from Long Beach to Catalina by jet ski is not something that should be approached without careful planning and forethought. However, with the right preparation, it can be a truly breathtaking experience.
If you live in Southern California or are planning a trip to the area, a jet ski crossing from Long Beach to Catalina is highly recommended! You will not forget it.