Every summer, thousands of Americans enjoy the freedom of the Great Lakes on their jet skis. But did you know that it's possible to cross the entire lake on your jet ski?
It may sound crazy, but in 2019, three teenagers from Southern Michigan did exactly that, crossing the lake from Michigan City to Chicago and back in one day.
If they can do it, so can you!
If you are looking for an exciting adventure on the water this summer, there is no better challenge than to cross Lake Michigan via jet ski.
It's definitely not your typical jet ski passage, but with proper preparation and a solid boat, anyone can take on this exciting challenge.
How Long Does it Take?
The time that it takes to cross Lake Michigan via jet ski depends entirely upon your route and the conditions at the time.
The lake averages 40 to 60 miles across, which usually takes a jet ski two to three hours in flat conditions.
Of course, if the seas get rough or if you end up fighting the wind or current, the passage can take much longer.
To be on the safe side, it's a good idea to bring enough fuel for a five-hour crossing and to top up before your return trip back across the lake.
What Are Some Good Routes to Cross Lake Michigan?
Lake Michigan is one of the largest lakes in the world, and there are many potential routes for a crossing via jet ski.
Since Chicago is such a major American city, many boaters choose it as an ideal destination. Crossing the southern end of Lake Michigan from the state of Michigan to Chicago is about 40 miles and takes two hours for the average jet ski. If you choose to depart from a little further north, plan to add an extra hour to the crossing.
If you prefer to take the road less traveled or stop for some sightseeing along the way, you may prefer to cross Lake Michigan's more remote northern side. Here, there are islands where you can take a rest from the long passage across the lake. Beaver Island is a popular stop, which features shops, restaurants, sandy beaches, and even a small marina.
Another option is to cross Lake Michigan at its widest point from the Muskegon area to Milwaukee, Wisconsin. Here the lake is over 60 miles across. Since there is no chance to make a detour or stopover at any islands, this route is best taken by highly experienced jet ski enthusiasts.
Related: Can You Jet Ski from California to Catalina Island?
How to Prepare For Your Ultimate Crossing
The Great Lakes have a well-earned reputation for being dangerous, and over the years they have claimed the lives of many mariners. This doesn't mean that you can't have a safe and enjoyable crossing of the lake, you just need to take the time to be prepared.
Even in the summertime, hypothermia is a very serious risk, so it's a good idea to wear a life jacket and a wetsuit or drysuit at all times on your jet ski. This will keep you warm even if you fall into the water and greatly enhance your chances of survival in the unlikely case of an emergency.
Below is a list of things to do before heading out on your adventure across Lake Michigan:
Double-check the weather report before you go. If you aren't absolutely sure that conditions will be ideal for the crossing, wait until a better day. I like to use windy.com and NOAA for accurate, easy to interpret marine weather forecasts.
Plan your route carefully and make sure that everyone understands the plan. Make sure to consider any hazards to navigation like rocks, reefs, or busy shipping lanes that could complicate the crossing.
No matter what type of jet ski you own, whether it's a Sea-doo GTX, a Yamaha FX, or another type of jet ski, it's important to make sure that it's been well maintained and ready for the trip. Carefully go over your jet skis to make sure that they are in working condition.
If you don't have mechanical skills, hire a professional mechanic to check over the engine and confirm that it's ready to go for the crossing. The last thing that you want is to have the engine die halfway across the lake.
Take your jet skis out for a sea trial a day or two before the crossing to make sure that you are one hundred percent ready and everything is in working order to cross the lake.
Don't go alone! Ask at least one friend to go along with you on the adventure. That way you will have help nearby if anything goes wrong and it's more fun with friends anyway.
Consider inviting a boating friend to follow along in a chase boat. They can offer assistance or toss you extra supplies if necessary along the way.
How to Watch the Weather
The greatest danger to crossing Lake Michigan on a jet ski is the chance of encountering bad weather. In the Great Lakes, the weather can change fast, and a beautiful day can quickly turn dangerous if you aren't careful.
In this section, we will cover a few tips to make sure that you enjoy pleasant weather on your adventure across the lake.
In the days leading up to your crossing, watch the weather forecast every day and familiarize yourself with the weather patterns on the lake. Pay special attention to how the weather behaves before a small craft advisory or storm.
Listen to the local marine radio for weather reports and any warnings for small vessels. Remember to listen specifically for marine weather, since normal weather reports don't focus on wind and waves.
Pick a day with clear, calm weather and light winds for your crossing. If there is any wind, pay attention to the direction and keep in mind that your crossing could take longer if you have to fight against the breeze or wind-driven waves.
Watch the sky for signs of any change in the weather. Even though modern forecasting tools have become more accurate in recent years, the Great Lakes are often affected by localized weather events that don't make it into the forecast.
If the weather deteriorates early in your crossing, turn back while you still can. You can always wait it out and try again.
If the wind and seas become too much when you are out of sight of land, try to use it to your advantage. If possible, don't fight the seas but let them push you to a safe port. You may have to change your destination if your intended target is against the wind or current.
Packing List for Crossing Lake Michigan on a Jet Ski
Some people have attempted to cross Lake Michigan without the necessary equipment, either to save on weight or because they were too lazy to pack all the necessities. Some of them never made it across.
In order to have a safe and enjoyable trip across the lake, it's important to bring along all the essential equipment, including safety items.
Don't forget to keep your supplies packed in a waterproof bag and properly secured to the vessel so that you don't lose anything if the weather gets rough. Here's a quick list that covers the most important items:
Food and water
Jerry can with spare fuel
Life vests
Spare clothing in a waterproof bag
Wetsuit or drysuit
Means of communication from at sea (remember that you will likely be out of cell phone service much of the way across, so bring a satellite messenger or long-range radio to keep in touch)
Money and identification
Flares, whistle, and horn
Sunscreen, sunhat, and glasses
Are Jet Skis Allowed on the Chicago River?
So, once you have crossed Lake Michigan and arrived in Chicago on your jet ski, what are your options?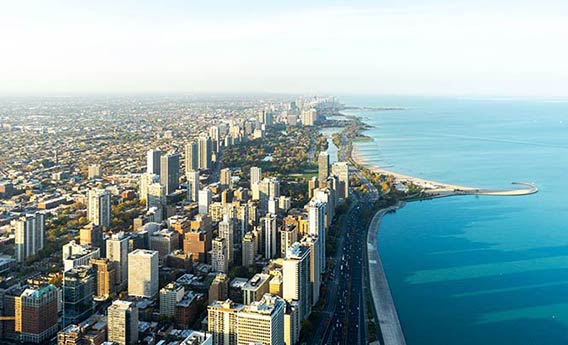 Many boaters would wonder if it's possible to take their jet skis up the Chicago River and enjoy the sights of the city. The answer is yes – as long as you are careful to respect other boaters and keep to all of the local regulations for the river.
None of the local jet ski rental agencies allow customers to rent jet skis for the Chicago River. But that doesn't mean that you can't take your own jet skis as long as you are mindful of the local boating laws.
The Chicago River is officially a no-wake zone, so it's important to keep your speed slow. The river is popular with canoers and other small recreational watercraft, so keep a lookout for other boats while navigating along the river.
What Are Some Alternative Ways to Cross Lake Michigan?
There are many ways to cross Lake Michigan on the water, and jet skis are by no means the only (or the best) means of transportation across the lake.
Over the years, boaters have crossed Lake Michigan on small motorboats, sailboats, kayaks, rowboats, paddleboards, and even by swimming!
If you don't have access to a jet ski, or if you prefer another mode of transportation over the water, there is no reason that you can't cross Lake Michigan on any seaworthy vessel.
Just take the time to do your research and make sure that you are prepared for the journey.
Summary
Crossing Lake Michigan on jet skis is a fun adventure and the perfect challenge for an experienced boater.
By taking the time to do your research and be prepared, you can make sure to have a safe, exciting trip.
The crossing may only take a day, but the memories will last a lifetime!
If you want to learn about more exciting adventures to take on a jet ski, check out our article on how to jet ski to the Bahamas!