Adventure is wherever you find it. Misadventure is whatever you make of it.
Adventure riding on a personal watercraft is certainly above and beyond taking a spin at your local lake. Going point to point across ocean waters is not to be taken lightly, but it sure is fun. Everyone should put it on their bucket list.
This is why I've been contemplating a trip from Florida's eastern coast to the Bahamas. Here's hoping that if plans come to fruition, it'll be more adventure than misadventure. But one never knows, and preparation is key.
Misadventures past
There was a time when I was sitting in the west coast offices of the American Watercraft Association and the phone rang. At the other end of the line was Honda's then watercraft public relations manager Jon Siedel, who asked if I'd be available the next week to lead an expedition from Cabrillo Marina in San Pedro, California, to Catalina Island.
At the time, Catalina was a day trip I'd take probably once a month. My office was a mere block away from the marina, and I'd often host friends who would visit California to see the sights.
How better to assure them of a memorable experience than a 25-mile ride off the shores of the west coast over ocean waters?
A day trip that could have gone wrong
The specific goal on this occasion? A writer-slash-first time PWC rider representing one of the world's largest men's magazines would be publishing a story about the possibilities for Honda's then newly GPS equipped Aquatrax 1200. I was the insurance that all would go well.
Well, that policy was soon cashed in when we left Cabrillo's harbor to find that the GPS fitted to both Jon and I's machines indicated that we were currently located in downtown Torrance – some 10 miles inland and 30 miles north of our actual location.
Seems the waypoints had been set from American Honda's headquarters, and not Cabrillo Marina.
I should think the statute of limitations has long since run out, so I'll reveal that Jon pulled close alongside in the gently rolling swells of the Pacific and expressed potential embarrassment for both himself personally and Honda as a company should the writer for one of the most circulated periodicals anywhere dwell on that aspect of the story.
"Can you find it without the GPS?" he asked quietly.
"Of course," I replied with all confidence. I'd taken the journey numerous times before sans navigational aid. And it was a bright and sunny morning. On a clear day, the mini-mountains of Catalina are visible from many miles away.
The fog and plot thicken
So off we went, with the mainstream newcomer still adapting to the skills required to ride ocean waters and blissfully unconcerned with navigation.
That's when both the marine layer and the plot thickened. Although we were barely miles offshore, the cliffs of the California coast were suddenly lost in the mist. Everything, essentially, was lost in the mist. Visibility was maybe 20 yards in any direction.
Clearly, this ride would be a bit tricky. Odds were reasonably high I might lead us right past Catalina Island and to certain death from thirst while drifting towards Guam, sans fuel.
In the end, we live to ride again
Spoilers: With the help of the age-old navigational trick of regularly taking a break and backing down to idle speed – ostensibly to extol the virtues of Honda's personal watercraft line to the mainstream media whilst allowing said writer the chance to rest his non-sea legs a bit – to take an occasional cue from other boaters with the same destination, we would find the island.
We all survived to tell our tales, and Honda bought me a very nice lunch.
St. Pete to Key West: Schooling with sharks
A few years previous to that precarious journey, I had been invited by Kawasaki as editor of Watercraft World magazine to help lead a ride from St. Petersburg, Florida, to Key West. I was the "expert" and we would be joined by Terry Tomalin, who was the larger than life outdoors editor for the St. Pete Times.
Like the aforementioned magazine scribe, Terry had never been aboard a jet ski.
Tomalin was no stranger to adventure, however. To only scratch the surface: He had sailed to then-prohibited Cuba on a tiny one-man catamaran, backpacked through New Zealand while living amongst witch doctors, and once paddled a canoe from St. Pete around the tip of Miami and back up the Atlantic coast followed by a quick trip in the same canoe to the Bahamas. He'd also done a bit of swimming with sharks and so forth.
Me, I've spent a lot of hours on top of an ocean surface, but little time exploring the depths beneath. Sharks would certainly number among the reasons I'm no underwater explorer.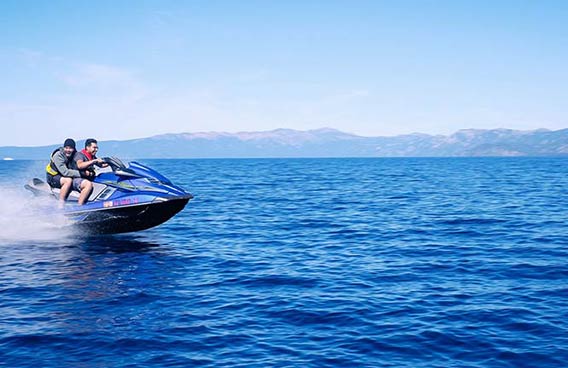 Day one went well and a good time was had by all.
There will be blood
Midway through the second day leg of the journey, as we approached the juncture of Gulf and Atlantic waters, seas which were previously quite calm rather suddenly turned into nasty four-foot chop. And we found ourselves surrounded by an extremely large school of even larger hammerhead sharks.
At which point self-preservation kicked in. The choice between fight or flight couldn't have been more obvious. Immediately falling back on many years spent racing motocross, I stood up, pinned the throttle, and skimmed right across the tops of the waves as though they were so many supercross stadium-sized moguls. With enough momentum, I'd be just fine.
And I was, but others weren't. A photographer I'd hired to come along (and completely forgot about at that moment) tried to follow my lead. He made it about a mile before he literally fractured his face on the handlebar pad.
Happily, given the fairly prodigious amount of blood pouring from his nose and eye socket, he had at least already cleared the school of sharks – if not the five-foot wave he'd plowed into at high speed.
Prohibited waters
With little choice but to seek immediate medical attention, we would then ride into no-wake waters of the Everglades National Park – where jet skis were strictly prohibited – at relatively high speed.
Thankfully, Tomalin was personally familiar with the rangers at the park. He explained our situation, and we somehow escaped thousands of dollars in fines.
After loading the ill-fated photographer into an ambulance, the journey continued.
Adventures to come
It's little wonder that the trips that went somewhat wrong became the most memorable. Still, if I'm to ride from West Palm to the Bahamas, I'd sooner avoid fodder for future tales of woe and worry.
I've been flown into the Bahamas before for press events. And I've certainly spent many hours and days off the eastern shores of Florida. But this is going to be the first time I'll tie the two together.
Preparation and planning are the keys to any successful journey, more so if it's to be across open waters on a personal watercraft. So here's what I'm thinking…
Related:
West Palm to Grand Bahama
The Bahamas are of course an archipelago of more than 700 islands starting not far off of Florida's coast, and stretching across the southwestern Atlantic almost to the northern parts of the Caribbean. Although the vast majority of these islands, or cays, are undeveloped and even uninhabited, destination locations are numerous with all showcasing the placid blue water and white sands of the region.
Nassau is both the nation's capital and the country's largest tourist town. By all accounts, it's a bustling cruise ship port with a crowded mix of huge resorts, shops, restaurants, and entertainment complexes.
That's just the kind of thing I don't want. To each his own, but crowds of people are the antithesis of what I'm looking for on an island trip. Sugar-white beaches, crystal clear waters, and seemingly endless sunshine are what I'm after, not a paradise long since paved over.
Also, Nassau is on New Providence Island, which is somewhat centrally located in the island country. That's approximately 180 nautical miles from West Palm, a pretty long haul across open waters.
Bimini is another extremely popular destination, and is scarcely 50 miles from Miami and only about 80 miles from our starting point. It is also tiny, and if anything even more overrun and crowded with tourists than Nassau.
More inviting, at least to me and my friends discussing the journey, is Grand Bahama, the northernmost and westernmost major island. That's a tick under 100 miles, still a very manageable distance for a day's ride. And it's more or less a straight shot east from West Palm.
Sure, it'd be great to explore further. But money, time, and scheduling conflicts will constrain us to a weekend trip. Out one day, back the next.
Depending on water and wind conditions, allowing for rest stops, and planning a conservative pace, we are estimating 4-5 hours one way for the journey. After much argument, our consensus opinion has become to go slow enough to enjoy the scenery as much as the ride.
I'd encourage everyone with a personal watercraft to take a break from the lake and plan for at least one open water ride in their lifetime. Here's what you need to know:
Border crossing
Grand Bahama also has numerous points of entry where one can clear customs when visiting our neighbor to the east.
Visiting boaters must clear Customs and Immigration at the nearest designated Port of Entry, and a cruising permit is required for all foreign, private, non-commercial pleasure boats to travel in Bahamian waters.
As your watercraft comes in well under the 35-foot length cap, expect to pay $150 per PWC permit.
Timing your trip
The ideal time to visit the Bahamas, especially by water, is happily the best time to flee the frozen north. From December through May, the waters that are far south remain warm enough with air temperatures in the 70-80 degree range on most days.
Many would find the much higher temperatures later in the year intolerable – why do people insist on visiting Disney World in August? Bad idea, tourists… – but that's not the real reason to avoid planning a trip to the tropics in the summer months.
June 1st through November 31st is officially hurricane season in the western Atlantic. Don't plan a trip during those months. Just don't. The Bahamas are located at the very nexus of the hurricane danger zone.
Further, unlike the mountainous Caribbean islands farther south, the Bahamas are low lying coral islands with little in the way of a wind break anywhere. If you were to be caught out on the water in a storm, chances of finding a bay to hide out in are slim to none.
For that matter, in a nation where even the largest islands are only a scant few miles across, "inland" itself provides little in the way of protection.
The Gulf Stream transports warm waters heated in the Caribbean sun northbound along the coast of the United States, and is one of the world's great ocean currents.
Like any other body of water, the Gulf Stream changes. Sometimes it is relatively dormant and the waters off the eastern coast of Florida are as tranquil as bathwater. Other times, however, it can rip along at three knots or better and create horrible conditions for boaters.
Winds blowing from the north can create heavy chop that is as steep as it is relentless. Unless you are an expert rider in these conditions, and even then, it can be very dangerous to transverse.
Moreover, a two- or three-knot undercurrent can easily take any vessel miles off of its intended course. This undercurrent will not be steady, either, but will fluctuate. At least one GPS unit is mandatory for this crossing, and I'd strongly recommend two to prevent misadventure through malfunction.
Don't be fuelish
Depending on how you ride, your watercraft might burn one gallon of gas per hour, or as much as 25 gallons of gas per hour. At wide open throttle, speed quickly becomes the enemy of distance.
Further, in the aforementioned Gulf Stream, the surface condition of the water – flat or choppy? – and myriad other factors can play a part in fuel consumption.
It wouldn't be good to run dry midway through the run, so a judicious approach with the throttle hand is essential. Let's talk about…
Best cruise speed
The best cruise speed is that sweet spot where your watercraft will cover the most distance on a tank of gas.
Fuel consumption is minimal at idle, but you'll never get anywhere. Conversely, full throttle operation means you'll cover a minimal distance due to fuel depletion occurring at maximum speed.
The sweet spot for most modern watercraft is about 25 mph, which on average translates to most miles covered per gallon. That's extremely general, however. For obvious reasons, a Sea-Doo Spark gets far better fuel "mileage" than a supercharged RTX.
We'll be eschewing a chase boat, and will instead carry small fuel containers as an emergency back-up. Most importantly, each of us already has a pretty good idea of how much distance we can cover on a single tank of gas at moderate speed on our individual machines.
Bottom line: A PWC ridden judiciously should be able to easily go 100 miles on a full tank of gas without running dry. Do your research on your particular ski before embarking on any long-distance journey and plan accordingly.
Beneath the surface
Navigational hazards such as reef or sand shoals are not particularly prevalent off the respective coasts of Florida or the Bahamas, but they do exist.
Aside from just off of either shore, there will be no navigational aids or channel markers.
One of the nicest things about riding these crystal clear waters, however, is that under most conditions you'll be able to see the bottom of the ocean from your watercraft. At moderate speeds, and assuming you stay alert, that's enough to keep your journey from coming to a grinding halt on a sandbar.
Moreover, there's an excellent chance that you'll also see dolphins, manatees, sea turtles, and more along the way. And yes, hopefully only the occasional shark.
It's not a major concern for those who have ridden Atlantic waters, but the uninitiated should be a bit wary of underwater conditions. The best advice I'd give is to avoid riding in low light conditions, or when the sun hangs so low as to reflect off the water instead of illuminating its depths.
A good pair of polarized sunglasses should be part of your kit.
Setting off
At the onset of this article, I suggested that "everyone" should take their watercraft on a long-distance point to point journey, but a caveat is in order: Consider your own level of comfort and experience, and compensate accordingly.
In our little group, three of us are long-time riders with two having worked in the industry. Though no one is a true novice, the experience dwindles somewhat rapidly through the rest of us.
Do not embark on such a trip if there is no one going along without considerable experience with navigating open waters and varying conditions.
That said, it's the most fun you'll ever have on a jet ski.
Now, where did I put my passport?