If you own a personal watercraft but only ride on the same body of water each time you go out, you're missing out on a world of fun.
There are numerous destinations to navigate upon on your Jet Ski, and a change of both water and scenery might be in order to maximize the potential of owning a personal watercraft.
As the former editor of Watercraft Word, Ride PWC magazine – and often out of my own pocket! – I've been fortunate enough to ride personal watercraft all over the country and somewhat beyond, and have been tasked with picking my favorite five ride spots. So let's go ride somewhere new!
(I'm not so much the jet-setter anymore, and the corporate credit cards seem to have gone missing. So no exotic Caribbean locales. I'm going to stick with stateside destinations that are a little more achievable for the average guy.)
Jumping the Surf Breaks at Oceanside
Fantastically smooth waves break off all around the southern California coast, but surfers have long laid claim to some of the best spots. Squatter's rights, fair enough.
There are, however, a few places where one can go against the grain – or the waves, rather – and launch off a never-ending series of near-perfect jump faces on a personal watercraft.
Oceanside is almost one of those spots. Near enough to make it happen. Oceanside is noted for having some of the most consistent surfing waves anywhere.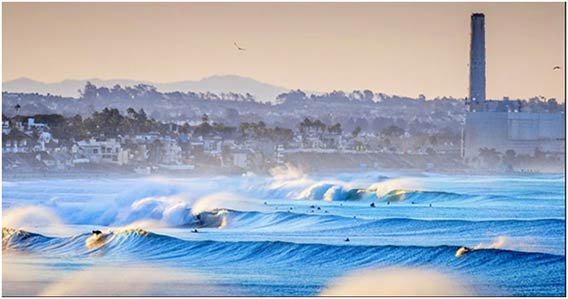 Riding in the surf zones located offshore of Oceanside, however, is prohibited. What we jet skiers really mean when we say "dude, let's hit Oceanside" is an area actually a bit further north and located at the edge of the Camp Pendleton Marine base.
Camp Pendleton is just up the road from Oceanside, and has a base area about 15 miles long along the ocean shoreline, essentially extending from Oceanside Harbor to the San Onofre Nuclear powerplant facility.
You'll launch from Oceanside Harbor, and idle out of a no-wake zone about half a mile out until you get to the outer harbor. There, the speed limit falls away, you're essentially out in the Pacific Ocean, but there are no waves. To get to the surf, you exit the harbor area and head north along a rock jetty.
Where the jetty ends, the private Marine base beach begins and you can't ride there either. Unless maybe you are a Marine. You'll instead continue north for another mile or so to reach the area beyond where all bets are off and the wave-jumping is on.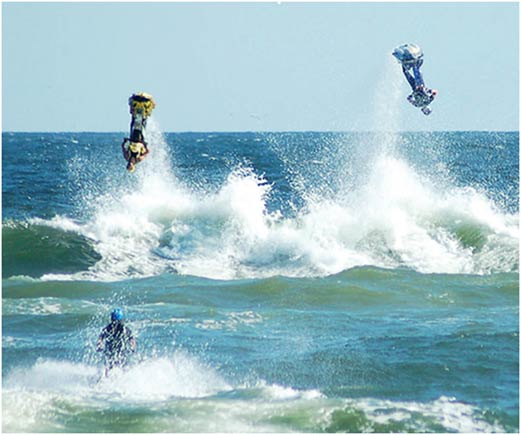 I've been out there dozens of times, and it's some of the best big wave jumpings I've found. If you're a first-timer, however, be wary of your own ability, capability, and comfort. Jumping waves is something to walk up to slowly before you run to avoid a seriously bad end to your day.
One time I was having a very big fun day until I went a little too big on a Yamaha Superjet and snapped the handlepole right off the boat with a particularly egregious slap-down landing from maybe 15 feet up in the air. Not only did it hurt, but it largely ruined both my day and my buddy's, as he then had to tow my broken self and broken ski back to the loading ramp.
Explaining to Yamaha what had happened – it was a press pool Superjet – was actually less painful. They just shrugged, and signed me out another unit.
Still, that's a rare occurrence unavailable to most. I've also had a lot of friends break their motor mounts on their own machines, and obviously on their own dime.
You can read more about reasonably safe wave jumping practices here.
Lake Lanier is a Jet Ski Paradise
To some extent riding in one lake is not much different than another, other than the scenery on the shore. But occasionally, a specific lake does leave an impression.
I first rode on Lake Lanier in 2005 in preparation for a big get-together we – I was the director of media development for the American Watercraft Association at the time – we're planning for the next year.
And it made an impression. First of all, it's the largest lake in Georgia, spanning over 38,000 acres with over 700 miles of shoreline! Second, it's clearly a boater's paradise. Boat docks are everywhere, as are marinas, lakeside restaurants, and of course actual boats of all sizes and descriptions from modest little runabouts to million-dollar near yachts.
Lanier is not a big round pond. That extensive shoreline results from hundreds of coves, inlets, and even islands. Nestled in Georgia's bit of the Blue Ridge mountain range, the scenery is beautiful and there's a little issue even with all the boaters that will be on the water in finding your own relatively private place to play.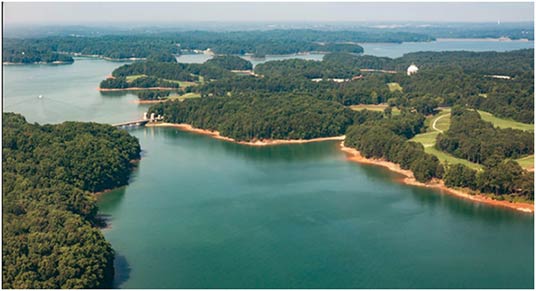 It's filled with largely good old southern boys and girls, and no one gets too wound up about anything – and particularly not about a little horseplay on a Jet Ski.
Note that there are dozens of personal watercraft and boat rentals available at Lake Lanier.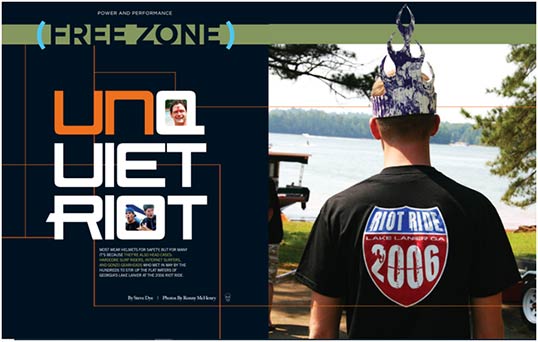 My memory tells me we had something like 300 riders gather, packing out several houseboats procured for the festivities. Barbeque, bonfires, a freestyle exhibition from Jason Stoyer and friends, and copious adult beverages after the riding was over (of course.) Good times.
The Twists and Turns of the Ocklawaha River
Essentially, the Ocklawaha River connects to the Silver River and St. Johns River – except that the Ocklawaha, 74 miles of a sometimes fairly narrow river winding back on itself again and again in the North Florida jungle – was nearly wiped from the map over 50 years ago in an ill-fated project called the Cross Florida Barge Canal.
The idea – dreamed up in the 1930s with construction starting and stopping over the next three decades – was the U.S. Corps of Engineers was going to plow right through this vast watershed with a mile-plus wide barge canal intended for commercial use. It's a long story. (Really long, the Spanish had talked of building a canal through Florida to facilitate their treasure hauling from North America back in the 1500s!)
It wasn't until 1990 that the history of protests and injunctions finally halted the project for good, with Congress returning the lands to the state of Florida. Some of the upper parts of the river had been lost forever and dredged far and wide, but only one set of locks was built.
There was also the controversial and possibly polluting Rodman Dam that still contains waters from a dredged to destruction 7500 acres of floodplain forests that submerged dozens of freshwater springs beneath a massive pool of river water.
But we're riding jet skis, so back to the point. You can put in at any number of ramps on the Ocklawaha and ride up to the aforementioned dam, or through the Buckman Lock where you pull a rope, idle into the lock, and take a 20-foot horizontal ride either up or down to the water level of either side.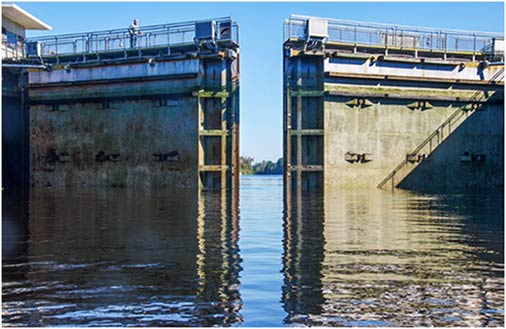 It's a bit like being in a Planet of the Apes movie. You're on a river through a jungle, and suddenly huge yet worn and dilapidated concrete and metal structures appear seemingly from nowhere. It's more than a bit surreal, and something you'll seldom see from the seat of a jet ski.
The real fun, however, lies in the other direction. Pointed south, miles of river that reminds a sportbike rider of his favorite twisty mountain path awaits. You shoot straight through tall trees in a jungle of overgrowth, swinging left and right while listening as your jet wash smacks against tree trunks.
Speaking of tree trunks, they're not all offshore. Don't get carried away, and look where you're going. The Ocklawaha does have an occasional stump, and log crossings are not uncommon.
And yes, there are also alligators. Not to worry, they don't like jet skis, and will ignore you or slip away under the water. Unless you fall off and ghost your boat up onto the shore and into where mommy alligator keeps her babies. Then they reeeeeeeally don't like jet skis. But I'm way over my word count for this article already, so that's a jungle story that'll save for another time.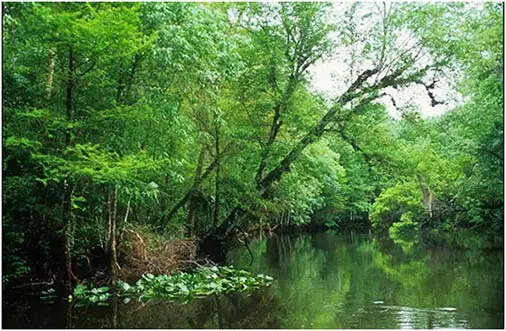 The entirety of the ride forms much of the northeastern border of the Ocala National Forest, the second largest nationally protected land in Florida, covering 607 square miles. This is the north Florida boondocks, as real as it gets. Birds, deer, the occasional boar, and wildlife of all kinds are on either shore.
It's a true adventure ride, and if you have at it you might even find yourself breaking a sweat – it is Florida, after all – but there's a big payoff as you go underneath the State Road 40 overpass and into the Silver River, which flows from the world-famous (to some) Silver Springs, Florida.
Those springs are among the largest Artesian springs ever found, flowing some 73,500,000 cubic feet or 500 million gallons of water each day!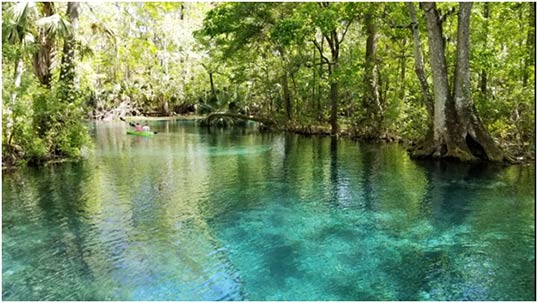 After a hot sweaty ride down the Ocklawaha, the bonus as a personal watercraft rider is that the temperature of the Silver River never rises above 74 degrees. Pleasingly cool on an August day in Florida. And it flows upwards back towards the intersection of the two rivers! You enter the no-wake zone, idle a few miles, then jump off, tether yourself to your craft, and float back to where you'd come from.
Movie makers have long used the Silver Springs area to film movies like The Creature From the Black Lagoon, multiple Tarzan movies, and even a James Bond movie. You're in north Florida, but it feels like the Amazon jungle. There are even monkeys in the trees! (Escaped from a tourist attraction many years ago, and breeding in the forest!)
The Ocklawaha is a one-of-a-kind river ride that has to be done to be believed.
Beaver Lake is a Banger
In the attempt to keep this from being a list of only destinations on either side of the country, I gave a lot of thought to which lake in the Midwest to choose… and wound up in the Ozarks.
Nestled in the upper northwest corner of Arkansas sits an enormous U.S. Army Corps of Engineers lake engineered in the early 1960s and created by the damming of the White River with the construction of the Beaver Dam.
"Nestled" maybe isn't really quite the right word – the 28,370 acre Beaver Lake actually sits at an elevation of 1,120 feet above sea level in the beautiful Ozark Mountain range. It is, however, just miles from both Eureka Springs and Branson, Missouri, popular tourist destinations sitting on either side of the Arkansas-Missouri state line.
Since its creation, it has been a powerful lure to boaters of all kinds. Its nearly 500 miles of shoreline are lined by towering limestone bluffs and natural caves laid against a backdrop of mountains. And since it was built by the Corps of Engineers, amenities abound with multiple campgrounds and dozens of boat ramp access points.
I've a bit of family that lives in the area, and am well familiar… and if I remember right, Yamaha held a new model introduction there at some point due to both Beaver's picturesque scenery and ample entertainment.
Motels are plentiful in the area and multiple marinas make it easy to find fuel or food and drink on the water. Of note, like Lake Lanier in Georgia, rental agencies for personal watercraft abound. You won't have to trailer your boat there unless you want to.
Also like Lanier, the abundance of lake surface makes it just as easy to find your own spot to play if you'd rather get away from all that. Fishing boats, wakeboarders, kayaks, pontoon boats… everyone shares nicely and jet skiers zipping along won't be frowned upon.
Finally, the water is crystal clear and in the neighborhood of 60 feet deep in the middle and 10-30 feet closer to shore. What else can be said? It's PWC friendly, big and wide and beautiful, and surrounded by some of the most scenic mountains in the Ozarks.
Going Back to Cali: Cabrillo Marina to Catalina Island
We started off the coast of southern California at Oceanside on our little destination tour, and we're going to wind up there again but for an altogether different reason.
Many personal watercraft riders daydream about an over-the-ocean ride, taking a long tour with friends.
The easiest of these to accomplish, perhaps, is a day ride to Catalina Island from the Los Angeles Harbor.
Sitting just 22 miles off the coast of California, Catalina is an easy day trip from Cabrillo Marina. It's an interesting place to visit in its own right with a curious history. But this story is about the ride.
The tricky thing about riding to Catalina on a Jet Ski is… well, nothing really. Some days the ocean lays relatively flat, other times it features fairly entertaining five-foot or larger swells, but it's rarely rough. Still, the being out on open waters feel is entirely genuine.
Catalina is one of the Channel Islands, most of which are restricted and preserved coastal habitats.
The island itself is sort of a mountain, or at least its landscape is dominated by one. Mt. Orizaba, with a peak of 2,097 feet, is easily visible from the cliffs of Paso Robles. You won't be able to see it from sea level on your personal watercraft however until you're something like halfway there, so a good working GPS system is definitely recommended. At the same time, once you are halfway you'll certainly be able to navigate by dead reckoning.
At the northern end of the island sits the rustic resort town of Two Harbors, while the city of Avalon, to the south, is a real slice of California culture – the good kind, I mean – with its palm trees, art deco architecture, and the near lack of anything but foot traffic on the streets. (Automobile ownership is severely restricted on the island.)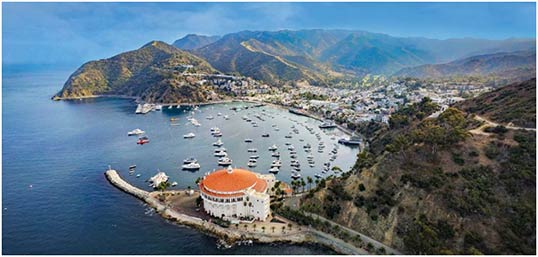 Fuel is available, but if you left the main coast with a full tank you probably won't need any. Plenty of mooring sites are available at a relatively modest fee.
The island has 52 miles of shoreline with the waters being quite clear and generally quite calm. Kayaking and standup paddleboarding are popular activities, so that should give you an idea.
I'll admit that one of my rides to Catalina could have ended up all wrong, with me and my group floating fuel-less and foolishly all the way to Guam had we missed the island in an extreme marine layer situation – well, I actually already have, and you can read a short version of that story here.
But all in all, Catalina is an ocean crossing destination ride well within the grasp of even novice riders and might even "wet" your appetite for something more ambitious, like riding from Florida to the Bahamas!
Wrapping Up
This list could go on and on and on. I've been so lucky to have ridden in so many places, and each has its own unique flavor and character.
From the Colorado and Mississippi Rivers to the almost equally freezing waters of Lake Michigan and Lake Tahoe, it's not always all about the ride. Sometimes it's about the destination.