So you've decided to buy a Sea-Doo. Awesome! Sea-Doos are some of the nimblest, safest, and most fun PWCs around. The question is, which Sea-Doo should you get?
If you've done your research, you know that the GTI SE is one of Sea-Doo's top-selling models. It's comfortable, convenient, and packs a ton of power into a surprisingly lightweight package.
If you're looking for a family-friendly PWC that offers speed, stability, and space, then the GTI SE is an excellent choice.
Now that you've narrowed down the model you want, it's time to dig into the nitty-gritty details and figure out the exact specs you need. Sea-Doo makes three versions of the GTI SE: a 130, 155, and 170. All three come with the same basic features, but at slightly different price points and with slightly different options.
Let's break it down and compare the details.
2022 Sea-Doo GTI SE 130/170
If you're looking to buy a brand new GTI SE, then the 155 won't be an option for you. The last year that Sea-Doo made the 155 was 2019, so if you decide to go with the 155, you'll need to look for a used one.
In 2022, Sea-Doo offers two packages: the GTI SE 130 and the GTI SE 170.
GTI SE Standard Features
The GTI SE is a step above the Sea-Doo GTI line. The GTI is known as a great, family-oriented PWC that sits somewhere between the entry-level Spark and the high-performance touring Sea-Doos.
The 170 is Sea-Doo's flagship recreational model, and many consider it to be one of the best recreational skis available.
All GTIs have the same specs when it comes to weight, width, length, fuel capacity, storage capacity, and rider capacity.
| Model | Length | Width | Weight | Fuel | Storage | Riders |
| --- | --- | --- | --- | --- | --- | --- |
| GTI 130 | 130.6" | 49.2" | 739 lbs | 15.9 gal | 40.3 gal | 3 |
| GTI 170 | 130.6" | 49.2" | 739 lbs | 15.9 gal | 40.3 gal | 3 |
The GTI SE has the same basic features and dimensions as the GTI but comes with a few extra options that tip it over the edge compared to the baseline GTI. Those features are:
Trim (VTS)
Boarding ladder/reboarding step
Cruise control
Recommended reading: Spark Evo Jet Kart – family-friendly mini jet boat
GTI SE 130 vs 170
So what makes the 130 and the 170 different? Put simply: horsepower.
Both models are powered by a 4-stroke Rotax 1630 engine. Both are equipped with Advanced Combustion Efficiency (ACE) technology. Both feature the company's trademarked Intelligent Brake & Reverse (iBR) system, and an optional Intelligent Debris-Free Pump (iDF) system.
The only difference between these two models is that one engine is rated at 170 HP while the other is rated at 130 HP.
That means the difference between a top speed of 52mph for the 130 HP model, and 56mph for the 170 HP model. It also means the 170 accelerates slightly more quickly than the 130—according to Sea-Doo, the 170 accelerates 20% faster than the 130.
The increased horsepower in the 170 also means that it burns more fuel than the 170. According to Sea-Doo, 170 burns about 1-1.5 gallons more per hour than 130.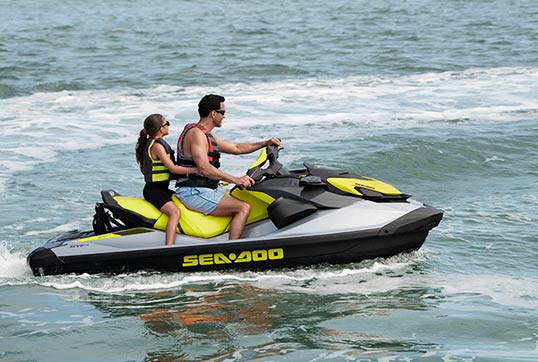 Finally, the difference in horsepower means a difference in price: the 130 HP GTI SE will set you back $11,099, while the 170HP GTI SE is slightly more expensive at $11,699.
So how do you choose? It depends on how important the 20% increase in acceleration and those four extra miles per hour of top speed are to you.
Let's look at this as though you're paying $600 for 20% faster acceleration. The 170 can go from 0-50mph in 5.3 seconds. That means the 130 goes from 0-50mph in about 6.7 seconds. That means you're paying $600 to get to 50mph approximately 1.5 seconds faster on the 170. Is that worth it? Maybe.
Or you could look at this as paying $600 more for an additional ~4mph of top speed. That works out to $150 per additional mph. Is that worth it? In our opinion, no. But like we said, only you can be the judge of what's worth it to you.
2019 GTI SE 155
If you're not worried about buying a brand new GTI, you could take a look at an older model like the 155. Again, the main difference here is horsepower (this model has 155HP.) However, because the 155 is an older model, there are some other minor differences between it and the 2022 models.
Like the 130 and 170, the 155 features the Intelligent Brake & Reverse System, Variable Trim System, reboarding ladder, and cruise control.
The engine in the 155 is slightly smaller: it's a 4-stroke Rotax 1503, and it doesn't come with the ACE technology. Instead, it features Intelligent Throttle Control (iCR.)
The top speed of 155 is comparable to that of 170: around 55mph.
When it comes to other specs and dimensions, the 155 is similar to the 130 and 170, but it's slightly longer and narrower. One area where it differs is weight: the 155 weighs about 50lbs more than the 130 or 170. It also has less storage space than the newer models.
| Model | Length | Width | Weight | Fuel | Storage | Riders |
| --- | --- | --- | --- | --- | --- | --- |
| GTI 155 | 132.6" | 48.5" | 790lb | 15.9 gal | 30.8 gal | 3 |
Sea-Doo no longer sells the 155 directly, but you can purchase it from third-party vendors like Boat Trader. Depending on the year and condition of the vehicle, you might find one for as low as $2000 or as much as $12,000.
Full Comparison Table
| Model | Length | Width | Weight | Fuel | Storage | Riders | Storage | Riders |
| --- | --- | --- | --- | --- | --- | --- | --- | --- |
| GTI 130 | 130.6" | 49.2" | 739 lbs | 15.9 gal | 40.3 gal | 3 | 52mph | $11,099 |
| GTI 155 | 132.6" | 48.5" | 790lb | 15.9 gal | 30.8 gal | 3 | 55mph | $2000-$12000 |
| GTI 170 | 130.6" | 49.2" | 739 lbs | 15.9 gal | 40.3 gal | 3 | 56mph | $11,699 |
Summary
Overall, all three of these models are excellent options if you're looking for a quick, stable, family-friendly PWC at a decent price point.
Our advice: if you're going the 155 route, look for the cheapest deal you can. You're buying second-hand, so you aren't going to get the benefit of a factory warranty or brand new factory parts.
In our opinion, it's not worth paying almost as much for a 3-5-year-old vehicle without a warranty as you would for a brand new one straight from the dealer.
If you can't find a 155 at a cheap price, you're better off buying one of the newer models.
When it comes to the 2022 models, our choice is the 130. Since the 130 and 170 are so similar in every regard except horsepower, there isn't much reason to spring for the additional speed unless it's really, really important to you.
Our advice: save your $600 and put that money toward some fun extra features or PWC insurance instead.