The world of kayaking has changed significantly in the last ten years. It used to be that if you wanted a kayak, you had to have space for it: space in your car (or on it) and space in your home (or tiny apartment.)
Kayaking seemed out of reach for many city dwellers, and you could forget about taking your kayak on an international adventure unless you were willing to shell out a hefty sum to get it on a plane.
That all changed with the invention of the foldable kayak. In 2006, Trak, the OG folding kayak company, released its 1.0 model. Over the next ten years, the portable watercraft market boomed.
The shifting American landscape saw car ownership decline and forced young professionals into small apartments in densely populated urban centers, creating a market for easily stowed, portable vessels like the inflatable SUP, inflatable kayak, and, yes, folding kayak.
Since Trak's initial release, the folding kayak space has become more crowded. Today, there are plenty of portable options for kayaking enthusiasts. In this article, we'll take a look at two competitors at opposite ends of the portable kayaking spectrum—Oru, and Trak—and compare their most recent releases.
Disclosure: We may get some commission on purchases from affiliate links, which help us operate the site.
Apples to Oranges
Before we get started, we should make it clear that the two companies have very different products and very different business models. Let's take a second to break down the companies before we look at the kayaks.
Trak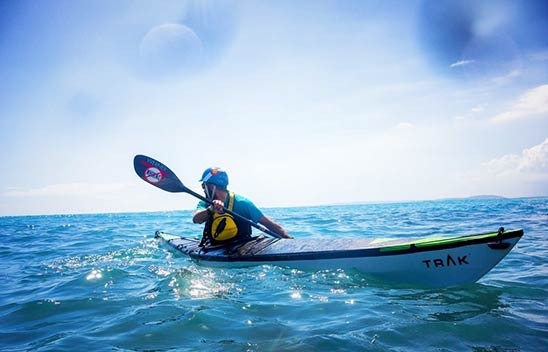 Trak was the first folding kayak on the market. The company made just one model, their Signature 1.0, a high-performance touring kayak. They went on to later produce the (now discontinued) T-1600 and ST 16.
In 2021, Trak decided that rather than continuing to incrementally improve their 1.0 model or releasing a variety of new models, they'd take everything they'd learned from the last ten years and roll it into a single new model: the Signature 2.0.
Trak takes a limited number of pre-orders per year, and they do not mass-produce kayaks. They are currently accepting pre-orders for delivery in November 2022.
Oru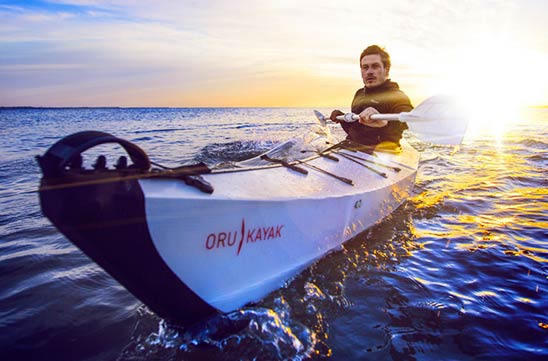 Oru entered the scene in 2012 with their Bay ST model, a budget-friendly, lightweight, versatile folding kayak. Oru now makes several types of folding kayaks, each aimed at a slightly different market sector. None of Oru's kayaks are as high-performance (or as costly) as any of Trak's models.
In 2022, they still make the ST, but now also produce the Beach LT, Coast LT, a Tandem, and their newest offering, the beginner-friendly Inlet.

Oru mass-produces their kayaks, and they offer one-day shipping.
Price and Target Customers
Oru and Trak have different price points and they target different customer segments.
Trak aims their kayak squarely at serious adventure kayakers who are looking for a top-quality, high-performance kayak, and who don't mind paying top price for these features.
Oru, on the other hand, targets a more casual customer, and their prices reflect that.
With a Trak kayak, you'll be paying Ferrari prices for a Ferrari. Their kayak costs $3500+ and is built to handle rough seas and just about anything else you can throw at it.
Oru has many different kayak models ranging in price from $800 to around $1900. Each one is made with a different consumer in mind. None of Orus kayaks are as high-performance as the Trak kayak, but they are not intended to be used in the same situations.
2022 Oru Kayaks
Inlet – Perfect for Beginners
Oru's newest offering in their lineup of origami kayaks is the Inlet, a beginner-friendly recreational kayak intended for use in calm water. It sets up in three minutes, weighs just 20lbs, and packs down to 42 x 10 x 18 inches.
The Inlet is perfect if you're new to kayaking or want something easy-to-manage for tooling around the lake next time you're on vacation.
Pros
Affordable
Lightweight
Packs down to 42 x 10 x 18 inches
Cons
Can't handle choppy water
Small – only 10ft long and carries a max weight of 275lbs
Beach LT – Good for Casual Kayakers
The beach is a step up from the Inlet—a recreational kayak for casual kayakers, aimed at easygoing paddles in calm waters. Its large cockpit and stable hull make it great for beginners, but it has the speed and agility of an intermediate-level kayak.
The Beach's spacious cockpit has space for a dog, child, or cooler, making it perfect for day trips and picnics. Because of its small size, it also makes a great airplane carry-on.
If you're an adventurer looking to take your kayak to far-off locales, the Beach LT is your kayak. We recommend the Oru Haven over the Beach for families.

Pros
Stable enough for beginners but nimble enough for intermediate kayakers
Enough space to pack for a fun day out
Packs down to an insanely small 33 x 12 x 29 inches
Decently long (12ft) and carries a max weight of 300lbs
Cons
Longer set up than the Inlet (5-10 minutes)
Less durable than the Trak or the Bay ST
Bay ST – Good for Short Camping Trips
The closed-cockpit, performance kayak that launched Oru has been given several upgrades for 2022. The new model is more durable, with aluminum cockpit latches and reinforced anchor points, and it features a slick new pattern that harkens back to the OG Bay ST model.
The Bay ST is intended for everyone but aimed more at advanced kayakers. It's built to handle choppy water and has enough space to pack for an overnight trip.
This kayak is a viable alternative to the Trak if you don't plan to take it into rough seas and are looking for a solid performance kayak without the Trak pricetag.
Pros
Very lightweight for its size
Packs down super small (13 x 14 x 29 inches)
Enough space to pack for an overnight trip
Durable, meant to handle choppy water
Cons
Can't handle very rough seas
Coast XT – Good for Longer Adventures
The Coast XT is Oru's flagship model, and about as close as Oru gets to Trak-level performance. A performance kayak built for heavy surf, the upgraded 2022 model features the same aluminum cockpit latches and extra-reinforced strap anchor points as the ST, as well as a sweet new geometric hull design.
At 32lbs and 16ft, the Coast is Oru's largest single-person kayak—though notably, it's still much lighter than the Track. It's geared toward intermediate/advanced kayakers and serious adventurers who want something super light but still performant. It has enough storage space to pack for a several-day or even week-long adventure.
Pros
Super lightweight (32lbs) but still durable
Enough space to pack for several days
Built to handle heavy surf
Packs down to 13 x 14 x 29 inches (smaller than the Trak)
Lower price point than the Trak
Cons
Hull material is not as high quality as the Trak
Frame is not as rigid nor as durable as the Trak
Haven – Good for Families
The Haven is a tandem kayak that completely converts into a single-person kayak. The 2022 update features extra-sturdy straps and buckles, plus reinforced rails for holding accessories like fishing rods, camera equipment, or drinks.
Intended for two adults, in calm waters, the Haven is a perfect family kayak. It's large enough for a dog or child or two (with one adult), plus has plenty of storage space for all the fun stuff or delicious food you need for a day out on the water.
If you're looking for a super stable, reliable watercraft that your whole family can enjoy, check out the Haven.

Pros
The most stable Oru kayak
Built for two adults, but adjustable for solo use
Enough space to pack for a day (even with the kids in it)
Packs down to a manageable 34 x 17 x 29 inches
Cons
Heavy
Can't handle choppy water
2022 Trak Kayaks
Trak 2.0 – Good for Serious Kayakers
Trak's newest and only offering is a 16ft, sea-worthy kayak that can be adapted to handle any kind of water condition. It's the only portable, high-performance touring kayak on the market, and has been dubbed by some the "Ferrari" of portable kayaks.
The Trak is the only kayak on the market that allows you to adjust the waterline and rocker for varying environments. You can even adjust it while underway for maximum versatility. This makes it excellent as both a rough water offshore kayak and an endurance touring kayak. It sets up in 15 minutes, weighs 45lbs, and packs down to just 41 x 19 x 9 inches (for reference, that's the same as the tiny Oru Inlet!)
If you're looking for a seriously tough, incredibly portable watercraft that can handle anything you throw at it, the Trak 2.0 is for you.
Pros
Fully adjustable waterline and rocker for complete versatility
Durable three-ply expedition-grade polyurethane hull
Assembles in 10-15 minutes after initial setup
Folds down to 41 x 19 x 9 inches
Cons
Costly
A bit more difficult to set up than origami kayaks
Signature Series, New Fuscia, and Origin Limited Edition
The Trak 2.0 comes in three flavors: the signature series, all-new fuchsia, and Origin limited edition.
The specs on all three models are the same, and the Signature Series and Fuscia have the same price point. You pay a little extra for the Origin Limited Edition.
Trak Customer Service
It would be remiss to write an article about Trak and not mention the shipping and delivery issues they've experienced in the last couple of years.
In October of 2019, Trak experienced pandemic-related inventory delays, and as a result, they were not able to deliver on some pre-ordered kayaks.
Some customers were upset that Trak continued to take pre-orders for the new 2.0 model despite the fact that some 1.0 models had still not been delivered. A Trak spokesperson has since said (in the comments section) that Trak was able to deliver over 400 pre-ordered kayaks that year, and was transparent about the issues with customers.
Trak has a detailed and regularly updated production status section on their website where a timetable of expected product completion and delivery dates can be found. As of this writing, it was updated on February 9, 2022.
The company makes it clear throughout its website that it can only take a limited number of orders at a time. At the moment, Trak is accepting just 60 more pre-orders for a delivery date in November-December 2022.