The world of portable kayaks has come a long way since Trak launched the OG folding kayak in 2006. At that time, transporting your kayak from one place to the other was an ordeal requiring a roof rack, expensive shipping fees, and a lot of hassle.
These days, the portable kayak market is booming. There is a make and model for everyone: from the complete beginner to the casual weekend warrior, to the seasoned professional. Of course, the quality of these products varies greatly, as does the price.
If you happen to fall into the latter of these categories (seasoned professional) or are an amateur kayaker looking to take your game to the next level, you may want to consider investing in a high-end portable kayak. These models are lighter, easier to transport, offer greater durability, and better handling, and are generally on a whole other level when compared to their budget counterparts.
We've put together a list of the best high-end foldable kayaks for 2023 to help guide you. These watercraft are the cream of the crop, and you can't go wrong with any one of them.
Trak – Best Name in Foldable Kayaks
Trak launched in 2006 with its inaugural model, the Signature 1.0. Since then, they have released only a few other models—the T1600, ST 16, and most recently, the 2022 Signature 2.0.
Trak is a well-known name for folding kayaks. The company has proven over the last fifteen years that it can make and deliver a high-quality product at a reasonable price. While the Trak is considered an expensive product when compared to many folding kayak options, compared to some of the other high-end models on this list, the Trak 2.0 is surprisingly cheap.
The Signature 1.0, T1600, and ST 16 have long since been discontinued, although you can still find them secondhand from a number of places. If you're looking for the best that Trak currently has to offer, however, you need to be looking at Signature 2.0.
Signature 2.0
The Trak Signature 2.0 features a military-grade skin and carbon fiber ribbing, as well as hydraulic jacks that allow you to adjust the waterline and rocker while underway. This makes it incredibly adaptable to any water condition you can throw at it, from ocean currents to placid lakes.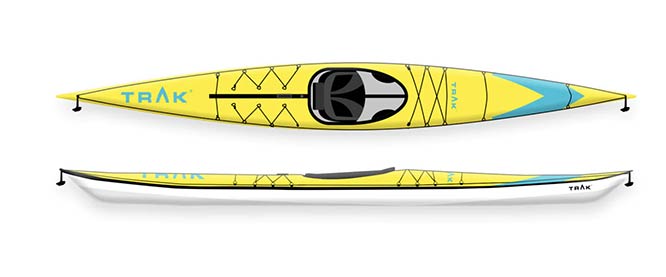 The Signature 2.0 is also incredibly small and lightweight. It packs down to an astonishingly small 41 x 19 x 9 inches and weighs just 45 lbs. It fits easily into the backpack that comes with it.
Oru – Best Budget Option
Oru makes many different models and caters to a wider audience than the other companies on this list. Most of the kayaks they make are considered budget or beginner-friendly models. Oru does make two kayaks for serious kayakers, however: the Coast XT and the Bay ST.
To learn more about the differences between Trak and Oru, read our Oru vs Trak review.
Compared to the other models on this list, these options are quite a bit cheaper. They are mass-produced, and in no way compare to the Long Haul or Klepper, for example, when it comes to professional-grade materials and construction. However, if you are looking to upgrade from a cheap model, the Oru is a great stepping stone into the world of high-end foldable kayaks.
Coast XT
The Coast XT is Oru's flagship kayak. It is a performance model, built to handle heavy surf and to provide Trak-level performance and handling at a lower price. The hull is made of 5mm double-layered, polypropylene with a 10-year UV treatment, meaning it's incredibly durable and puncture-resistant. The 2022 model features an updated hull design, aluminum cockpit latches, and extra-reinforced strap anchor points.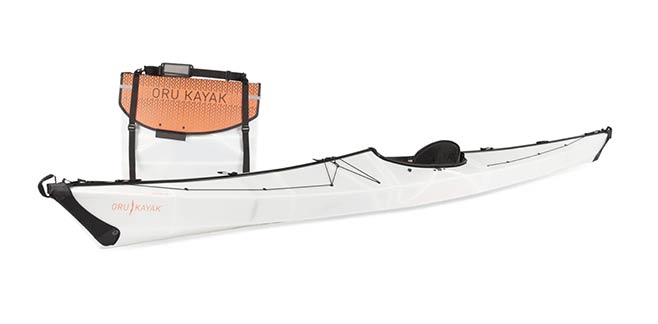 The Coast XT is 16ft long and weighs only 32 lbs, so it's incredibly portable. The lighter weight makes it easier to carry than the Trak, but it does make it a little less stable in rough water. It has enough storage capacity for a week-long trip, so it's ideal for adventure kayakers and those looking to do longer tours or days on the water.
Bay ST
The Bay ST is made from the same 5mm custom-extruded polypropylene as the Coast XT, and features the same aluminum cockpit latches and reinforced anchor points. It is a closed-cockpit performance kayak, built to handle various water conditions.
The primary difference between the Bay ST and the Coast XT is the size: the Bay ST is 12ft long and weighs 26 lbs. This size difference means it is less capable of handling very rough seas, and there is less storage space to pack for long adventure trips.
Long Haul – Best Handmade Kayaks
Mark Eckhart founded Long Haul Kayaks over 20 years ago and spent many years repairing folding kayaks for the top brands before he realized he could build a better kayak himself. Long Haul Kayaks now produce high-quality, handmade folding kayaks out of their shop in Colorado.
Long Haul Kayaks are all individually made by Mark and his team of professionals, and the craftsmanship, customer service, and price of the boats reflect that. Long Haul produces several models of kayaks and also makes rigging and sail equipment to transform the kayak into a sailing vessel.
Mark I Classic $4959
The Mark I Classic is Long Haul's top-selling model, and for a good reason. It is a full-sized single kayak intended for day paddling, and is built to handle rough conditions. All Long Haul kayaks are made from hand-picked Ash and Birch ribbing and a tough, CSM rubber hull with stainless steel fittings.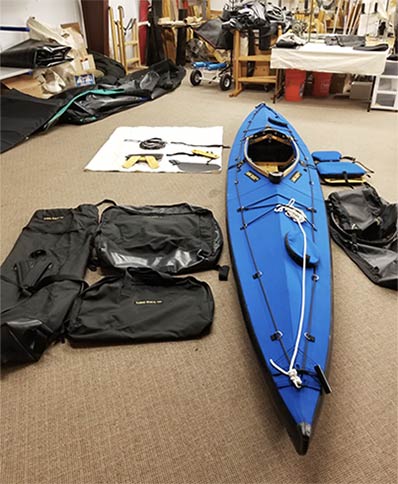 The Mark I Classic is an excellent alternative to the Trak Signature 2.0—for just $1000 more you get a handmade, wooden-framed folding kayak built by a craftsman with over 20 years of experience in the folding kayak arena.
The only drawback to the Mark I Classic is that it doesn't pack down as small or set up as quickly as the Trak or Oru kayaks.
Mark II Stretch Commando $8533
When it comes to high-end kayaks, the Mark II Stretch Commando is the best of the best. This is a two-person kayak that can be converted into a single-person boat and is great for touring and long trips. It is a military-grade kayak built with an extra wide rear cockpit seat to accommodate large paddlers.
The Mark II Stretch Commando is long at 17ft, and rather heavy, so it is best suited for very experienced, strong paddlers who intend to use it in rough seas. It features the highest-quality, most durable folding kayak frame in the world, and can handle a weight capacity of up to 800lbs.
Pakayak – Lesser-Known Budget Option
Pakayak is a lesser-known folding kayak company that produces kayaks on a tier similar to the Oru. Unlike Oru, however, they make only one model: the Bluefin 142, which comes in a variety of colors. Pakayak mass-produces and hand-assembles their kayaks in the United States. They offer fast 2-day shipping anywhere in the world, unlike Trak and Long Haul, which are specialty products that take a long time to ship.
Bluefin 142 $1799
The Bluefin 142 is slightly different from the other models on this list in that rather than folding like an origami kayak, it separates into 6 sections, which are held together with built-in clamps and watertight gaskets. The hull is made of a durable plastic resin specially formulated for the kayak industry.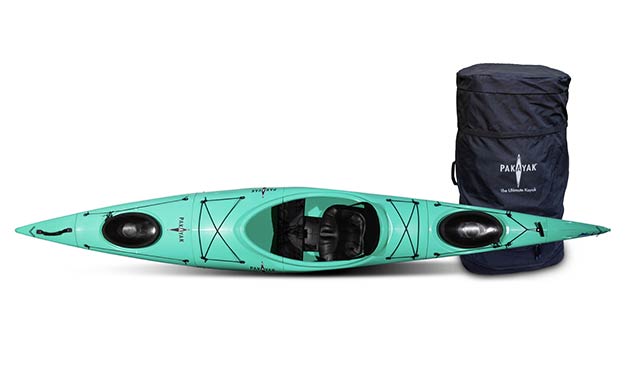 The Bluefin is much heavier than the other kayaks on this list, at a whopping 59 lbs. That makes it very stable in the water, but not so easy to transport. It folds down to 44.5" L x 24" W x 16" H, and when fully assembled is 12ft long. This is a kayak meant for one person, for day-paddling, and doesn't have the storage capacity for long touring trips.
Klepper – Best Time-Tested Folding Kayaks
Klepper kayaks are based on a design that was developed and patented by an architectural student at the turn of the 20th century, and have been refined and improved upon for over 100 years. Klepper kayaks have been used to cross the English Channel, paddle around Cape Horn, and have even been taken to the North Pole.
Klepper makes several models of folding kayaks, and are available all over the world. In the United States, their office is based in Bellingham, Washington, and all Klepper kayaks sold in the US are hand-assembled there. All Klepper kayaks feature Klepper's patented snap-lock assembly system, which makes them incredibly easy to assemble.
Classic 490 $4395
The Classic 490 is Klepper's most popular kayak. It is a closed-cockpit performance kayak intended for solo use in various conditions. At 16ft long it is ideal for taller paddlers and has enough storage capacity for long expeditions.
The Classic 490 features a black CSM rubber hull and Egyptian cotton deck stretched over a handmade Ash and Birch frame. At 63lbs it is the heaviest kayak on the list, but it packs down small: 52"x14"x10".
Expedition 490 $5350
The Expedition 490 is a step up from the Classic 490, featuring a more rugged hull for handling rougher conditions. It weighs the same and has the same dimensions as the Classic 490. The main difference is the reinforced TPU-polyurethane hull and the 10-inch keel. The Expedition 490 is available in dual colors for an additional $230.