A GPS device may not be something you've thought about if you are very new to jet skiing, but it's a good idea to have one. A GPS device will prevent you from getting lost in places where cell phone service is poor or nonexistent. It's also important to have a way to transmit an emergency SOS signal if you fall off your ski, get injured, or get stuck somewhere.
Can you use your phone for GPS? Yes, but remember that cell phone service can get spotty on the ocean or on a remote lake. Also, your phone may not be waterproof, and if it falls in the water, it's going to be a pain to replace. We recommend having a mounted GPS unit and only using your phone as a backup.
In this article, we'll talk about some of the best GPS devices for beginner jet skiers and what makes them good for beginners.
What Makes a GPS Good for Jet Ski Beginners?
If you're just getting started on your jet ski, your needs will be different from someone who's been jet skiing for a long time. For example, you will most likely not be taking your jet ski on long adventures and touring trips right away, or trying to fish from it. Those more advanced use cases require specialized technology that may not be necessary for someone just starting out.
Price
One of the main concerns most beginners have about a GPS system is price. Many beginners question whether they even need a GPS, and a high price could be a deterrent for someone already not convinced they need to buy one.
Furthermore, you may not even be sure yet whether jet skiing is really for you. There's no point in investing in a lot of expensive technology if you end up selling your jet ski a year from now. Look for something at a reasonable price point, even if it means sacrificing some of the fancier features.
Ease of Use
If you've never used a GPS device before, you don't want to get bogged down in a lot of complicated features and buttons. This is a surefire way to get overwhelmed, put the device away, and never look at it again. Choose something that does the basics. That's all you need for the time being.
Similarly, choose something that mounts easily and doesn't need a lot of complicated setups, or requires modifications to your ski in order to mount. You should have your device with you at all times while riding, so you should never be tempted to leave without it or forget to take it. Mount it to your ski and leave it there.
Ruggedness
Obviously, a GPS device will need to be rugged and waterproof if you're taking it on a jet ski. It should be able to withstand getting dunked, and it should be resistant to corrosion by saltwater if you ride on the ocean. Having a floatation device attached to it is also a good idea if you're not mounting the unit so you don't lose it in the drink.
The Top 5 Jet Ski GPS Devices for Beginners
These are the five best jet ski GPS devices for beginners that are available right now. We've ranked them based on price, ruggedness, and ease of use. For most beginners, a GPS device with basic features is all you need. We've included devices with big color displays on this list because a nice big color display is good to have on a jet ski when the sun is bright and you need to quickly discern your location while underway.
Best Overall – Garmin GPSMAP 78S ($259)
The Garmin GPSMAP 78S is a great option for those just starting out, and it's robust and feature-filled enough that you can probably continue using it for many years of jet ski adventures. We like it because it has a lot of features and a rugged, waterproof design for a reasonable price.
The unit is handheld but can be mounted to any handlebars using the Marine Mount 78 series handlebar mounting unit. It is very robust, waterproof, and buoyant, so you never need to worry about dropping it in the water.
The GPSMAP 78S features a 2.6-inch TFT LCD display which is 1.43 x 2.15 inches. There is a worldwide shaded relief base map, and a microSD card slot for optional mapping. The directionality is handled by a 3-Axis compass & barometric altimeter. There are 1.7GB of built-in memory, plus a slot for an SD card.

Best Budget – Garmin GPS 73 ($155)
If you're on a tighter budget, or are still testing the waters and don't want to invest in something too expensive right off the bat, the Garmin GPSMAP 73 is a great option. It's an older version of the 78S that doesn't have mapping.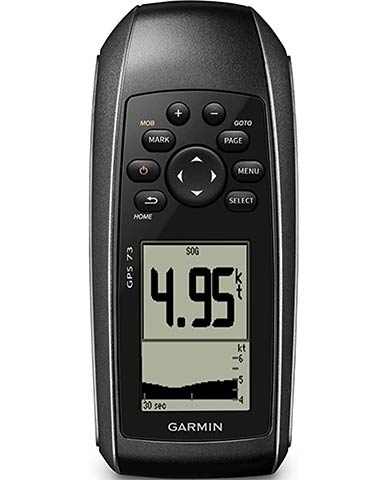 The main difference between the GPSMAP 78S and the GPSMAP 73 is the display. There is no color display that shows you a map like the GPSMAP 78S has. Instead, the unit allows you to record and store waypoints which you can then navigate back to.
The unit is not waterproof, but it is rugged and water resistant. It will not float like the GPSMAP 78 will, but it comes with a lanyard, which you could attach a floatation device to. It can be mounted to handlebars using the Marine Mount 78 series mount.

Best for People With Deep Pockets – Garmin GPSMAP 86Sc ($556)
This model is a slightly fancier version of the GPSMAP 78, at a higher price point. It is water resistant, buoyant, and features an LCD display that is easily visible even in bright sunlight. The buttons are big and easy to read for ease of use out on the water.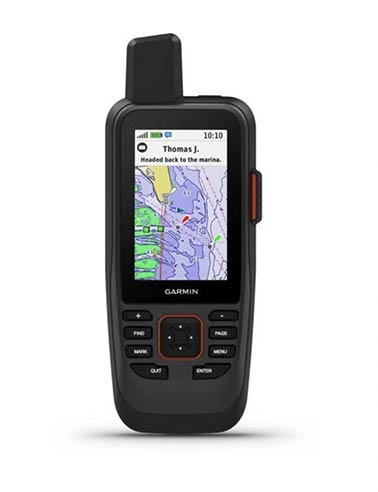 The main difference between this and the GPSMAP 78S is that this comes pre-loaded with bluechart G3 US coastal charts, which include data from Garmin and Navionics.
Other than that, the units are almost identical. What you are paying for when you upgrade to the 78Sc is the chart data. This may be valuable for ocean riders or touring adventurers, but is probably overkill for newbies.

Best Fish Finder – Garmin Striker 4 ($99)
The Garmin Striker 4 is a fish finder and cannot be used for navigation. We included it in this list to illustrate the difference between a fish finder and a GPS mapping device, as searching for a GPS device for a jet ski will often turn up results for fish finders.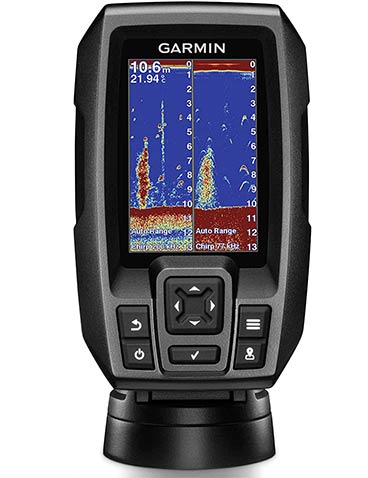 The Garmin Striker 4 allows you to locate fish in the water. It uses GPS to do this. It will not provide you with maps or tell you your GPS position. If you plan to use your jet ski for fishing, it can be handy to have one of these in addition to a GPS device, and the price is low enough that you may want to consider doing that.
Some buyers, tempted by the low price of the unit, might purchase this thinking it will serve as a GPS navigation system. Be aware that this unit on its own is not sufficient to serve as your primary GPS.

Best Fish Finder / GPS Combo – Lowrance Hook 2 ($314)
If you're looking for a unit that does GPS navigation and fish-finding in one, the Lowrance Hook 2 is your best option. This unit is water resistant and can be mounted to your handlebars, but be aware that it does not float.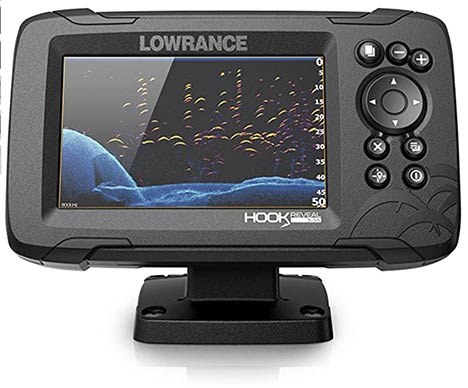 The unit does not include a map or the ability to add maps—it allows you to add waypoints, which can then be navigated back to using the internal compass and GPS. It has a nice, big 5-inch full-color display and auto-tuning sonar to make finding fish very easy.
While this unit does include GPS navigation capability, we would recommend using it in tandem with a dedicated GPS navigation device like the GPSMAP 78 series.

Conclusion
A GPS navigation unit is a must-have for any jet skier who is serious about safe, adventurous riding. You can get away with not using one on a trip to a populated lake over the weekend, but for anything more than that, we highly recommend investing in a robust GPS device.
A GPS unit can mean the difference between life and death if you find yourself in a situation where your engine dies and you are drifting, if your ski gets stuck, or if you are injured. It's not worth it to skimp out!
Do you have a favorite GPS navigational device? Let us know in the comments!