Some weeks ago we ran a story about the gone before its time AquaTrax personal watercraft line from Honda.
Both the AquaTrax F-12 and its successor the F-15 were and are very capable watercraft that is still arguably on a par with currently sold models from other manufacturers even though Honda repurposed its watercraft production lines some 14 years ago.
The Hondas were really well engineered, and produced by a company widely regarded as the leader in manufacturing quality in automobiles, motorcycles, lawn mowers, generators, power washers… and on.
You could do a lot worse than finding a gently used AquaTrax for a good price if you are looking for an inexpensive way to get out on the water on a PWC.
This story is not like that.
The Sad Story of Polaris Jet Ski
Polaris Industries Inc. entered the Powersports market well before it was ever called as a snowmobile manufacturer in 1954. They would enter the All-Terrain Vehicle market in 1985 at the peak of ATV popularity, the PWC arena in 1992, and would even arguably invent a new market segment in 1997 with its Ranger UTV – along with Kawasaki's line of Mules, the Ranger helped to establish a side-by-side category that still rides high today.
In August of 2004, Polaris held a 50th Anniversary celebration in Minnesota with what it called a "Way Out Weekend."
Polaris had long been successful in the ATV and snowmobile market segments, and was then riding high on the strength of its V-Twin motorcycle division Victory. Having entered the personal watercraft market in 1992, the company used the all-lines celebration to release its plans for five Polaris personal watercraft to be released for 2005.
As it turned out, the Way Out Weekend was instead just two weeks before Polaris reversed course and announced that it was getting way out of the watercraft market. Production of all Jet Ski products would cease immediately.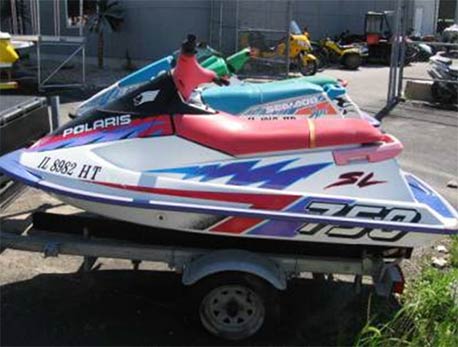 Out of Step
Had Polaris gone forward with its 2005 model year plans, it would likely not have gone well. The designs were by then already outdated as the company intended to soldier on with two-stroke propulsion – a three-carburetor 1192cc two-stroke was to power the Polaris flagship MSX140, with a single carburetor 800cc two-stroke engine slated for the rest of the line.
Meanwhile, its competitors at Sea-Doo, Yamaha, and Kawasaki were embracing a more modern float plan: Trouble-free, smoke-free, and quiet fuel-injected four strokes.
That Polaris would be touting a carbureted two-stroke as the way forward was all the more curious as the company had previously utilized the "FICHT" fuel injection system developed by outboard motor kingpin OMC for its personal watercraft.
However, Bombardier – the parent company of Sea-Doo – had bought OMC outright. Polaris was then effectively licensing its fuel injection technology from one of its primary competitors in the marketplace. That relationship would not stand for obvious reasons, and Polaris had been forced to eliminate all of its previously fuel-injected two-stroke models from its lineup.
And then its lineup was deleted altogether.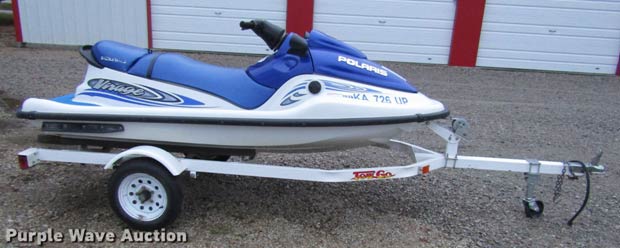 History Repeats Itself
In September of 2004, just weeks after announcing its new 2005 personal watercraft lineup, the company issued a press release stating it would exit the boat business altogether and halt production of PWC and jet boats. The release promised that the company would continue to provide its dealers with replacement parts, and service and warranty support for its previous customers.
"The personal watercraft industry and our position within the market simply are not where we need it to be for this division to be viable," said the president and CEO Tom Tiller in the release.
Further information was released stating that the PWC Polaris division had lost its parent company money every year since its first, in 1992. At its peak, during what amounted to an explosion in personal watercraft sales in the late 90s, the company had generated peak revenues of $171 million in 1996.
By 2003, sales had dwindled to just $53.5 million in revenue. Tiller said that the division had actually lost a total of $120 million during its 12-year run. Tiller, who had been an executive with General Electric before moving into the Powersports field, stepped down as CEO in early 2008.
For the next decade, Polaris Industries would say there was a little carryover, or "commonality," between watercraft and its land-going Powersports customers. Which made it a curious thing when the corporation acquired a pontoon boat parent company, Boat Holdings, for $805 million in cash in 2018.
Polaris claimed at the time that the boat market had come back around in management estimations, changing their corporate tune to note that 30 percent of its customer base owned boats!
As Boat Holdings at the time of purchase accounted for just over one-quarter of all pontoon boats sold, Polaris was very much back in the boat business.
And that lasted until 2020.
Citing the pandemic and other factors – and it's certainly possible and even likely that the current economy is not kind to the overall line of Polaris products like motorcycles and off-road vehicles – the company announced it would turn its attention to other product lines that were more long-standing in the corporation's overall portfolio.
Polaris announced it would discontinue production of its Larson, Striper, and Rinker boat brands due to changing market dynamics.
So, Polaris was in the personal watercraft business for 14 years, and then left the marketplace abruptly. After just two years in the boat business, it appeared the company had at least one foot out the door again.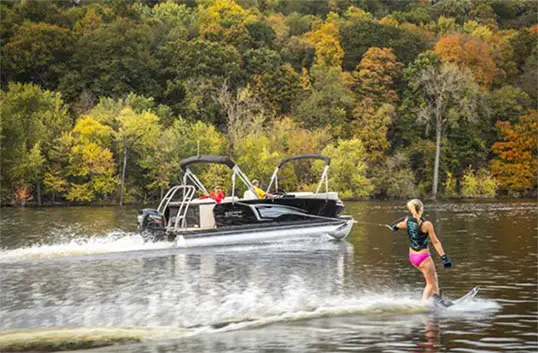 Currently, the company says it plans to continue with its investment in some other acquired brands – pontoon and deck boats from Godfrey, Bennington, and Hurricane. So… yeah… maybe, but…
I'm a bit more stuck on the demise of the Larson brand. Being acquired by Polaris would end its 100-year legacy as a boat maker just two years later.
Shipwreck
Now, Larson was possibly the smallest acquisition of all boat brands for Polaris – and according to the company, all boat brand sales combined account for just 9 percent of total sales across all product lines – so it's a small loss to a huge corporation.
Perhaps less so to the people who had long worked there, one would assume.
The bottom line is that Polaris considered its personal watercraft business a superfluous afterthought 20 years ago. And then the company jumped ship on another whole section of the boating industry in less than two years.
Just Say No
This story was original to be framed as a "can I buy a used Polaris as an inexpensive way to get into personal watercraft?" kind of thing.
The short answer is no. You don't want a 25-year-old two-stroke Jet Ski with no parts support. Don't even consider it.
In truth, they weren't that great to ride compared to the competition back when they were brand new. And that was a very long time ago.