Of all the major personal watercraft manufacturers, Honda was late to the party.
Somewhat lost to the annals of time is that a big part of Honda's entry into the personal watercraft market was its push for single-line dealerships.
Whatever the impetus for its introduction, Honda's AquaTrax line of personal watercraft was a welcome addition to the machines available during its regrettably short run. They were fast, fun, and reliable.
In fact, many still are. A well-maintained and cared-for previously owned Honda can still be an excellent choice for an affordable personal watercraft.
Into the breach
Traditionally, most American motorcycle dealerships have been multi-franchise operations. Honda-Yamaha shops in particular were commonplace.
In the halcyon days of the early 2000s, when the Powersports industry was flush with cash from a roaring economy, Honda began encouraging its dealers to eliminate any other affiliation and become standalone Honda stores.
Dealer principals and owners had myriad objections, of course, as the very reason for multi-line dealerships was and is the diversity of products. In any given year, one manufacturer might lead in the sportbike wars but lag behind in dirt bike development, or the inverse.
Carrying more than one line of product was essential for many mom and pop dealers who had survived the ups and downs of the market over previous decades.
The first eight years of the new century were heady times for the Powersports industry. The economy was roaring right along and disposable income was the norm. Garages and driveways across the country began to fill with new motorcycles, boats, and of course, personal watercraft.
Waypoints along the journey
Over on the other side of the metaphorical street, Harley-Davidson's limited-by-comparison line of big V-twin cruisers was selling faster than the manufacturer could build them.
Not only did the resale value of older machines begin to grow exponentially, but the dealerships themselves also began a transformation from traditional long-standing oil-stained locations into leather and chrome superstores. Harley dealerships doubled and tripled in size.
Honda, in turn, began a push for its own dealers to grow towards more of a model based on the company's own automotive franchises as much as Harley's then-success with expansion. Owners that had long sold multiple lines of motorcycles (and watercraft) were being gently strong-armed into breaking their other agreements and building new and improved standalone Honda locations.
Personal watercraft sales were one of the most common – and valid – objections to Honda's ambitions. A dealership selling nearly as many Yamaha Waverunners as it did motorcycles wasn't about to cut off this very valuable arm of its profit generation.
Thus, at last, word came down from on high that Honda would introduce its own line of watercraft.
This was not Honda's first push toward the market. The manufacturer, long a leader in innovation, had first dabbled with designs in the 1980s. At that time, of course, two strokes didn't just dominate the PWC marketplace, that was all there was.
Honda, conversely, had long held an enmity against the two-stroke design. The company's founder, Soichiro Honda, was a proponent of four-stroke technology throughout his life. The efforts of his company to win against two-strokes with innovative four-stroke designs litter the history of motorcycle racing.
Sometimes Honda succeeded. Other times, the company reluctantly entered two-stroke machinery instead – and racked up many championships. Still, Sochiro's disdain for two-strokes never wavered.
Related: Polaris Jet Ski – Are They Still Worth Buying?
An advancement curve condensed
By the late 90s, most manufacturers were able to read the writing on the wall. The entire industry faced an environmental crossroads of sorts as California in particular began the process of legislating two-stroke power out of existence.
While the evolution of the modern passenger car has seen huge gains in over a century of production, personal watercraft condensed its evolution into a much shorter time frame. Proposed regulations from the EPA and CARB agencies demanded a nearly 90-percent reduction in emissions. Fuel-injected four strokes quickly supplanted the much simpler two-stroke designs that had previously dominated.
Each era has its proponents, but it can't be argued that reliability increased with a notable side benefit of exhaust noise being greatly reduced. The times were changing, and personal watercraft were changing even faster.
It all comes together
That was where the path of the AquaTrax converged and coalesced. Pending legislation coupled with Honda's history of four-stroke design along with the company's push for single-line dealers combined to jumpstart the development of a four-stroke personal watercraft.
Two models were finally ready for the marketplace in 2002. The normally aspirated AquaTrax F-12 was introduced alongside its stablemate, the turbocharged AquaTrax F-12X.
These were not only the first four-stroke PWC to be offered for sale to the public, but the X model was the first to incorporate turbocharging.
Drawing from both its motorcycle and automotive engine technology, Honda's impressive powerplant would be a double-overhead cam design with a 16-valve head and 1235 cubic centimeters of displacement. The normally aspirated version, rated at 125 horsepower, provided strong low- and mid-range power along with a credible top speed of over 50 mph. The turbocharged version bumped power to a claimed 165hp, and the top speed to near 60 mph.
These were and are credible performance numbers.
The following year, another hull was introduced with the same turbocharged powerplant and the AquaTrax R-12X two-seater was born.
The R model was extremely sporty, with a hull designed for aggressive riding. Let it be said, however, that the original "three-seater" F hull was already an admirable mix of comfort and performance. Its modified deep V hull split rough water well, but it rode as much on top of the water as cutting through it in a way that reminded one of the much lighter two-stroke machines of days gone by.
All the Honda machines were early adopters of technology that has since become commonplace in the personal watercraft market. They offered off-throttle steering systems for additional control at idle speeds, a limit mode with the capacity to restrict rpm to 4500 for new riders, and a conveniently placed left-hand reverse mechanism that allowed its rider easy dockside maneuverability with a right hand still available for throttle adjustment.
The AquaTrax was among the first personal watercraft to introduce the digital dashboard to the PWC market, coming with modern functions such as real-time monitoring of fuel consumption and reminding its rider of the amount of time remaining before one would run out of gas along with more mundane readouts for engine speed, boat speed, trip distance, and the like.
These functions are now available on even the most basic of new models, but at the time represented advanced high-tech features.
Honda was also the first manufacturer to offer a factory-installed GPS system with its "GPScape" equipped F-12 models beginning in 2005.
Bigger isn't always better
The well-received F-12 models were supplanted in 2008 by the quite larger AquaTrax F-15X, with the previous powerplant superseded by a 1.5 liter turbocharged engine rated at 200 horsepower.
Performance gains were arguably minimal, however, as the hull itself had grown considerably. Comfort and stability were enhanced, and top speed did rise substantially to the mid-60 mph neighborhood – which was a pretty big deal at a time.
But, gains in acceleration and comfort came at the substantial cost of much of the sporty maneuverability of the previous hull being lost. Though just about half a foot longer than its predecessor, "curb" weight jumped by a whopping 240 pounds, from just 721 pounds for the 12 models to 961 pounds for the F-15.
The F-15X remained Honda's flagship until the company exited the market just one year later after the 2009 year model.
Yes, the entire history of Honda's publicly-available watercraft lineup lasted just seven years.
Rise and Fall
While Honda managed to build a loyal following of AquaTrax lovers during its short stint in the marketplace, the mortgage economy crash of 2008-09 blew a hole in the company's desire to continue selling watercraft.
Even at the height of PWC popularity in the mid-2000s, company officials would privately confide that Honda lost money on every AquaTrax it sold, and that the product line was a loss leader for Honda's pride. The company wanted to dominate every market within the Powersports paradigm, and was willing to take a hit to prove its superiority.
But, when the economy went flying over the handlebars, personal watercraft were maybe the first domino to be pushed over. People weren't buying toys, they were selling them. Resale values were plummeting as used machines glutted the market. Those concerned with losing their homes – and many did – held a fire sale of motorcycles, boats, and personal watercraft.
Despite offering some of the finest watercraft available at the time, Honda never did gain predominance over other manufacturers. And thus, Honda's PWC production ceased.
Still a great boat
While the AquaTrax line is long gone from dealer showrooms, the vaunted build quality and reliability of any Honda product show through in the number of F-12s and F-15s still out on the water.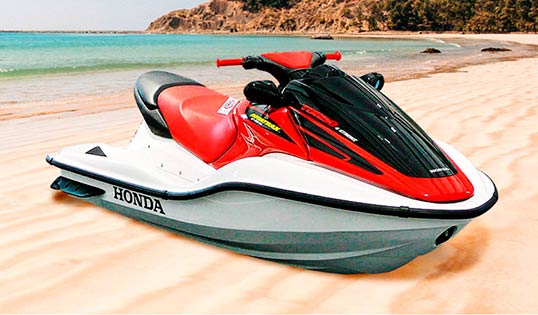 My own uncle purchased two of the F-12 models in the early 2000s, and still owns them today. He regularly ignores my advice on the proper care and feeding of a PWC, and his wintertime storage regimen is limited to filling each with gas, then covering for winter.
To my knowledge, he's never so much as flushed either machine, yet he continues to ride them without trouble every summer. This is not recommended! But buoyed by the fact that he lives in a flyover state in the middle of the country, the craft is only ridden in freshwater and his ownership has been entirely trouble-free for almost 20 years. He did replace one of the two batteries. The other inexplicably continues to fire off with the stock unit.
While the performance of personal watercraft has grown over the years, the AquaTrax F-12 remains a thoroughly enjoyable boat to ride. The three-seater always retained an element of light and agile feel that made it one of the sportiest feeling four-stroke watercraft ever built; light, maneuverable, quick, and comfortable.
Some preferred the increased stability and comfort of the 15 models, but many like myself missed the playfulness of the 12 hull design and still prefer the older machine.
Bang for the buck from the used market
The AquaTrax F-15X was introduced with a $13,299 price tag, a marked jump from the initial $9749 price point of the F-12X.
Either can still be found for sale in the used market at prices ranging roughly from $3000 to $8000.
At the upper end of that scale, you're getting close to the point of entry for today's current offerings. And yet the used Honda may well still offer superior performance.
For comparison's sake, Yamaha's Waverunner EX line starts at an extremely affordable $6999. It's an excellent value for a brand-new machine. It is also powered by a 1049cc three-cylinder engine and is only just capable of topping the 50 mph mark – roughly equivalent if slightly lacking when compared to a non-turbo AquaTrax F-12.
Sea-Doo's GTI-90 is its most affordably priced three-seater at $9099 – a significant price jump from the Yamaha. It is certainly a comfortable and capable craft for its intended market. But with just 90 horsepower on tap from its base model powerplant, it will be quickly left in the wake of even a normally aspirated Honda F-12 produced 20 years ago.
Kawasaki's entry-level model, the STX-160 sells for $10,899. Its 1498cc four-cylinder powerplant produces a claimed 160 horsepower and the craft is capable of just exceeding the 60 mph mark. It's a fine value, with performance that is directly comparable with a used Honda F-12X – albeit for several thousand dollars more.
Worthy of consideration
Yes, at the lower end of the used market, a well-preserved F-12 is for the most part the equal of any of those brand new machines and is still superior in some ways.
The Honda is light yet stable, quick yet docile and user-friendly, and offers impressive fuel efficiency by any measure. With a weight that generously undercuts most more modern machines, it perfectly splits the distance between rough water comfort and a sporty handling package that is near-two seater-like in its ability to change direction and track true at significant speeds.
Moreover, Honda's reputation for engineering and manufacturing quality is well deserved. Unless abused, or regularly ridden in salt water without the proper after-ride care, many of these machines remain in excellent mechanical condition.
If you are new to the watercraft market, or simply shopping for a second craft for a wife, girlfriend, or your buddies to come along for a ride, you could do a lot worse than finding a well-preserved freshwater ridden AquaTrax for purchase.