Musclecraft like the Kawasaki Ultra 310R and the Sea-Doo RXT 300 epitomizes the rapid development of personal watercraft.
These two for their respective companies represent the pinnacle of performance and engineering from two stalwarts of the industry.
Yet, this matchup of muscle boats highlights that these are two very different craft, and the distinctions might be huge to you.
Sea-Doo RXT-X 300
The original RXT model introduced in 2005 was a very different machine than what is offered today. Essentially a three-seat version of its then class-leading RXP, the Sea-Doo's configuration was greatly influenced by closed course competition.
It sacrificed a bit of stability in comparison to some of the other craft in its class, but was exceptionally agile on a buoy course for such a large and powerful boat. (The early models were delivered with a supercharged 215 horsepower engine. They were still fast! Power output was bumped to 255 ponies in 2008, 260 in 2012, and to its current 300 hp in 2016.)
RXT-X 300 Change History
In 2018 the RXT-X received a number of hull revisions that enhanced both comfort and performance while still taking notes from Sea-Doo's racier RXP design.
Deadrise for the new "ST3" hull was set at an aggressive 22 degrees to enhance the craft's wave readiness by providing more control in rougher conditions. Chines were changed to give both more stability in rough waters and more predictability in turns. A second chine was added just in front of the sponsons, which added half-an-inch of width to increase stability at rest and low speeds.
Sea-Doo also made a significant change to the seating arrangements. As delivered, the RXT features an apparently rather standard "king and queen" seat for two, heavily bolstered for both operator and passenger. However, the passenger seat can be removed altogether for solo running. It's a minor weight savings, but a big chance to the possibilities for the expanded rear deck area. With the passenger seat removed, the swim platform is an expansive 366 square inches that can be filled with a variety of available accessories that are mounted to Sea-Doo's exclusive "LinQ" dual mounting system borrowed from Bombardier's Ski-Doo snowmobile line.
Accessories available for the mounting system include a 4-gallon gas caddie, a 4.2-gallon cooler, and a 5.5-gallon zippered case that can be used on top of the gas caddy.
The lower-slung top hull repositioned both the seat and the rider another near inch-and-a-half lower towards the water, with the passengers being dropped twice that distance. Footwells were widened and deepened. All in all, it was a significant change to the center of gravity. Most significantly, the weight of the craft dropped 86 pounds, a significant benefit to both handling and straight-line performance.
Under the "hood," the RXT 300 nomenclature is a direct reference to the supercharged 300 horsepower 1630cc three-cylinder engine that has remained essentially unchanged in character despite incremental improvements in design over the years. Like the Ultra it is pitted against, its top speed is electronically limited to 67 mph – though I've seen higher numbers indicated.
After several updates in the engine bay in 2018, Sea-Doo claimed a 17 percent improvement in acceleration that can also be attributed to its new Launch Control feature. Set to action with a control on the handlebar, the system automatically adjusts trim angle based on speed to keep the nose low under acceleration. Trim can also of course be operated manually.
Kawasaki Ultra 310R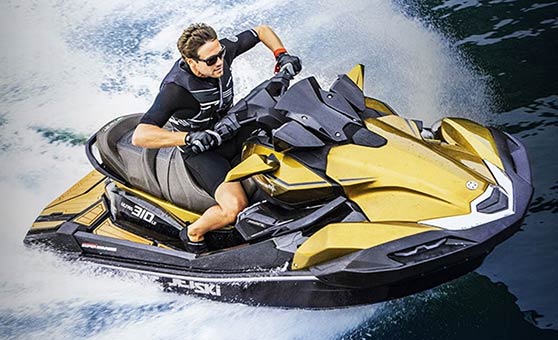 The Kawasaki is designed as a rough-water top-speed cruiseliner. It's most at home off-shore and at high speeds.
While the straight line performance of the two rival watercraft is similar, the Sea-Doo remains the far more responsive and aggressive handler. The Sea-Doo hull hooks through corners, even with fairly mild stock sponsons, and can be rather sensitive to rider input in rough conditions. When bouncing through chop, it's important for the rider to keep the handlebars and weight centered to avoid the rear end biting and skewing your direction.
The Kawasaki's hull, conversely, absorbs rough choppy waters with as much stability as you'll find in a PWC. It's 22.5 degree hull can be made to take a tight turn with its nozzle trimmed all the way down to make the sponsons bite. Changing directions, however, is not the Ultra's forte.
No, the claim to fame for the Ultra is its eye-watering speed and stability. It is the most powerful musclecraft sold, producing 310 horsepower with its supercharged four-cylinder 1498cc engine. Electronically limited, the Ultra 310 is capable of around 67 mph.
It is also the heaviest, now at a whopping 1089 pounds, up from a previous curb weight of 1049.
Power output can be tamed for new rider safety or lower fuel consumption. There is a "learner mode" available along with four other output settings: full, middle, low, and slow.
Introduced initially in 2014, this year's Ultra has been significantly updated for the first time.
Three models
There are actually three Ultra 310 models for 2022.
The 310X is the lowest priced, with Ultra 310LX at the top of the line.
In between is the new Ultra 310LX-S, priced at $18,199. That's $1000 more, and $1000 less than the LX-S.
The luxury-laden LX models include a new rear-view camera, four-speaker audio, height-adjustable seats, and daytime LED running lights!
The top two LX models get a rear deck extension that adds just under 8 inches of length. All three feature a completely new top deck. Storage pods are now located along each side as well as in the bow. The side fairings open up to create 20 liters of storage space on either side, bringing total onboard storage space to a whopping 168.5 liters. (That's actually down a touch from the previous design, but still far more than Sea-Doo's 98.9 liters of cargo space.)
Media Upgrades
Kawasaki has also now joined high-end Sea-Doo (and Yamaha) models with a large 7-inch digital screen that features smartphone connectivity. The instrument cluster now provides the speed readout with a GPS-based speedometer, replacing the age old spinning wheel design.
The stereo output has jumped 10-fold, with the new system now featuring two 60-watt speakers in the front footwells buttressed by two 35-watt units mounted on the top console all powered by a 200-watt amplifier.
Hit the brakes – Comparison of Braking Systems
Sea-Doo introduced its fairly revolutionary "iBR" system in 2009 as the first braking system in the PWC market. It essentially uses a reverse gate behind that pump that redirects the waterjet toward the bow of the craft to slow you down. Tests have shown the iBR unit can reduce stopping distances by some 160 feet!
Yamaha followed suit in 2015 with its "RiDE" braking system, but it has taken until this year's redesign for Kawasaki to incorporate similar technology in its flagship.
The new for 2022 system is dubbed "KSRD" (Kawasaki Smart Reverse with Deceleration). A right-hand mounted thumb level is similar to the throttle on an ATV. In combination with the throttle trigger, speed is all in the right hand with the thumb lever overriding the throttle.
The actual actuation is similar to other manufacturers, with a reverse gate mounted to the nozzle to reverse the flow of the pump's thrust towards the bow of the craft.
Cool deal, Kawasaki. It's about time.
Tale of the Tape
These are two boats with very similar dimensions, nearly identical straight line acceleration, and very different characters.
Though the Kawi might be a slight tick quicker, both machines are capable of accelerating from 0 to 30 mph in 1.5 seconds, and from 0 to 60 in just over 3 and a half seconds. That's plenty fast. Again, both are ostensibly electronically limited to 67 mph, though higher speedo readings occasionally pop up.
The Sea-Doo was previously over three inches longer – 135.9 inches to Kawi's 132.7 inches – and over two inches wider – 49.2 inches to 47 inches. And it previously weighed nearly 100 pounds less than the Kawasaki.
Now, with Kawasaki's redesigned hull, the Ultra has grown to 140.9 inches in length and weight is up from 1047 to a whopping 1089 pounds – 191 pounds more than the Sea-Doo.
Bells and whistles vary but are roughly equivalent between the two machines. What really differentiates the two is the freight train stability of the Kawasaki pitted against the superior maneuverability and playfulness of the Sea-Doo.
Neither is a wrong choice, but an honest assessment of where and how you like to ride should make your decision between the two relatively easy to make.