Bigger doesn't necessarily mean better, and you don't have to spend top dollar to have big fun on a PWC.
Modern personal watercraft is astonishingly advanced in both technology and performance, but both of those trickle down from each manufacturer's flagships to the rest of the line. There are many boats available on the market that are lower in price, but hardly lesser lights.
You can have just as much fun with one of the entry-level PWCs, and spend far less to get out on the water and get started. Plus, what you might save at the dealership might just finance a summer or more of fuel and fun.
Kawasaki STX: The Kingpin of 'Budget' Offerings
At a manufacturer's suggested retail price of $10,899 (plus $500 freight and materials surcharge and another $425 in destination fee), the STX is Kawasaki's most affordably priced new model.
The three-seater is powered by a 1098cc four-cylinder engine producing 160 horsepower. It has a load capacity of 496 pounds, holds 20.6 gallons of gas, and boasts 35 gallons of storage capacity. This is more than an adequate formula for big fun in the sun.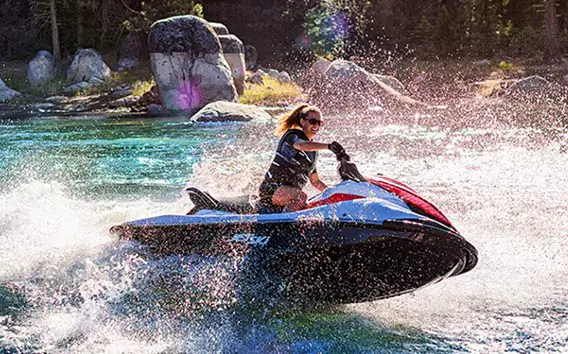 With a top speed of 62 mph, the 864-pound (curb weight with fuel) craft is fast enough and quite a responsive handler.
The STX 160 series was a replacement for the venerable STX-15F. It featured a new top deck and more features, but the underside remained the same as the STX-15, and that's a good thing.
The STX-15 itself was an evolution of the STX-12, which in turn essentially paired Kawasaki's first four-stroke motor with the same hull as the race-bred STX 1100 and STX 900. This was the hull that Kawasaki based its World Finals platform on in the heyday of ISJBA closed-course racing. It is incredibly responsive through the buoys, but also tracks well at high speeds in rough waters.
It's a handling package that is welcoming enough for newcomers, yet honed to the extent that it is still admired by far more experienced riders.
Power output is likewise very impressive for an "entry-level" machine. The craft accelerates briskly right off the bottom, has a solid mid-range punch, and again will exceed 60 mph on top. It doesn't run like a budget boat.
Most recently updated in 2020, the refreshed top deck retains the attributes of its predecessor – namely a low center of gravity that both provides stability for cruising while still feeling very sporty for more aggressive riding. Kawi did slightly raise the seat height while deepening the footrails to provide a bit more leg room while also adding a wider handlebar.
Bells and whistles aren't piled as high as they are on Kawasaki's more premium offerings, but in truth, there is everything a rider needs. The large information display is easy to operate and reads well in bright sunlight. Various mode buttons are large and easy to operate. Like Kawi's more expensive boats, the STX is fitted with technology like fly-by-wire throttle actuation, cruise control, and "ECO" mode for either economy or new riders, and cruise control. There's also a no wake setting for idling in and out of the loading ramp area.
One thing that the STX does not have is a reverse deceleration system as offered by the other two boats in this comparison. An electronic reverse/deceleration system is akin to that offered by Sea-Doo and Yamaha.
The old-school mechanical bucket drop can slow one if needed, but it isn't a dedicated "braking system" as used by the competition.
There are also two other 160 models available, the STX160X at $11,499 (plus the same fees) and the STX160LX at $13,199.
The "X" model adds electronically adjustable cruise control with more options than the standard cruise fitted to the base model, plus a premium painted top deck.
The "LX" model comes with a premium painted top deck, additional graphics, two-toned deck mats, and most notably Kawi's "Jetsound" Bluetooth audio system.
Yamaha EX: Splitting the Difference
Looking to undercut Kawasaki's STX is Yamaha's EX lineup, billed by the tuning fork company as "Rec Lite."
This is a bit of a misnomer, as the EX can easily handle three passengers, pull skiers or toys, and most important is a capable enough craft in rough water conditions.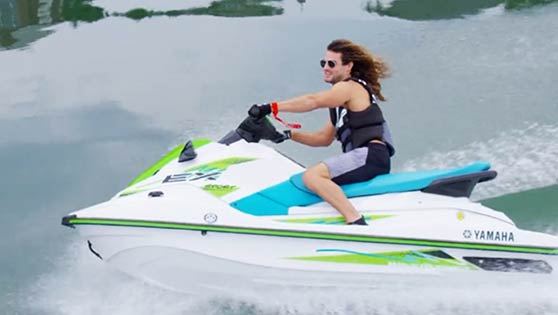 The baseline is Yamaha's straight EX model. It is powered by a 100-horsepower 1049cc three-cylinder engine capable of 50-mph plus speeds with reasonably impressive low-end power.
The hull is both stable and agile, and it feels a bit like a slice of lighter personal watercraft gone by – that is to say, its handling is a bit looser than the Kawasaki. It isn't as planted in chop, and won't match the STX in cornering aplomb, but it's nonetheless still fun and versatile ride.
This is fair enough, as the baseline EX is retailed starting at just $7,199, notably undercutting Kawasaki's MSRP.
So what do you get for that money?
With the EX model, the most notable thing is what you don't get – reverse. One step up is the EX Sport at $8299, which does include an old-school mechanical reverse.
The EX Deluxe ($9299) and the EX Limited ($9899) both include Yamaha's more sophisticated RiDE system, which works as both your reverse while also offering deceleration when pulled at speed.
The RiDE system is quite user-friendly and intuitive, with the right side of the handlebar devoted to only the throttle trigger, and the left-hand mounted RiDE control handling reverse and braking functions. Aside from the obvious safety benefits of having some sort of braking system, the Yamaha design is very useful when docking and at low speeds.
None of the units come equipped with a stereo system, but two are available as add-ons. A $400 "EcoXGear" portable speaker package is self-contained, Bluetooth, and consists of a pair of speakers mounted near the rearview mirrors. These can easily be removed for use on the beach or dock. Yamaha also offers a more powerful footwell mounted audio system for an added $600 over the base price.
The EX and EX Sport both weigh in at right about 580 pounds dry, with the Deluxe and Limited tipping the scales 20 pounds higher. This is dry weight, so you'll add about 80 pounds to the curb weight when fueled and oiled.
That additional weight would be more, but fuel capacity is a good bit less than the Kawasaki at 13.2 gallons, and storage capacity is somewhat lacking at just 7.7 gallons.
The EX Limited is a somewhat unique package aimed at family fun. What you get for your money isn't more power or performance, but rather an assortment of watersports gear. The Limited package includes a color-matched inflatable tube and tow rope, along with a bag and strap to affix it to the boat's stern. Also included is a 12-volt inflator, and a 12-volt power to run the inflator – or to keep your phone charged. The rest of the option package consists of a dry storage bag for bow stowage, logoed fender protectors for dock use, and a matching graphics PWC cover.
The Yamaha EX line foregoes a number of amenities some might consider essential in order to achieve its price points. No cruise control. No trim control. No learner mode.
But with a base price that undercuts its competitors by thousands, the EX is certainly worthy of consideration for both newcomers and for those considering adding another runabout to their family and friends' collection.
Sea-Doo GTI and SPARK: A True Three-Seater and a Sport Boat in Disguise
The genuine three-seater GTI from Sea-Doo is unlike the others in this comparison in that it is not the manufacturer's lowest-priced model. That would be the SPARK.
And while – full disclaimer – the SPARK is definitely one of my own personal favorites now available in dealer showrooms, it is not really aimed at the same market as the other watercraft featured herein. It is closer in dimensions and load capacity to the Yamaha EX.
The SPARK is billed as a three-passenger ski, but is far better suited to two-up riding. The Yamaha, which is nine inches shorter than the midline VX hull it is based on at 10-foot 3-inches in length, is nonetheless a touch roomier than the SPARK that measures out at 10-foot even.
Straight up, head to head, the EX has the advantage in recommended load capacity by 35 pounds, has 10 more horsepower than the SPARK, holds nearly five gallons more gas (just 7.9 for the Sea-Doo), and is about 150 pounds heavier.
And while the Yamaha is not the equal of the Kawasaki STX in rough waters, it has noticeably more of a "big boat" feel in chop than the SPARK. Sea-Doo's lightest offering instead offers a very light and playful feel that reminds me of much lighter and more nimble two-stroke watercraft from years ago.
With a dry weight of just 425 pounds, the SPARK comes in under 500 pounds full of fuel and ready to ride. The Spark's light weight and lesser footprint open the door to antics. Depending on trim settings, it can either bite in tight corners or be very loose at the tail. Quick spins and power washes haven't been this easy since the days of the fabled XP – and for the daring, the SPARK also reminds some of us old-timers of Yamaha's Waveblaster when it comes to launching this oh so fun watercraft off of ocean waves.
However, those of us with off-shore experience also wouldn't pick a SPARK for the heavy chop. Rough waves can really push a craft this small around, and it is anything but planted in choppy and windy conditions.
SPARK five versions
The SPARK is available in five versions. There's the base model with 60 horsepower priced at $5699 (plus a $465 "commodity surcharge"), or the two-seater with the more powerful version of the same 899cc ACE engine that puts out 90 horses for $7399.
Going up to the barely larger three-seat version already equipped with the 90 horse motor will set you back $6999 (again, there is a surcharge). This seems slightly counter intuitive, but it's likely economy of scale in manufacturing numbers that allows Bombardier to offer the base model three-seater slightly cheaper than the two-seater with an optional motor.
Then there's the SPARK "Trixx" model in both two- and three-seat configurations, retailing at $7899 and $8499 respectively. The Trixx is available only with the 90-horsepower engine, and the "trick" is its electronic variable trim system.
The standard SPARK can raise the trim by 7 degrees above the horizontal, and 4.5 degrees below it. The Trixx model adds an additional 17 clicks above the neutral setting! Just set the trim all the way up, plant your feet on angled chocks at the tail of the footwells, and it's wheelies on the water time!
Riders can also raise the adjustable handlebar mounted to the Trixx with an easily accessible clamp for additional leverage over the watercraft.
The 60-horse motors can be a bit sedate in straight-line performance but the 90 pony versions offer brisk acceleration and a top speed in the 50 mph neighborhood.
But… as much fun as they are to ride, as playful as anything built in quite some time by any personal watercraft manufacturer… it really takes the 3-up version to capably handle a rider and a passenger of average size. The 2-up version is really best for solo use. Sea-Doo recommends a maximum passenger load of just 352 pounds for the two-seater, and 450 pounds for the three-seater. And either will be a bit tippy at low speeds if loaded with nearly that amount of weight.
Choose for three
For anyone planning on taking the whole family, or even those who will mostly ride with a passenger, I'd have to encourage taking a look at Sea-Doo's GTI.
The base GTI is a true three-seater, and since the 2020 model year is based on the same hull Sea-Doo has long used for its flagship GTX tourer.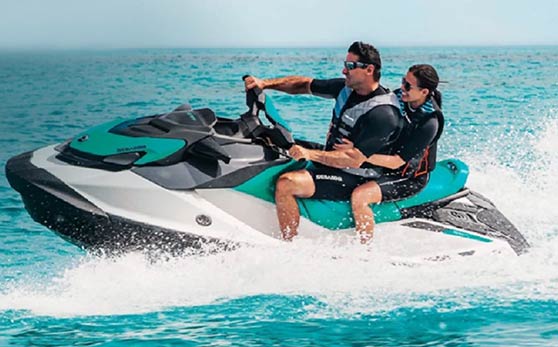 Starting at $9299 for the base model, also powered by the 90-horsepower ACE engine as used in the SPARK, the GTI handling package nicely splits the difference between comfort and performance. The hull design has a low center of gravity for stability and confidence at speed, yet it retains a lightweight and fun feel that belies its.
For an additional $1000, the GTI 130 bumps power output by 40 horses to the 130 its name indicates.
As with the smaller SPARK, the base GTI offers credible acceleration but tops out in the low 40 mph range. The 130 brings that number close to 50 mph.
At 668 pounds for the standard GTI and 730 pounds for the more powerful version – dry weights, you can add 80 pounds or so with fuel and oil and such – the respective GTI models have a recommended rider weight capacity of 600 pounds.
Sea-Doo also offers two more powerful variants, the GTI SE 130 starting at $11,099, and the 170 horse GTI SE 170 version at $11,699 which most capably vies with the boat we started with, Kawasaki's STX. The SE 170 will approach 60 mph running flat out.
The entire GTI lineup offers Sea-Doo's excellent IBR (intelligent brake and reverse) system, a choice of performance profiles, and an optional Bluetooth sound package.
A vast array of options – premium audio systems, depth finders, GPS units, and the like – are available for the GTI models.
Tale of the Tape, or Horses for Courses
In the end, every model above is fun, affordable, and capable – it's just to greater or lesser extents, and in different areas. Your mileage may vary!
A Sea-Doo SPARK is great fun for one, pretty good for two, and is as cheap as chips little runabout that definitely deserves consideration for a weekend lake rider – or a big air wave jumper, for that matter.
Splitting the difference a bit is the Yamaha EX, which is lighter and a touch smaller than either the Sea-Doo or Kawasaki offerings presented while still absolutely large enough to provide a family-friendly platform at a very reasonable price.
Speaking of price, the suggested retail of either the Sea-Doo GTI or the Kawasaki STX begins to approach more premium models within their respective lines – but their greater performance and versatility in a wide range of water conditions arguably make them the bigger bang for the buck – albeit with more bucks required.