So you've been riding for a while and you're getting pretty good. Maybe you've even taken part in some local events, or done some casual racing with your buddies.
Or maybe you live in a part of the country where the words "local" and "watersports" don't really go together and you're looking for somewhere to take your riding to the next level.
Racing is a great way to test your skills, meet people, and have fun, even if you're new to riding.
Most events have a beginner class that is open to any type of PWC, and you can usually participate in the beginner class race up to 3 times before you are assessed and moved into a level that's appropriate for your skill and vehicle.
There are jet ski events happening all over the country (and all over the world!) all the time. Let's take a look at some of the top events in the United States.
Types of Jet Ski Events
Before we dive in, let's do a quick rundown on the types of PWC competitions you might come across.
Offshore
These are events that happen on the ocean. They require navigation skills and intimate knowledge of the ocean, tides, and wind, as well as jet ski prowess. Competitors must also pay attention to fuel management.
Endurance
These long-distance events are known to be grueling tests of both physical and mental strength. One of the better-known endurance races is a single-day 300-mile race held in Havasu Lake City, Arizona by the Mark Hahn memorial.
Closed Course
These make up the majority of pro-level series and tours in the US and are the easiest to find and to compete in. A closed course race will happen on a lake and will consist of laps around a preset course.
Freestyle
If racing isn't really your thing, you might prefer a freestyle event, which is focused on tricks and stunts rather than time.
Each rider prepares a short routine, which they perform for a crowd and panel of judges, and for which they receive a score. Many closed course events have freestyle events during intermissions and breaks.
Freeride
Another nice alternative to closed-course racing is, freeriding which provides the opportunity to get together with other jet skiers and just have a good time riding together without competition.
Sometimes an optional race or freestyle event is included, but the aim is more to enjoy your time on the water in a relaxed environment.
Offshore Events: P1 AquaX
With a US branch and an international branch, Aqua Cross is easily the most recognized name in offshore endurance watersport eventing.
The AquaX series was launched in partnership with Yamaha in 2013, and Yamaha recently announced that they have renewed the partnership for the 2022 season, making this the ninth year in a row that Yamaha has partnered the event.
Aqua Cross offshore endurance events start in April and run through September, primarily in Florida and Indiana.
The main events that Aqua Cross hosts are international and national pro-level events – but there are plenty of other opportunities for non-pro riders to take part.
Jet Jam Racing organizes events primarily on the West Coast – although they do also host some East Coast events. They are sanctioned by the AWSA and you will need an AWSA membership to take part. The Best of the West series is a complete championship series, with events for beginners and older model jet skis.
The series starts in March and ends in September. All races happen on weekends, in either Arizona or California. This year's series is sponsored by Anderson Power Sports.
This is the largest East Coast event in terms of attendance and is sanctioned by the IJSBA, meaning that if you win you'll qualify for the IJSBA World Finals.
This series makes up IJSBA's "Region 8" and encompasses 13 states in the Northeast. There are various levels, including beginner levels open to racers as young as 10.
The series runs for 5 weekends during the summer, with each weekend day making up one round of racing for a total of 10 rounds. You must have an IJSBA membership in order to compete.
This event is similar to the East Coast Watercross event. It is IJSBA sanctioned and winners qualify for the IJSBA World Finals. This event is part of a different IJSBA Region and includes midwestern states.
Like the East Coast Watercross series, you will need a membership with IJSBA to compete.
The Liqui Moly Pro Water Cross tour takes place primarily in the South and along the East Coast and culminates with its own series championship. It is not IJSBA or ASWA sanctioned, but you will need a Pro Water Cross membership to participate.
The series starts in April and runs through August with 1-2 events happening each month in Florida, Georgia, Louisiana, and Wisconsin. The Liqui Moly World Championship happens in November in Florida.
Pro Water Cross also runs freestyle and recreational events for riders who'd prefer something slightly different. Those events happen all year long throughout the South and along the East Coast. If you're into stand-up paddleboarding, they also host a SUPX event in October!
How do I take part in a jet ski race?
For many of these events, particularly sponsored or officially sanctioned races, you will need a membership with the sanctioning body in order to take part. Memberships can be purchased online. Check to see whether your race is sanctioned, and by who before purchasing a membership.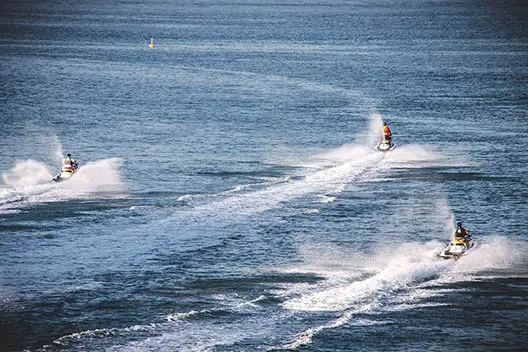 Register for the race online through the organization's website. All races listed here have links to the relevant site, and all information needed to sign up is available through the site.
What do I need for a jet ski race?
Showing up on your first day can be intimidating. Not only do you need to make sure you're well-rested, well-fed, and Here's a quick and easy checklist you can reference to make sure you're ready for race day!
A US Coast Guard Approved Life Vest
This is far and away from the most important piece of equipment you'll need for a race – in fact, it's likely you already have a life vest for your regular skiing.
The trick here is to make sure it's USCG approved, as that is now a requirement for all US jet ski races.
You'll know if your vest is approved because it will be clearly labeled. Popular brands that sell USCG-approved vests are Jet Pilot, Jettribe, and Slippery.
A Dot/Snell Approved Helmet
All sanctioning bodies now require a full-face helmet in order to participate in races.
Currently, there's no such thing as a "jet ski helmet," but any dot/snell approved full-face helmet will do. Most racers use a motocross helmet – brands like Fox Racing and Bell are good choices.
Other protective gear you might want to consider includes gloves, goggles, and shoes.
A lanyard for your kill switch
This is another non-negotiable: before you're allowed to compete, you'll have to undergo a tech inspection, during which you'll be asked to show your lanyard and that your kill switch successfully shuts off your motor.
The lanyard should be attached to the kill key and somewhere on your body.
If you fall off your jet ski at any point, the lanyard should go with you, disconnecting the kill switch and killing your motor. This is so that the ski doesn't keep running out of control on its own, which could endanger you and other riders.
Related: Jet Ski Insurance and Personal Watercraft Insurance
A back brace
Back braces are now required at all PWC events. They protect your upper body from impact when you fall off. There is no hard and fast rule about the type of brace or how you wear it – motocross braces are acceptable and popular with riders.
Jettribe makes a PWC-specific brace that can be worn under your life jacket.
Neck braces are optional but recommended, especially if you race a sit-down or other type of very fast craft.
A tow loop
The last thing you'll need to make sure you have on race day is a tow loop on the front of your ski. If anything goes wrong out on the water, race officials will need to be able to quickly remove your jet ski from the race track.
Pro Water Crafting sells a couple of good tow loop options.
The Final Word
This article should have given you a good handle on some regional events in your area, and what you need to do to prepare for race day, but the most important thing to remember on race day is to relax and have fun.
Now get out there and make some waves!