It is not a legal requirement to wear a helmet while riding a jet ski, however, wearing a helmet while riding a jet ski is a good idea. According to the US Coastguard, jet skis cause at least 40-50 fatalities every year, and an additional 600-700 injuries. Many of these injuries and deaths could be avoided by wearing proper head protection.
If you are a senior jet ski rider, the use of protective gear becomes even more important when riding a jet ski. Unfortunately, there are no companies around that make helmets specifically for jet skis, and very few helmet companies that cater to the senior market. Often, responsible seniors must choose between alternatives such as a downhill BMX helmet, motorcycle helmet, or pilot helmet.
We put together this article to help senior jet ski enthusiasts make the right choice when selecting a helmet. We'll discuss what to look for in a jet ski helmet, what makes a helmet better for a senior rider, and compare the top helmet options available on the market today.
What to Look for In a Jet Ski Helmet for Seniors
When shopping around for a jet ski helmet, there are a few things you should take into consideration. While many of these features are desirable for any rider, senior jet ski riders have unique needs that can be met by shopping for helmets with certain specifications.
1. Buy Something Lightweight
The weight of headgear is a particular concern for senior riders. Limited neck mobility and strength mean that senior riders must opt for the lightest possible weight gear, while still buying the best protection possible. A helmet should never restrict your movement or impede your ability to ride safely.
2. Breathability
Breathability is also an important factor for senior riders to consider, who may not be in peak physical cardiovascular condition. It's important to find a helmet that will not affect your ability to focus on riding. Additionally, buying a dark-colored helmet might cause you to overheat, as the sun can quickly turn a dark helmet into an oven! Stick to light colors.
3. Look for Features That Make Things Easier
For seniors with issues like arthritis or other problems that impede manual dexterity, features like quick-release chin straps and easy-to-remove visors are nice. A magnetic quick-release chin strap that allows the helmet to be removed easily in an emergency could mean the difference between life or death for a rider who has trouble using their hands.
4. Don't Buy Anything Cheap
The saying "you get what you pay for" is never more true than with protective gear. Your head is a precious asset that needs protection. A helmet needs to be appropriately rated and manufactured to provide adequate protection. A high-quality helmet that provides sufficient protection is going to cost a fair amount.
If you're going to buy a cheap helmet to cut costs, you may as well buy no helmet at all.
5. Choose the Right Helmet
When shopping around for a helmet, it's essential to try it on and get the right fit. This is especially important for seniors who need to carefully consider weight and breathability. If you are shopping for goggles as well as a helmet, try on the goggles and helmet together before you buy. Most helmets on this list do not come with goggles, so you will need to make sure that the goggles and helmet fit together comfortably.
The Best Jet Ski Helmet Options for Senior Riders
Below is a list of the top helmet options available for senior jet ski riders. Most of the helmets on this list are not designed specifically for jet skis, as there are very few of those products available on the market today. However, keeping the above recommendations in mind when shopping around for a viable alternative will help you to make the right choice.
Fox ProFrame
At just 1.65lbs, the Fox ProFrame helmet is one of the lightest helmets available, making it the top choice for senior riders. As well as being lightweight, it is also extremely breathable, with an open face and multiple air vents (15 intake vents and 9 exhaust vents.)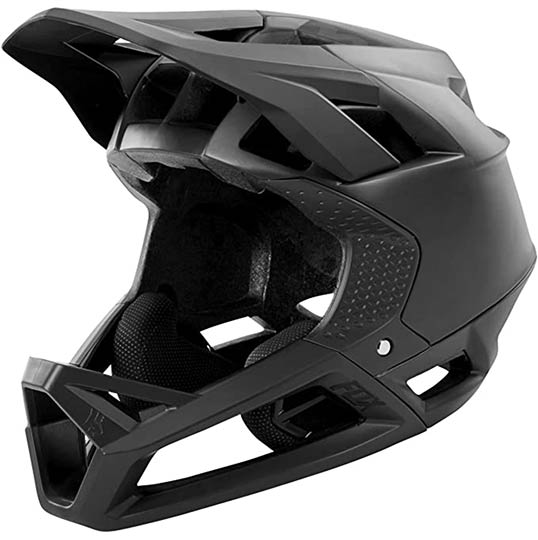 This helmet is designed for mountain biking but is worn by a majority of recreational jet skiers and many professionals. It has passed rigorous safety inspections and has multiple safety certifications including N 1078, ASTM F1952, CPSC, and AS/NZ 2063.
The helmet is manufactured from molded polycarbonate, which is considered the more high-end material for making helmets. Polycarbonate is thin, flexible, and lightweight, while ABS (the next-best solution) tends to be harder, heavier, and more brittle.

Polycarbonate is more expensive than ABS, and that cost is reflected in the helmet. This baby ain't cheap! But as we said before, you get what you pay for, and with this helmet, you're getting a durable, lightweight helmet with great visibility and breathability.
Bell Super 3R MIPS
This mountain biking helmet is another popular option for recreational jet skiers. Like the Fox ProFrame, it features an open face and excellent ventilation, and like the ProFrame, it is incredibly light at just 1.7lbs. These combined features make it a good choice for senior riders.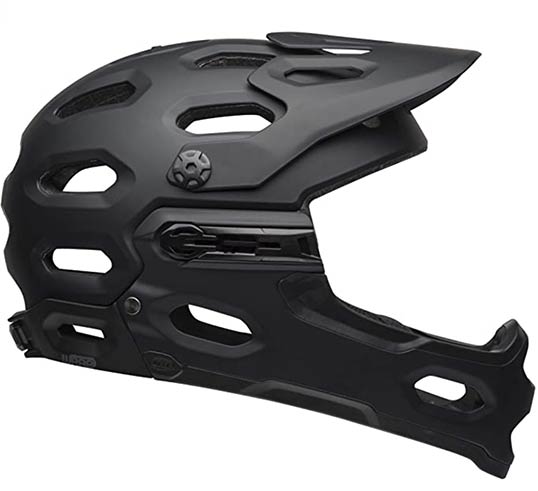 Bell is a well-known and highly reputable helmet company. They have been making quality helmets since 1954, so senior riders looking for brand name recognition or tried-and-true quality will find this company's reputation and longevity reassuring.

The Super 3R is made of fusion in-mold polycarbonate, like the Fox ProFrame, so it is on the pricey side. However, for that price, you are getting an ultra-lightweight, strong, flexible, durable helmet from a longstanding company with a reputation for making quality products.
O'Neal 3 Series
This full-faced helmet is made by another reputable helmet company, O'Neal, well-known for producing excellent off-roading helmets and other gear. This is a helmet intended for motocross, so you can guarantee that it will be durable and will withstand crashes at high speed.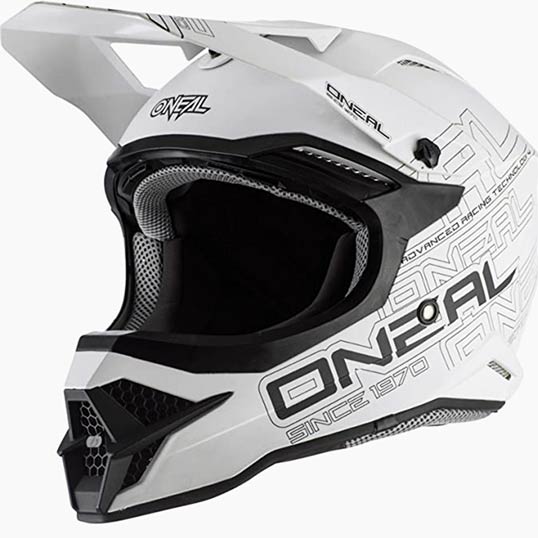 This helmet is also made from lightweight polycarbonate. Because it is a full-face helmet, it is heavier than either the Fox or the Bell helmets, however, at just 2lbs it is still a very light full-face option. It is also cheaper than the Fox or Bell helmets.

Another thing that makes this helmet a great option for seniors is the magnetic quick-release buckle, which can be operated with one hand. Riders suffering from arthritis or other issues that impede manual dexterity will have no trouble quickly removing this helmet.
X-DRAK Freestyle Cup
The X-Drak Freestyle Cup is another option that's perfect for senior riders. At 2.6lbs, this comes in a little heavier than the other options on this list, however, the helmet provides more full-face protection and comes with goggles built in.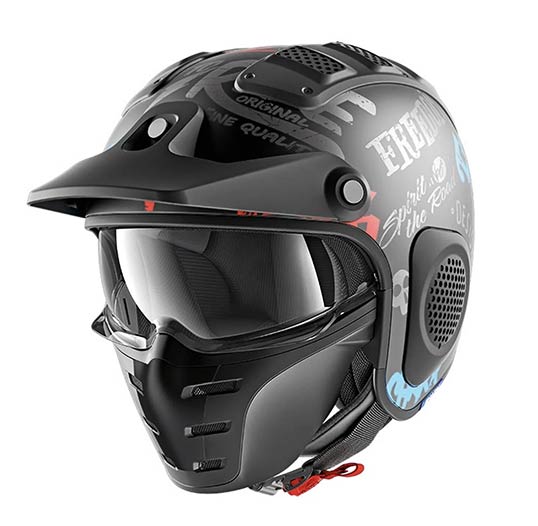 If appearance is important, this helmet is an excellent choice. While many senior riders are likely more concerned with function than appearance, there are undoubtedly some riders out there who want to look "young and hip" while riding. If that's you, then this is your helmet.
The outer shell is made of fiberglass and comes in two sizes. It comes with Bluetooth capability which is nice for hands-free phone use out on the water. The helmet has received an ECE 22.05 safety certificate.
Carbon Fly Racing F2
This helmet was originally designed for professional motocross riders, however, it is also the most popular helmet among professional jet ski riders. Professional riders like it because it offers a higher level of protection than some of the other options on this list.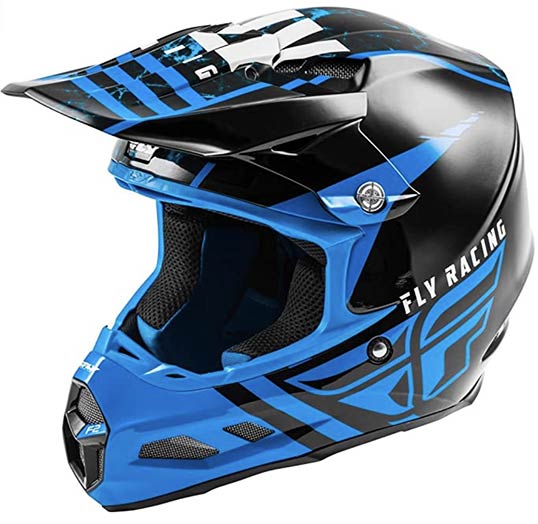 For senior riders who compete or are hoping to compete, a professional-grade helmet is a must. Helmets are required by all amateur and professional races. This helmet is the heaviest on this list at almost 3.5lbs, however, for that price, you are getting a higher level of protection.

The shell is made from kevlar carbon composite, making it tough and durable. It exceeds all DOT and SNELL specifications. It is widely regarded as the most comfortable racing helmet, which might be a desirable feature for seniors looking for something that won't cause discomfort while riding.
GLX GX23
This is one of the more popular helmets among professional PWC riders, endorsed by GB Gasperone, but the helmet is available to recreational riders. It is the heaviest option on this list at 3.5lbs, however, for a full-face helmet, this is still very light. If you are uncomfortable with the idea of wearing an open-face helmet, this is a great alternative.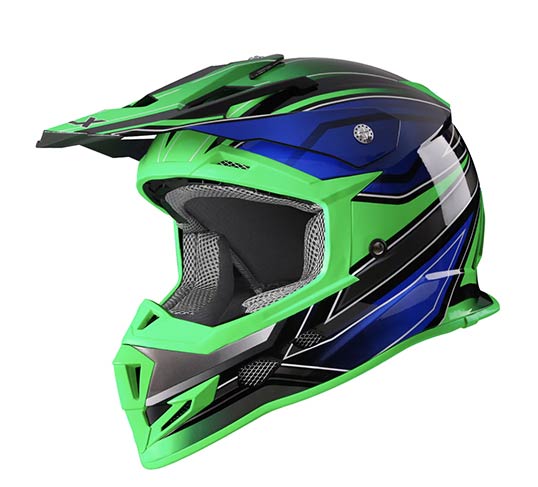 The GLX is breathable, with 14 intake vents to maximize airflow around the head. It's professionally rated and exceeds all DOT safety standards. The helmet comes with a one-year limited warranty, plus lifetime support for any future issues or questions.

Conclusion
When it comes to choosing a jet ski helmet, it's essential to get the right fit and proper specifications. Every rider has a unique set of requirements, and senior riders are no exception.
If you are a senior jet ski rider, you should opt for a lightweight helmet that doesn't impede mobility or vision, and that is breathable. Other features like magnetic quick-release clasps and Bluetooth capability are also nice if you suffer from arthritis or other conditions that impede dexterity.
We hope you found this list of the top helmet choices for senior jet ski riders useful! Leave a comment to let us know what your helmet requirements are.