Riding a jet ski solo is great, but riding with friends and family is much more fun! If you are an avid jet skier and are looking to introduce your family—be that spouse or kids—to the sport, you may be wondering if there is a good jet ski option that fits multiple people.
There are several models of 3-4 passenger jet skis available on the market today, as well as many secondhand models from the 1990s and early 2000s.
We put together this article discussing the pros and cons of 4-seater jet skis, as well as the average cost of a 4-seater model, and which is the most reliable 4-seater jet ski on the market today.
We also took a look at the top 5 models of 4-seater jet skis available today. Let's dive in!
What are the advantages and disadvantages of 4 seats?
Pros
The main advantage of a 4-seater jet ski is that it allows you to carry more passengers. This makes riding with kids or partners easier and more fun. While some 2-seater models do have enough space for 3-4 people (kids, for example) it is not safe to put that many people on a 2-seater jet ski.
Not only does a 4-seater jet ski have more space for passengers, but it also has more space for storage. The Sea-Doo LRV, for example, was the largest jet ski ever made, with an incredible 180 gallons of storage space and a sun deck on the back!
A 4-seater jet ski is more stable than a 2-person or single-rider jet ski. This makes them ideal for tow sports and fishing. Many jet ski fishermen, particularly those who fish in ocean waters, choose 4-seater skis for their stability and storage capacity.
Cons
If you're someone that values speed and nimbleness in a jet ski, you will find the added weight and size of a 4-seater cumbersome. Although the motor is larger than on a 2-seater, the added size and weight make them quite sluggish and much less fun than a regular jet ski.
Additionally, 4-seater jet skis often have the worst power-to-weight ratios in their class, and people on numerous forums have lamented the mechanical difficulties they have had with these vehicles.
What is the average cost of a 4-seater jet ski?
The average 3-4 passenger jet ski available brand new in 2022 costs between $14,000 and $20,000. Many of the models available are marketed as fishing vehicles or tow sport vehicles.
Be aware also that most of these models only include 3 actual seats, although they are marketed as "3-4" passenger vehicles.
What brand of a 4-seater jet ski is the most reliable?
The most reliable 4-seater jet ski available on the market today is the Yamaha SUV 1200. Like all Yamahas, the SUV 1200 is one of the most dependable and durable PWCs on the water. It is backed by Yamaha's incredible depth of experience and its comprehensive warranty.
The Top 5 4-Seater Jet Skis
We looked at five of the best 4-seater jet ski models on the market today and compared them across price, reliability, storage capacity, and performance.
2022 Kawasaki Jet Ski Ultra 310 310LX
This 3-passenger ski consistently tops lists when it comes to customers' favorite jet ski models. It has 3 seats with space for a fourth small child, and measures almost 12ft in overall length, with a width of almost 2ft. The dry weight is 1089lbs, and the storage capacity is almost 45 gallons. Needless to say, this thing is a beast!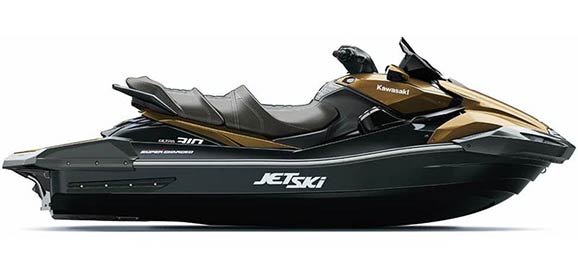 The Ultra 310 LX is Kawasaki's top-of-the-line model, and it delivers on performance as well as space. With an in-line 4-cylinder, 4-stroke engine, steering assist, and a deep-v fiberglass hull, it is one of the most performant skis on the list. This model could be great for a jet skier looking for something that could double as a single-ride ski.
All that performance comes at a price. The 2022 model of the Ultra 310LX will set you back around $19,000 for the base model. However, if you think about the fact that this ski can serve the dual purpose of a family PWC and an individual PWC, you could consider the fact that you don't have to purchase two separate skis a saving!
2022 Yamaha WaveRunner FX Limited SVHO
This PWC is similar in size to the Kawasaki model. It runs almost 12ft in length, with a width of just over 2ft, and has a storage capacity of about 45 gallons. Where it differs from the Kawasaki is in the weight: the FX Limited SVHO weighs just 877lbs compared to the Kawasaki's monstrous 1089lbs.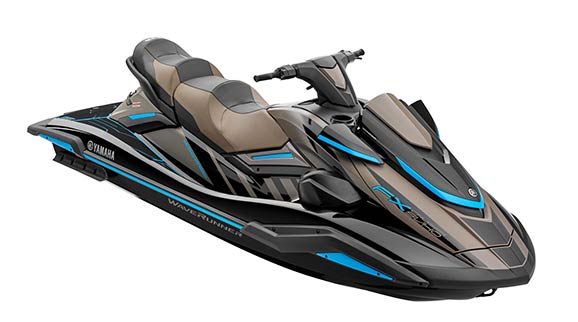 The weight difference makes the Yamaha FX the faster and nimbler ski, although the engine has slightly less displacement, and the hull is a progressive stepped V as opposed to a deep V. This WaveRunner is another good option for those looking for a dual-purpose ski that can serve as a family watercraft and personal watercraft all in one.
The Yamaha costs about the same as the Kawasaki, at around $19,000 for the 2022 base model. Like the Kawasaki, it has 3 seats, not 4, so although you could technically squeeze 4 people on it (particularly if two of those people are kids) it may not be the safest option on the list for larger families.
2022 Sea-Doo FishPro Trophy 170
Marketed as a fishing jet ski, the Sea-Doo Trophy 170 nevertheless makes a great family jet ski too. If you are a fishing enthusiast looking to involve your family in your jet ski fishing, or are simply looking for something your kids can swim off while you and your spouse lounge around having a beer, this is the model for you.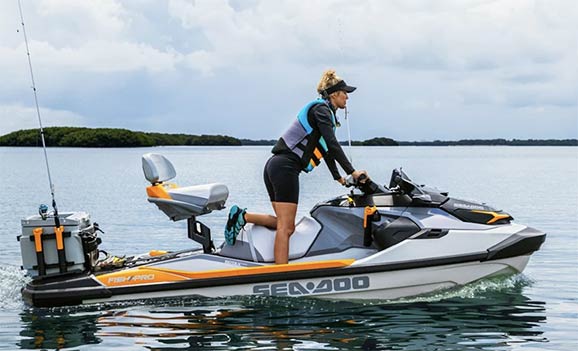 Sea-Doo has worked closely with fishing enthusiasts to design the Trophy 170. Several neat innovations, such as the removable/movable back swivel seat, make it the ideal PWC for spending long periods of time hanging out on the water. The ski has about 40 gallons of storage space, a 3-cylinder engine, and weighs just 858lbs.
The attached cooler, while intended for storing your catch, can be repurposed to hold drinks and snacks, making this a great vessel for long-day trips and lake visits. Not only that, the built-in anchor system means the ski will be rock-solid in the water while your family hangs out, and is easy enough to use that your kids will be able to anchor the ski themselves.
The Trophy 170 is slightly cheaper than the Kawasaki or Yamaha at $17,999 for the 2022 base model.
Sea-Doo LRV
This is an older model of ski, manufactured between 1999 and the early 2000s, so you won't find a new one. But there are plenty of secondhand models available if you know where to look. The only truly 4-seater Sea-Doo ever made, the LRV was an incredible 13ft long and almost 5ft wide, and featured a sun deck on the stern.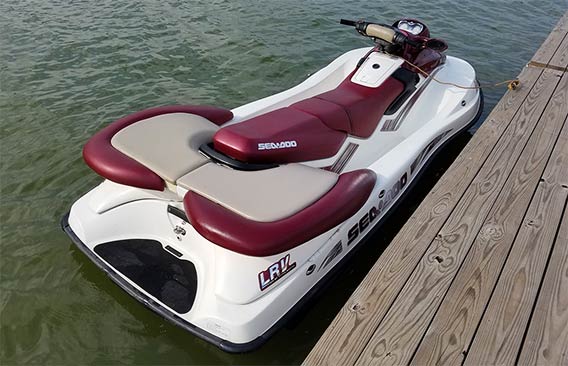 This is not a jet ski intended for high performance, stunts, or fast, nimble riding. This is the RV of jet skis, meant to be used more like a small boat than a jet ski. The ski has an incredible 180 gallons of storage space, making it ideal for fishing and day trips.
Yamaha SUV 1200
Another discontinued model, you'll only find the Yamaha SUV 1200 secondhand these days. If you do find one, you'll be buying a highly dependable and reliable vehicle that will give you many years of use despite its age. This ski is almost as large as the Sea-Doo LRV at about 12.5ft long and 4.5ft wide. Surprisingly, the dry weight of the ski is only 868lbs, making it one of the lighter options on the list.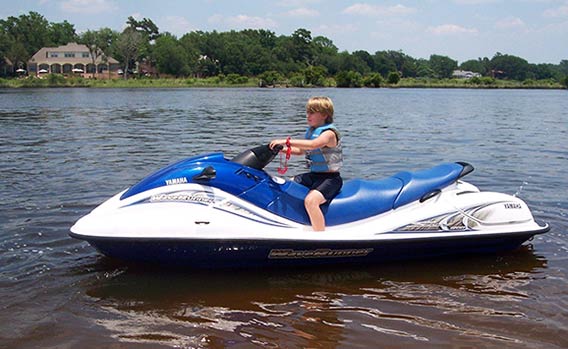 The drawback of the SUV 1200 is its power-to-weight ratio, which is the worst on the list. Although it had a decently sized, 1131cc 2-stroke triple engine, at only 130HP and 868lbs, it simply doesn't produce enough power for fun, fast riding. However, it's unlikely that this is the kind of riding you'd want to do on this vehicle anyway.
These older models can be picked up for a fraction of the cost of a newer model. If you long for beefy speeds and high performance, you might consider purchasing a secondhand family ski like the SUV 1200 or Sea-Doo LRV in addition to your personal high-performance craft.
Conclusion
Most 4-passenger jet skis on the market today are actually 3-passenger models that can accommodate four people at a squeeze. For families with young children, these models will work just fine, but for those wanting to safely accommodate four fully grown adults on their skis, you may want to look at an older, secondhand model that was truly built for four passengers.
The most reliable 4-seater jet ski is undoubtedly the Yamaha SUV 1200, or the newer Yamaha FX Limited SVHO. Kawasaki holds the title for highest performance 4-seater jet ski, while Sea-Doo takes the cake for fishermen and their families.
We hope this article has helped you better understand what 4-seater jet ski options are available today, and what the pros and cons of 4-seater jet skis are. Do you have a favorite 4-seater jet ski model? Let us know in the comments!