Owning a personal watercraft is a springboard to fun in any number of ways, and for some, there's no better way to spend a day than to load up bait and tackle and go fishing.
A PWC offers access to waters that would be difficult to navigate in a conventional boat, and as the price of fun on the water – or anywhere – continues to escalate many fishermen have discovered the advantages of using a Jet Ski to get to their favorite spots.
Several of the manufacturers have offered specific platforms for the pastime. Sea-Doo has the Fish Pro, and Yamaha sells a "JetFish" package.
That's a great way to go, of course. But any personal watercraft can be easily equipped for fishing. Let's have a look at some options.
Sea-Doo – Turn Key Solutions
Sea-Doo's Fish Pro Scout, with a suggested retail price of $13,899, is an affordable and well equipped machine that ticks off all the boxes.
Straight from the showroom floor, the package includes a fish finder, rod holders, a cooler, and trolling modes.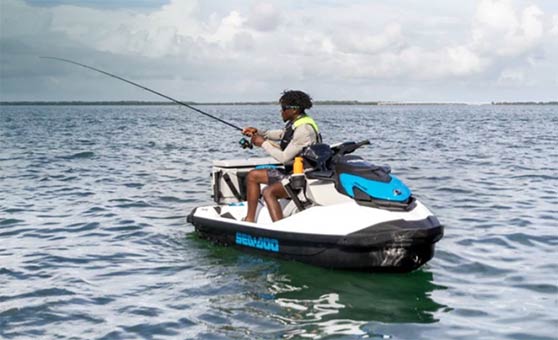 Sea-Doo also offers similarly equipped Fish Pro Sport and Fish Pro Trophy models starting at $15,899 and $17,899.
The Fish Pro Scout is fitted with Bombardier's Rotax 1630 ACE engine. This motor offers generous performance and acceleration while also retaining excellent fuel economy characteristics.
The Scout version comes with the 130-horsepower version, and the two more expensive models bump the output to 170 horses.
While the Scout model is built upon Sea-Doo's GTI platform, and is a smaller hull than its bigger brothers, it is still a relatively roomy 130.6 inches in length. It is 49.2 inches wide.
The Scout and Sport models are equipped with a Garmin six-inch touch-screen fish finder and GPS.
The larger two are built on the ST3 hull platform, renowned for its outstanding stability and predictable handling in rough waters. The ST3 hull is 11.5 inches longer than the GTI at 146.8 inches long.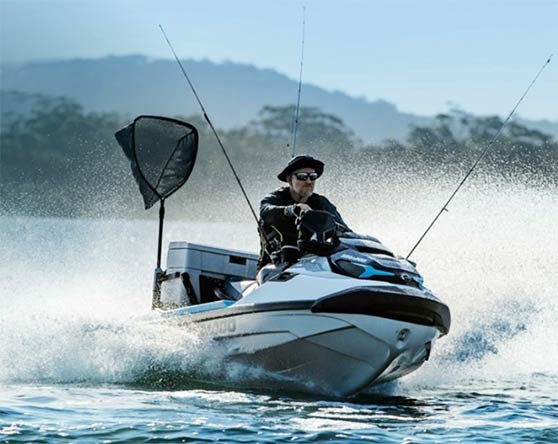 Amenities on the Scout and Sport models are roughly equivalent, but the top-of-the-line Trophy ups the ante with several substantial improvements.
First, it comes with a larger and more advanced Garmin fish finder/GPS with a 7-inch screen, mid-CHIRP sonar, and an in-hull transducer.
The standard cooler is upgraded with a quick-connect livewell system that can introduce constantly flowing water to keep bait or your catches alive.
The real game-changer though, that some might well find worth the price of admission, is that the rear portion of the seat can be detached and remounted as a pedestal seat that allows a full 360 degrees of rotation.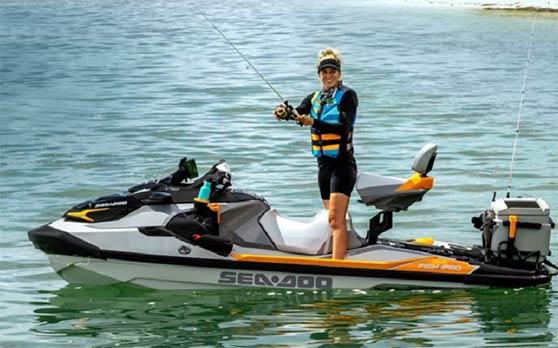 All three models again are delivered with a "trolling mode" that has become the standard for traditional fishing boats. The slow speed mode allows you to set trolling speeds of up to 8 mph.
Yamaha – A Different Tact for Tackle
Instead of building models specifically designed for the fishing market, Yamaha chooses to offer a pair of packages that convert any of its current models to a vessel suitable for the task at hand.
The baseline "JetFish" package includes a cooler, two track mounted rod holders, two RAM cup holders, a pair of tie-down straps, a pair of fishing rod retention straps, and four track eyelet mounts. It retails at $509.99.
The premium JetFish package essentially just adds Yamaha's multi-use rack to the above equipment, and retails for $1,223.99.
Both require Yamaha's FX RecDeck accessory, which is sold separately. Fitting 2019 and up Waverunners, the RecDeck is a nice piece of kit that increases space at the swim platform with multiple attachment points. But it alone sells for $1,019.99!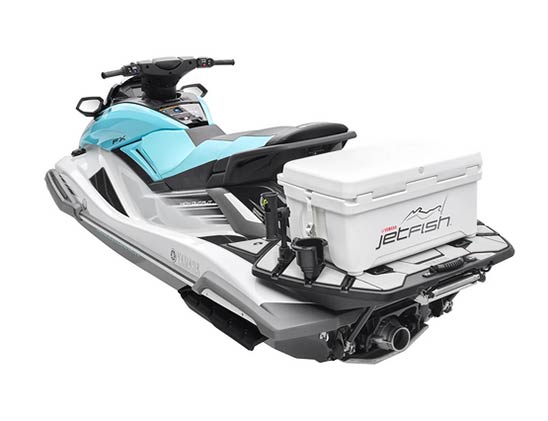 Which brings us to the point where we can consider whether we can't just build our own fishing kit – with the personal watercraft we already own – for less money.
Roll Your Own
Rod and Cooler Rack
We can't fish without at least one rod and reel, so let's start there. There are a number of companies that offer products designed to handle both fishing rod mounting and space for a cooler.
Although it's a bit pricey perhaps, this Platinum Products rack is constructed from corrosion resistant 1/8-inch aluminum and will fit nearly any personal watercraft with its adjustable leg design.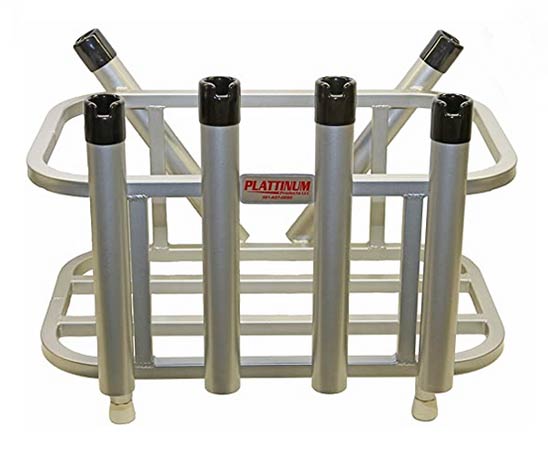 Three 1-inch straps are used to affix the rack securely to your PWC. In addition to the six dedicated rod holders, the interior cooler rack space measures 15.5 inches by 26.75 inches, making it suitable for most coolers in the 48 to 54 quart range.
The rack retails for $384.99, and is available through Amazon.
Another attractive option is the somewhat more affordable Extreme Max rack and cooler combo, which sales for $248.43, and offers similar features – six rod holders, room for most 48-54 quart coolers, and four adjustable foot pads with a four-strap mounting system.
The added bonus – aside from the lower price – is that the Extreme Max combo also allows for the mounting of a RotoPax fuel can. (Sold separately of course.) This rack can also be found on Amazon.
Keeping Cool
The other essential for a day of fishing is a quality cooler – whether it's to keep the bait fresh, or to keep the refreshments cold.
Most will already own something suitable enough, but here's just a couple of recommendations.
Yeti Tundra
At the high end of the cooler marketplace is Yeti. The company uses technology they call "Rotomolded Construction" in conjunction with up to three inches of "PermaFrost" insulation to make a nearly indestructible product that will stand up to years of use and misuse.
The Tundra series features heavy-duty rubber "T-Rex" lid latches with large keepers, as this is a common point of failure on less expensive coolers.
The 45 model, as the name implies, offers a 45-quart capacity and retails at $325 on Amazon.
CatorGator
A more affordable alternative sharing many of the same design features is the, wait for it, CaterGator CF45SF Seafoam 45 quart Rotomolded Extreme Outdoor Cooler.
Yes, that's a mouthful of a name. But like the more expensive Yeti, the CaterGator features heavy duty closures and is triple insulated with a layer of high-density polyethylene, another layer of polyethylene and foam, and a rigid outer liner.
Anchors Away
Depending on the waters you want to fish, you may deal with currents that will drift you away from your chosen spot.
Jet Logic Sand Anchor
My favorite watercraft anchors are of the sand variety, where one fills a provided bag with sand from the shore. In most conditions with only mild currents, I've found these to be quite effective.
And of course, there's no chance of this type of anchor damaging your watercraft.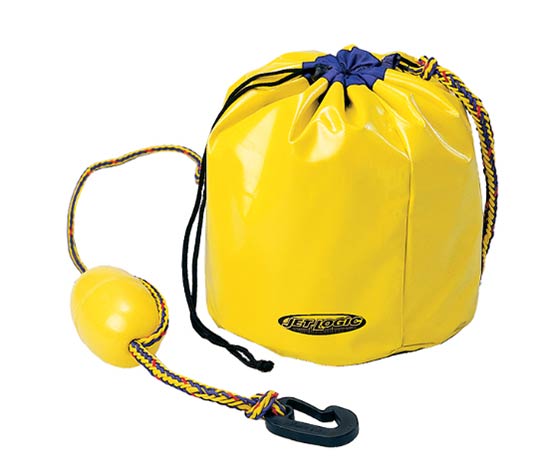 Jet Logic offers several alternatives, including this one for just $20.95 and available through the westmarine.com website.
Jet Logic Fluke Anchor
For fishing in rivers with swifter currents, or for off-shore flats fishing, you might need an anchor that provides a more secure purchase.
The downside is weight, and the possibility of damage to your watercraft if not properly bagged and stored.
Jet Logic allays a bit of this worry with its Fluke Anchor by vinyl dipping the hardware. The anchor kit includes a 25-foot marine-grade rope and a sturdy nylon carrying case.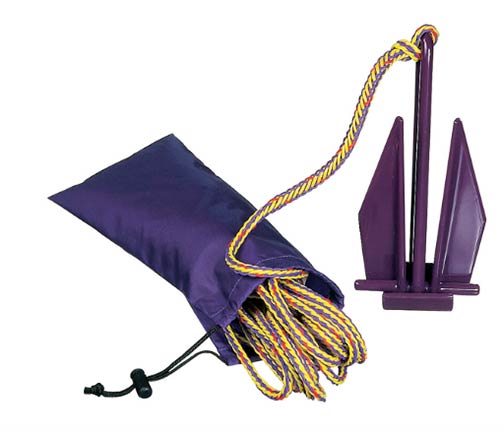 Like the sand anchor above, it is also available through the westmarine.com website for $26.99.
Go Out and Cast Away
Fish are oft wise to the fisherman, and will hide in shallow areas and other nooks and crannies that a personal watercraft can access far more easily than a conventional boat.
Be careful, of course, not to get so caught up in the pursuit that you forget to avoid areas so shallow that rocks, shells, or other debris gets sucked up into your jet pump's intake grate.
Your Jet Ski is an extremely versatile vessel: One day you might want to fish, another you might be towing skiers. It's easy to see that with just a few additions, you can extend the capability to any number of activities.
And if the fish aren't biting, you can just zip along the water for the sheer fun of being out on the water!