As standalone, Jet-skiing and fishing can be incredibly enjoyable and rewarding experiences. Combined, they mix the world of aquatic motorsports with angling for the potential of a high octane adventure.
The high-speed, fuel-efficient jet ski is an excellent way to navigate waterways in search of trophy fish or zip from one angling location to the next. Circumventing the hassle of owning and transporting a boat, the jet skis allow their operators a significantly larger amount of aquatic freedom with a smaller footprint.
With an overly saturated industry, there are so many jet skis to choose from. It may be difficult for readers to distinguish which features are tasks critical to angling and what is excess. This article has been created in an effort to boil down and distill information on some of the most commonly used jet skis for angling and their attributes.
It's important from the onset to identify the key features that make a Jet Ski easy to angle from.
Storage: The ability to store all tackle, gear, and rods needed for a satisfactory outing in search of fish.
Hull: Deeper hulled crafts ride smoother in choppier water, which allows access to a larger variety of fishing conditions.
Fuel Efficiency: With fuel prices the way they are, it's important to select a craft that will optimize its fuel range without taking advantage of your bank account.
Set up: Depending on the craft, there may be add ons that add or detract from the fishing experience. Select the craft that best suits the niche the reader is pursuing.
Price: This is often the deciding factor when it comes to selecting Jet Skis. Select a craft that doesn't break the bank but never sacrifice quality for a cheap buy.
With the key features in mind, there are three Jet Ski that is specifically designed with angling in mind.
1): Sea-Doo Fish Pro: This 3-4 passenger Jet Ski's MSRP comes in at around $17,800 and tops out at close to 60 MPH.
2): Kawasaki Ultra LX: A 3 Passenger, 160 Horsepower Jet Ski retails near $12,700 and reaches top speeds of 54 MPH.
3): Yamaha FX HO Fish Ski: With a top speed of 63 MPH, this 3 passenger Jet Ski comes at around $14,300.
(Note: There are several iterations of each craft, so prices, MPH, and HP may vary depending on make and model.)
Breaking down each of the categories into a tangible case by case data points will help the reader determine which of these crafts fits their individual needs.
Storage
There are two aspects of storage in regards to these Jet Skis.
The first is the gallons of total storage of which they are capable of holding at any given point. This is important as it dictates how much gear individuals are capable of bringing on their fishing excursion.
The second is passenger space. How many seats does the vehicle have (aka how many passengers is the PWC capable of handling)?
Sea-Doo Fish Pro: With its 3-4 passenger capability, this Jet Ski has the highest passenger count of any of the listed vehicles. However, what it makes up for in passenger availability, it loses in storage space. With only 39.6 gallons in storage, it is the lowest in that category.
Kawasaki Ultra LX: This Vehicle comes in with a 3 passenger capacity, but makes up for it in storage space with a whopping 60 Gal capacity. This is close to double the Sea-doo and well above the Yamaha.
Yamaha FX HO FishSki: Coming in with a 3 passenger capacity, this vehicle brings in a respectable storage space of 44.5 Gal. This places it on the lower end of the passenger spectrum but in the middle for total storage availability.
Hull
The height of the Hull is important on a Jet Ski. Deeper Hulls provide the operators the ability to navigate choppier waters and adverse conditions easier than a shallower one.
Sea-Doo Fish Pro: With a total height of 45.3 in. , it is tied for second place in hull depth. This is still a solid choice in total height.
Kawasaki Ultra LX: Also in second place for Hull depth, the Kawasaki comes in at 45.3 in. as well.
Yamaha FX HO Fish Ski: Taking first place in the Hull/height category is the Yamaha. With a total height of 48.4 in. This vehicle's extra height allows for added stability in turbulent waters.
(Note: Added hull depth is an excellent feature, however, it may impact the ability to operate in shallower depths.)
Fuel Efficiency
When it comes to fuel efficiency, there are two factors to consider. The first is the actual capacity the vehicle is able to hold. The second is the MPG (Miles Per Gallon) that the operator will receive. The intersection of both optimal fuel range and capacity is where the operator will receive the maximum return on investment.
Sea-Doo Fish Pro: With an average MPG of 5.15, this vehicle uses its 18.5 gallon tank to reach about 95 miles per full tank.
Kawasaki Ultra LX: The Kawasaki has a fuel capacity of 20.6 gallons per tank. With an average MPG of 3, the end user will be 61.8 miles per full tank.
Yamaha FX HO FishSki: Though its tank capacity comes in slightly lower 18.5 Gal, the return on gas is a definite bonus. With an average of 6 MPG, a full tank will yield 111 miles per full tank, an excellent return.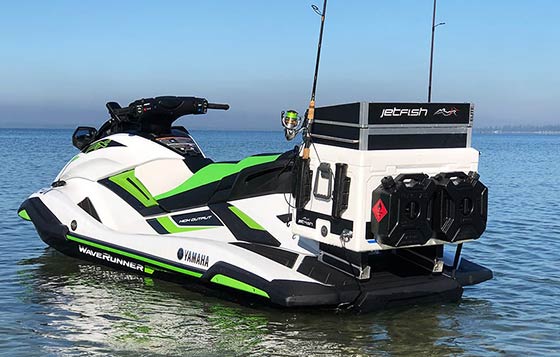 Set-Up
The setup of a vehicle needs to meet the criteria of the task it's designed to perform. This includes features, add ons, and vehicular design to help the end user angle better.
Sea-Doo Fish Pro: The Rolex of the fishing Jet Ski, the Sea-Doo features:
Trolling Mode
Angled Gunwale Footrests
Garmin Echomap Fishfinder
Extended rear platform
4 Rod holders
Kawasaki Ultra LX: The bare-bones model of the three, any essential features for angling aside from storage will need to be installed aftermarket.
Yamaha FX HO Fish Ski: A solid choice, features include:
GPS ready mapping and Drive control
Installed audio system
Watertight under-seat storage
Price
With all the previous factors considered, the price point is the deciding factor. Depending on the end users skill in installing add ons, the decision to purchase a cheaper model may be the way to go. Alternatively, if an individual wish to purchase all the features from the beginning, the more expensive option may be the way to go.
Sea-Doo Fish Pro: This top-of-the-line PWC retails starting at $17,800. There are premium packages which will cost more. However, there are multiple leasing and delayed payments depending on the vendor purchased to ease the financial burden.
Kawasaki Ultra LX: Coming in at $12,700, this vehicle has the lowest return on fuel and least features but has the highest storage space.
Yamaha FX HO Fish Ski: $14,300 is the starting point for the Yamaha. The middle of the road Jetski, has the best hull depth, several integral features, excellent fuel return, and a solid amount of storage.
Essential Tips for Jet Ski Fishing
As an outdoor writer and angler, the author would be remiss to not point out that fishing from Jet Skis is an incredibly enjoyable experience. In conjunction, here are several tips to capitalize on the reader's angling experience from a PWC.
Slow down on approaching your spot. Just because these vehicles are smaller than boats does not mean they will not spook the fish.
Setting your PWC to idle will allow you to stay in a single spot and maintain a good position if fishing against a structure or a specific terrain feature.
With rod holders, anglers can throw both plastics or lure while having a cork or Carolina rig out. This allows anglers to make use of multiple rods and capitalize on fishing at varying depths.
Recommended reading: Top Fishing Safety Tips for Fishing on a Jet Ski
Summary
In summation, each of these vehicles can be an excellent choice for those looking for a jet Ski to angle for. The deciding factor should be an equation performed by the purchaser. Does the price point reflect the intended use?
The most expensive craft does not necessarily mean it fits the mold of what the individual is looking to purchase, however, the multitude of features included in the Sea-Doo does make it an appealing purchase for those with the budget.
Alternatively, the cheapest of the Jet Skis, the Kawasaki is an excellent purchase for those who enjoy tinkering and is fully capable of having additions installed aftermarket so that it matches much of the capabilities of the other two vehicles.
For those looking to capitalize on both price and features, the Yamaha is the route to go.
All of these vehicles may be purchased used for a discounted price for those looking to not drop money on an off-the-rack vehicle, however, these often don't come with a warranty. Additionally, any modifications may disqualify a vehicle from its warranty so be sure to check before installing any add ons.
At day's end, it is the user's choice but there is one factor that trumps all… the angler must have fun. This is a prerequisite to owning one of the most enthralling ways to fish.
Best of luck riding waves and ripping lips.