If you are fortunate to live right on the water, and especially if you chose to live on the water to ride personal watercraft right out of your backyard, you likely already have a floating ski dock.
If not, why not?
Floating jet ski docks are easily installed, easy to use, and the best way to store your watercraft during the boating season. Heck, they are even reasonably easy to build with a somewhat modest budget. The only caveat is actually owning a place to put one!
Dry-Docked
Your personal watercraft was made to play in the water, but not to stay in the water.
Even in freshwater, metal parts don't love moisture. Boats of all kinds that are left afloat for extended lengths of time suffer from corrosion and other damage from continuous contact with water.
Certainly, it's fine to leave your ski in the drink for a day or three, but don't park it there all summer long unless you're prepared to deal with the costs and hassles of damage that are easily avoided.
I've even seen PWC that were neglected and left floating for an extended period of time show signs of hull delamination. That's ugly.
For most of us, our watercraft use requires a trailer, and other than an occasional long weekend, our boat is coming out of the water anyway. But those fortunate enough to live on the water need a dock.
Float Your Boat
With a floating jet ski dock set-up, the dock floats with your watercraft on top of it.
Made of lightweight and buoyant materials, the docks can be mounted to another larger dock, a seawall, a dedicated shoreline mount, or even anchored directly to the lake bottom. One end dips into the water just enough to make it a simple matter to gently throttle right up on it.
Some jet ski docks use a series of rollers to facilitate docking and retrieving the watercraft, while others are simpler slide-on units where the ski simply slides over the plastic top.
Manufacturers selling roller types tout superior protection to your PWC hull's underside, and also ease of use when pulling the boat out to play.
Personally, I shrug a little at the difference. It's slightly more difficult to push off with a heavy machine from a slider dock than from a roller dock. Slightly. And you are far more likely to damage the finish on your hull while riding than you are while docking. As long as there is no debris left unattended on a sliding deck, your well-waxed hull will slide just fine with no damage.
You do wax your hull at least once a season, don't you?
Your Questions Answered
Below, we'll point out a few obvious selections in the floating dock marketplace, but first, you'll want to know some general information – and your first question is probably "Okay, so maybe I do need one, but what do they cost?"
Floating jet ski docks cost around $1500 to $3500. And yes, you can build one for less. We'll talk about that too farther down.
"Okay, well how big is a jet ski dock?"
Generally "store-bought" jet ski docks are about 60 inches wide, give or take. Length can vary quite a bit, ranging from about 10 to 15 feet long. They weigh about 300 to 400 pounds.
Speaking of "weigh" the load capacities on jet ski docks cover a wide range, starting at just over 600 pounds and going all the way up to 2000 pounds. This is important. Remember, you're going to ride the craft ride up on the dock.
Do the math on that. If your 800-pound personal watercraft is full of fuel (call it 100 pounds, but it could well be more) and you and a passenger are on board, you probably need a dock rated for 1200 pounds. Give or take how much you ate for lunch.
Marketplace Overview
What follows is merely a selection of what's available in the marketplace, and is in no way comprehensive. There are dozens of companies to choose from, and we don't have the space for a catalog for every one of their product lines.
In over 20 years of riding personal watercraft, I can't remember a single floating dock that seemed entirely inadequate for the task. They're all pretty similar for the most part. Some are a bit better suited to particular situations than others.
EZ Dock
The most ubiquitous brand name in the game in my mind is EZ Dock, a longtime mainstay in the PWC industry.
EZ Dock's products are designed to withstand severe weather conditions without being damaged, and require little to zero time for maintenance and care. An EZ Dock largely takes care of itself once it's mounted.
With all-plastic – well, low-density impact-resistant polyethylene – construction, an EZ dock will not damage your ski's finish. Inline roller systems are used. The understructure enables a stable walking surface with a slip-resistant surface for boarding and lakeside maintenance. The docks are also modular in design, and can be attached to one another to create a single interconnected dock capable of storing any number of watercraft.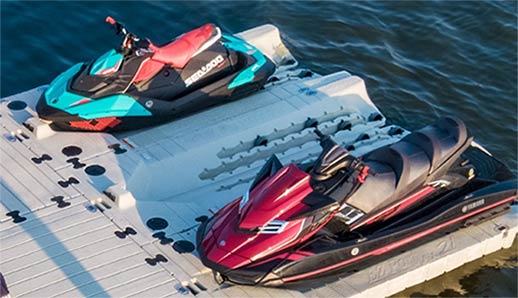 The EZ Dock product line is available in three different size options, and in either beige or gray.
EZ Port VXP
The EZ Port VXP is the company's smallest and most affordable design. While capable of providing ample protection from the elements, the VXP's weight limit tops out at 1300 pounds so it is best suited to shorter and sportier watercraft.
The VXP model measures 153 inches long and 58.5 inches wide, and is 14.6 inches tall to keep your watercraft largely high and dry. The split entry path includes eight roller wheels that can be mounted in 38 different positions to make the fit perfect for any applicably sized PWC. The bow stop is molded in, and anti-slop surfacing makes getting on and off your PWC secure and stable.
The EZ Port VXP can be bought factory direct or from any number of retailers, and sells for $2,299 – or sometimes less, if you shop around a bit.
EZ Port 280
The EZ Port 280 is one of the widest ports available on the market at 80 inches in width, offering over a full 10 inches of additional walkway space over the VXP on each side of the watercraft. The additional width also offers a touch more stability, which is not to say that VXP is lacking in that area.
Where the smaller VXP uses roller wheels that can be adjusted for any hull, the Port 280 instead offers responsive rollers that are installed on shafts that allow for automatic lateral movement. Essentially, the roller wheels will move from side to side to accommodate your particular hull all on their own.
The EZ Port 280 has a suggested retail price of $2,645.
EZ Port 2i
For those with larger watercraft, the EZ Port 2i is 168 inches long with a weight capacity of 1700 pounds.
The EZ Port 2i also uses the same self-adjusting roller wheel design as the 280 model, and will automatically adapt to the underside of your 3-seater.
The Port 2i also carries a list price of $3,299, but shop carefully. I've seen them listed online for as much as $1000 less.
HydroPort
Although I'm pretty sold on the EZ Dock, the HydroPort branded jet ski ports produced by the parent company HydroHoist Boat Lifts are certainly appealing as well.
The HydroPort line similarly offers three different models to choose from, with all featuring roller wheels, a bow bumper stop, and material construction designed to offer a soft place to sit for your watercraft.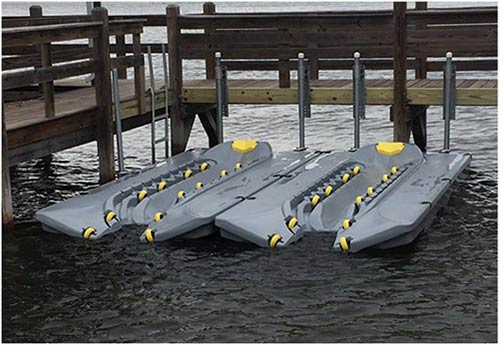 HydroPort Pro
Working again from smaller to bigger, the HydroPort Pro is best suited for smaller and sportier watercraft due to its 150-inch overall length perhaps being a tad too short for larger 3-seaters. However, it is rated for 1625 pounds, meaning it's unlikely you'll be exceeding its load capacity.
The Pro model is 58 inches wide, allowing fairly ample walk-around room on its anti-skid surface, and weighs 270 pounds. It utilizes a 12-roller support platform for your watercraft.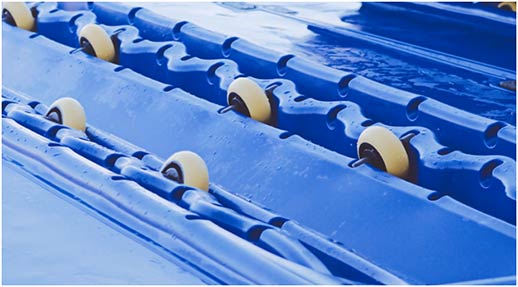 The HydroPort Pro lists for $2000, an excellent value given the quality of construction and ease of use.
HydroPort Extreme
The HydroPort Extreme has the same load capacity as its little brother at 1625 pounds, but adds another foot to the overall length while retaining the same length. It uses a 14-wheel roller system.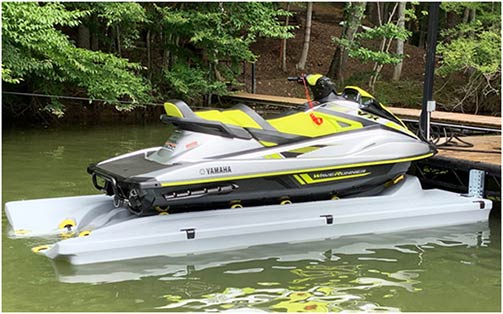 The Hydroport Extreme lists for $2700.
HydroPort Epic
The behemoth of the lot is the HydroPort Epic. Like the Extreme model, the Epic is 162 inches long. But it's a fairly whopping 70 inches wide, and load capacity is bumped up to 2000 pounds.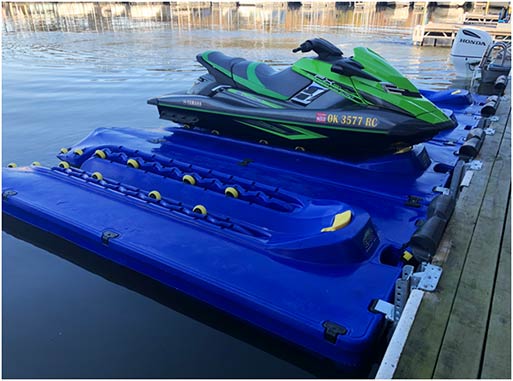 For pricing on the Epic, you'll need to request a quote on the HydroHoist Boat Lifts website.
The modular HydroPort docks can be connected to one another with a $280 hardware kit sold separately.
Wave Amor
The WaveArmor jet ski docks are a relative newcomer to the market compared to the first two manufacturers, but they've made a cannonball splash with several models available starting at just $1795!
WaveArmor's product line is constructed with a UV-protected polyethylene shell for durability wrapped around marine-grade EPS foam for buoyancy. Rubber bow stops are molded in for easy docking, and a quick clip with stainless steel tethering chain is standard.
The WaveArmor docks are available in any color you want, as long as that color is tan.
Apex Sport, Apex 5, Apex 6
At just $1725, the Apex Sport is one of the most affordable jet ski docks available. At this price point we're looking at a unit best suited for smaller and middle-weight watercraft ala Sea-Doo's Spark or Yamaha's EX line.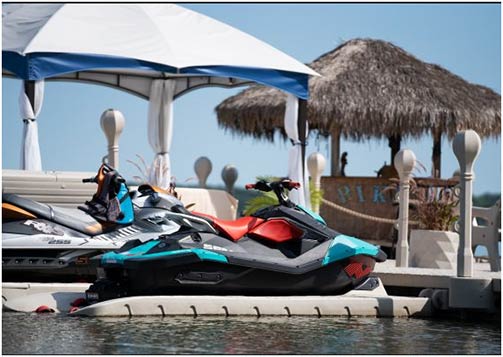 The Sport uses 12 adjustable wheel rollers for easy on and off docking. It measures 59 inches wide and 132 inches long. Weighing just 180 pounds, the Sport has a weight capacity of 700 pounds.
Also in the Apex lineup is the Apex 5, listing at $2499, and the Apex 6, which sells for $2599.
The Apex 5 retains the 59-inch width, but the length is lengthened substantially along with the load rating. At over 14 feet long, with a weight capacity of 1700 pounds, the 5 model is capable of handling even the largest 3-seater, and represents an exceptional value.
But it's the Apex 6 that really catches my eye. That additional hundred bucks pays for width instead of length. The 6 is a full 70 inches wide, providing plenty of walk-around room. And weight capacity jumps once again to a whopping 2300 pounds!
SLX5, SLX6
Wave Armor also offers two SLX models featuring the manufacturer's original easy drive/on-off port roller system. The SLX docks are designed to integrate into the company's floating dock system, or can be installed as a standalone system.
The SLX5 is 60 inches wide, 12.8 feet long, and has a weight capacity of 1500 pounds making it suitable for almost any watercraft available. It lists for just $2100.
The SLX6 adds another foot to the width with weight capacity jumping up 300 pounds to 1800, and sells for just 99 dollars more!
Doing it yourself
I've several friends who made their own drive on docks – the caveat being that they already had a floating dock, and only needed to add on the "drive on" capacity for their personal watercraft.
It's beyond the scope of this article to go into the ins and outs of floating docks, but most are simply made of pressure-treated wood, framed up and floating on barrels, Styrofoam, or pontoons. People usually cover their deck surface with some sort of indoor/outdoor carpeting.
If you're starting from scratch, you'll likely actually save money by buying an already manufactured personal watercraft dock like the ones above. By the time you purchase lumber at today's prices and proper flotation to build a dock from scratch, you're likely looking at several thousand dollars.
But if you are fortunate to already have a fairly large flat surface that floats, I've seen it done with little expense for the additional materials required.
First, purchase a boat trailer roller wheel similar to this one:
That's a 12-inch roller sold on the Overtons website for $47.95. Even wider might be better.
This is mounted to the outside edge of the dock roughly level with the floor surface to facilitate getting your watercraft up and over. Depending on how proud of the water your deck sets, you may need to build a frame of pressure-treated lumber that allows a second roller to be mounted a bit lower and further out from the dock, creating an incline from one to the next.
Next, procure either length of PWC, 2 X 4 pressure-treated lumber, or pre-manufactured bunks for a boat trailer. These can be cut from materials commonly available at your friendly nearby big box stores like Home Depot or Lowes – or can be purchased already precut and covered with an appropriate material like this pair from etrailer.com for just less than 70 bucks.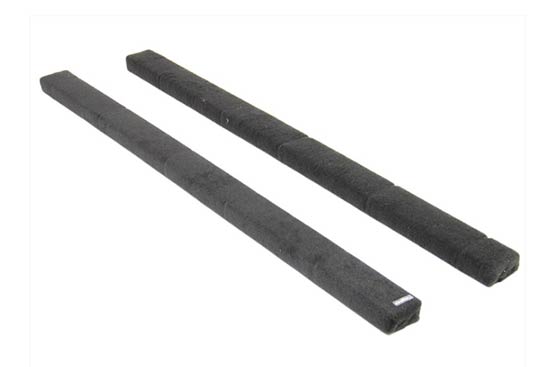 Then your carpentry skills will be called into question, as you'll need to elevate the bunk rails high enough above the deck's surface area to allow the bottom of the ski's hull to clear the floor. This can be accomplished with a simple system of stacked wooden blocks, or more securely with a full framework.
The idea is that the bump roller allows you to get the nose of the watercraft up high enough to meet up with the bunk rails.
I've also seen docks that were notched out to allow the bunk rails to ride a bit closer to the water to create a homemade version of an actual ride-on dock.
Most of the guys I know who have built their own onto an existing dock use a crank wench like a jet ski trailer to pull the ski up and out of the water after briefly mooring to the dock to align the nose.
A slight variation on this theme was the approach of one rider I know. He purchased this pair of 5-inch roller bunks from Overtons, then paired them with a second set. These roller bunks are rated for 1500 pounds, up to the task of his Yamaha GP1800, and retail at $179 a pair.
A framework was then built – he's a welder by trade, so he used metal construction – to position one set at an incline into the water with the other set level and parallel with the dock's deck surface. (No estimate available on either the materials used, or how much he invested in 20 some years of experience as a welder!)
He then built a mount for an electric winch at the far end of the dock, and simply pulls his PWC out of the water with the winch. It rolls nicely from the inclined rollers onto the horizontal set.
Wax on, wax off
If you live on a body of water, a floating jet ski dock will make life easier for both you and your Jet Ski.
It does need to be a suitable body of water, of course. Rivers with rushing currents, or shorelines alongside an ocean, might not be the best environment. If the water in your area is particularly rough due to conflicting currents or constant boat wakes or the like, I'd retract the above advice and suggest pulling your ski out of the water after riding.
For lakeside owners and many who live down by the riverside, however, the advantages are many.
A quality manufactured dock will be durable, maintenance-free, and the most convenient way to launch. They allow easy access for fueling and maintenance, and the addition of a cover will keep your craft largely protected from the elements.