Yamaha's long-lived Waverunner GP is a widely revered personal watercraft, and for a good reason.
The GP1200 made its debut 25 years ago, and with its antecedent the current GP1800 still holding sway as one of the best muscle boats ever produced.
Racing Heritage
Though there's been subtle changes and would-be improvements to the designs over its two-decade plus lifespan, the hull has remained relatively compact and race-inspired – especially when judged against its competition from other manufacturers.
That original inspiration came with the dual releases of the GP760 twin and the GP1200 triple in 1997.
Sharing the same hull, the GP760's lighter weight made for a more playful boat while the 1200 was heavier, faster, and focused very much on performance.
Very much intent on finding success in the then-thriving jet ski racing scene, Yamaha's GP models were aimed squarely at the Lake Havasu World Finals, the top level of personal watercraft racing.
After only a year of the 90-horse 760, Yamaha bumped displacement and the 1998 GP800 came equipped with a 120-horsepower two-cylinder two-stroke engine stuffed into a boat weighing just 498 pounds.
This twin actually vied with its triple big brother for being the most powerful machine on the market – if not by horsepower, by actual acceleration.
Before today's riders scoff, remember that the GP800 weighed far less than your current 800-pound big boat. In fact, a quick bit of third-grade level math reveals that the 800 could boast of one horsepower for every 4.9 pounds of a boat. Jump forward 20 years, and the 180-horsepower GP1800 weighing 769 pounds exceeds that power-to-weight ratio only marginally with one pony for every 4.3 pounds.
This machine offered prodigious low-end acceleration followed by a healthy mid-range. Super tuners like Riva Racing added high-end exhaust chambers and other trickery to add tremendous top-end power, and GP-mounted riders would collect several world championships.
Sadly, light-weight and powerful two-strokes and those shiny exhaust pipes are all but gone. What remains is the semblance of the same racy hull some 25 years later.
Recommended reading: What is the difference between Yamaha FZR and FZS?
Bumping the Displacement
The GP1200 debuting in 1997 (actual displacement of 1131cc) held a three-cylinder two-stroke in the engine bay, with horsepower rated at 135.
With the weight of the boat increasing slightly to 525 pounds, this yielded a power-to-weight ratio of one horsepower per 3.9 pounds, which is pretty much the equivalent of Yamaha's 250-horsepower GP1800 SVHO!
The early two-stroke 1200s ripped – and even harder when Yamaha introduced the second generation two-seater hull for the 2000 model year with horsepower jumping yet again to 155.
To some of us, this remains one of the most desirable, powerful, and maneuverable watercraft we've ever ridden. RIP.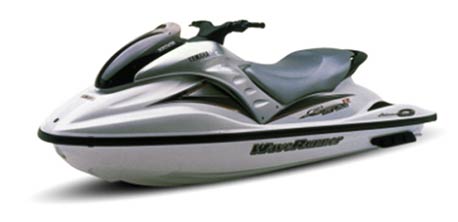 From 2003-2008, Yamaha offered an olive branch to growing environmental concerns with two-stroke watercraft by adding an automotive-like catalytic converter system. However, they added that somewhat bulky and restrictive apparatus to a motor with 1300cc of displacement and a notable advance in fuel injection.
Earlier carbureted versions required more attention, but also suffered a bit because the fuel mixture would go slightly rich when the hull was jumped out of the water. This meant the boat would sometimes bog down slightly when touching down. But, it was the 90s, and we didn't know any better. It seemed normal, happened on two-strokes of any brand, and we just developed the technique to ride around the issue.
With fuel injection, however, bottom-end responsiveness was unprecedented. It was literally a game changer. What's more, the original 165-horse version would reach upwards of 67 mph and with a new jet pump for the 2005 model, the GP1300R was a genuine 70-mph boat.
Despite the hull revisions in 2003, for the entirety of its two-stroke powered run, Yamaha's GP series featured a lightweight two-seat race-inspired design. The 22.5-degree semi-V hull fairly leaped up onto the plane, and racing-inspired strakes and sponsons kept the boat planted in corners while still offering extreme stability during aggressive riding. Across the board, this series was among the best out there for any kind of performance pursuit, from closed-course buoy racing to jumping waves in the ocean.
I miss those days. Again, RIP.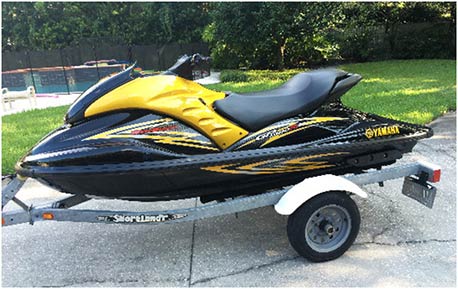 Enter the Diesel
With the rush to four-stroke powerplants – pushed by environmental and myriad other factors – just after the turn of the century, Yamaha introduced its first cam-and-valve models in 2004 with its FX High Output and FX Cruiser High Output models.
Beginning the next year, they would greatly expand their four-stroke offerings, debuting the affordable VX lineup and somewhat concentrating for a time on its more cruiser-like three-seaters.
While the GP nomenclature disappeared from the new Waverunner lineup for 10 years, Yamaha did introduce the model that would essentially morph into today's four-stroke GP series.
The relatively high-performance-focused Waverunner VXR debuted in 2011. Based on the previous year's VX Sport hull, Yamaha added it's then all-new and well received "NanoXcel" material to the package, laying claim to what was then the lightest hull in the industry – albeit much longer, wider, and heavier than its two-stroke counterpart.
With its 1.8-liter high output four-stroke engine, if not equal to its two-stroke brethren's performance, it did remind riders that a four-stroke 3-seater didn't have to handle like a luxury cruiser. Four strokes could still be sporty! Huzzah!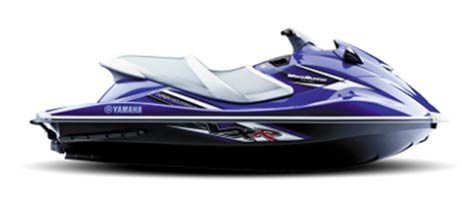 GP1800 – The Return of the King
After a ten-year hiatus, Yamaha finally pulled the cover off an all-new GP-demarked PWC in 2017 with the WaveRunner GP1800, expressly designed for closed-course racing and experienced high-performance riders.
Borrowing the hull from race-winning VXR campaigned by Yamaha racers in the years between GP releases, the GP1800 is a big departure from the two-stroke models in size but not in intent.
Well defined hull strakes, bow chines, and keel shape coupled with Yamaha's supercharged 1.8 liters Super Vortex High Output marine engine make for a thoroughly sporty and entertaining performance boat even if it is substantially heavier than earlier two-stroke GP models at 769 pounds.
The SVHO powerplant, with its high performance intercooler produced a whopping 250 horsepower! The GP1800 may have been large, but it is also in charge as the fastest and best handling four-stroke WaveRunner that Yamaha has produced to date.
Of course, the normally aspirated GP1800 with 180 horses on tap is no slouch either. Let's take a look at these two premier muscle boats.
The 2017-2020 GP return
Yamaha's reintroduction of the GP line would lead to immediate success at race courses and in the showroom alike.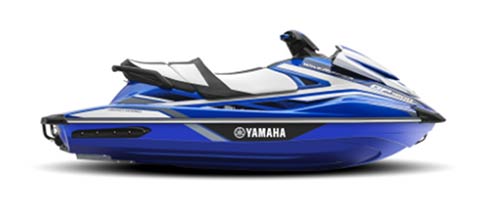 The "base model" GP1800 belies the term, as its 180-horsepower output made it the equal of very nearly any muscle craft available with precious few exceptions, one of them being Yamaha's own.
Its 1812cc four-cylinder four-stroke produces 180 horsepower in naturally aspirated form, and that's plenty to push the GP1800 to GPS proven speeds in excess of 66 mph. That's just damn near on pace with any machine on the water.
The throttle and steering response is super quick, very precise, and ultimately quite fulfilling to those of us who cut our teeth on earlier GP machines.
The SVHO model, with 250 ponies on tap, is even more so, matching its high-performance power output to a 160mm eight-vane pump for maximum thrust volume. Coupled with the lightweight NanoXcel 2 hull and deck material, the result is prodigious thrust and acceleration delivering a power-to-weight ratio that is virtually unmatched in the industry.
The current model
The most recent revisions to the GP1800 models came just last year. In 2021 the normally aspirated and HO models received a redesigned top hull. This change was quite appealing aesthetically, but was aimed at improving rider ergonomics and weight distribution.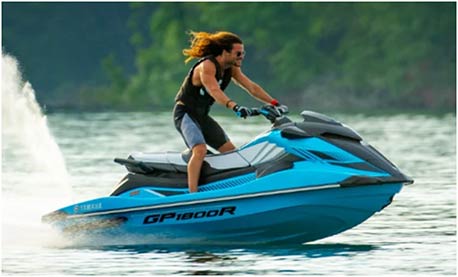 Like its two-stroke predecessors, Yamaha's current GP models have found considerable success on the racing circuit, and are pretty much the preferred weapon of choice these days. While not as sharply honed or playful as earlier machines, it is also much more applicable for family fun or long-distance cruising.
Power to Weight Through the Years
It's interesting to look at how power output has grown exponentially while actual performance has increased incrementally. I referred to some power to weight ratios earlier, but thought I would compile the lot here.
1997 WaveRunner GP760 – 470 pounds divided by 90 horsepower equals 1 pony per 5.2 pounds
1997 WaveRunner GP1200 – 525 pounds divided by 135 horsepower, 1 pony per 3.9 pounds
1998 WaveRunner GP800 – 498 pounds divided by 120 horsepower, 1 pony per 4.15 pounds
2000 WaveRunner GP1200R – 675 pounds divided by 155 horsepower, 1 pony per 4.35 pounds
2005 WaveRunner GP1300R – 655 pounds divided by 170 horsepower, 1 pony per 3.85 pounds
2017 WaveRunner GP1800R HO – 739 pounds divided by 180 horsepower, 1 pony per 4.1 pounds
2022 WaveRunner GP1800R SVHO – 769 pounds divided by 250 horsepower, 1 pony per 3 pounds!
Shaking a Fist at the Clouds
Listen, I'm a dinosaur. I've been riding WaveRunners since such a thing existed. And though I've already belabored my sentiments above, I sorely miss lighter and more playful watercraft.
I really want to go buy that GP1300 shown above. I don't need it, but I want it. Someone beat me to it, if you would. It would make a fantastic ride, and looks to be exceptionally well-preserved.
But back on point, Yamaha's GP series from soup to nuts is right up the alley of my personal tastes across the board. I might prefer those light and nimble GP800s from memory, but in actual practice, a modern GP is an altogether more versatile watercraft that is capable of ripping up a buoy course, and also doubling as a stable and friendly family boat suitable for carrying passengers in comfort.
Still, if performance is your end-all and be-all like it is mine, you won't regret finding a well-preserved two-stroke Yamaha Waverunner GP.