Way back in the day, some of us carried our jet skis to the beach in the back of our pickups, and manhandled them into the water. No trailers, no troubles.
Of course, I'm talking literal Jet-Ski, 550 and 650 stand-ups, and the occasional Yamaha SuperJet – twin-cylinder two-strokes that weighed in at about 275 pounds. We'd just grab them by the nose and tail and walk them over the sand.
Those days are gone, and good luck finding enough friends to help you carry a 900-pound super cruiser of personal watercraft.
Kawasaki and Yamaha both still produce new stand-up skis, but the weights have risen. The latest SuperJet, powered by Yamaha's 1049cc three-cylinder four-stroke marine engine, weighs 375 pounds. Kawi's Jet Ski with its 1500cc four-cylinder four-stroke engine now under the hood tips the scales at a whopping 550 pounds.
What you need now, is a PWC(Jet Ski) dolly.
Horses for courses
While dollies capable of rolling over the sand can be quite useful for ocean-side riders, they've become something of a specialty item.
As the performance and comfort of personal watercraft have grown, so has the size and weight of the craft we ride. Far more common are dollies designed for ease of maintenance and suitable for storage.
Obviously, a roll-around jet ski stand requires much less space in your garage than the whole trailer.
With a dolly, your personal watercraft can be safely moved around your driveway or garage. They are an excellent solution for winter storage if you do have a garage, keeping your boat out of the elements without eating up the floor space like an entire trailer would.
They also allow optimum access for maintenance or repairs. If you're trying to work on watercraft mounted on a tandem trailer, do yourself a favor and purchase at least one dolly.
For garage use, tie-downs are superfluous. The weight of the PWC is sufficient to keep the craft well planted on the cart when properly centered on the bunk rails.
These "shop dollies" are often quite affordable, and might be a worthy addition to your watercraft pursuits. We'll take a look at beach dollies a bit further down, but first, I'm going to suggest three garage-type dollies that I've had personal experience with.
The ubiquitous AquaCart
Probably the most sold brand ever, AquaCart has long been a staple at dealerships with both new models being displayed and owner's machines being maintained on this stalwart of the industry's carts.
A version now dubbed the AQ-19 is quite likely, as the manufacturer claims, the single most popular watercraft dolly available.
The units are powder coated and use all zinc hardware. Thick steel cross members on the frame roll on five-inch diameter wheels – six-inch heavy duty wheels are also available – mounted to four high-quality swivel casters for easy maneuverability. Wheel locks are also available to keep your watercraft from rolling when you don't want it to.
AquaCarts can also be purchased with all-aluminum construction for outdoor use.
With the five-inch wheels, the AquaCart product line is rated for 1300 pounds. With the addition of the one-inch larger wheels, capacity jumps to 1800 pounds. That's rough twice the weight of the largest watercraft available.
Carpeted and beveled bunk beams are easily adjusted for watercraft of any size. The 48-inch long pressure-treated bunk beams are also cleverly placed at about 19 inches above the ground, making the stand a good match for your average trailer. Dragging a ski from trailer to dolly should be a relatively uneventful task with an AquaCart.
You can purchase directly through AquaCart, at most Powersports dealers, and even on Amazon.
AquaCart's suggested retail prices range from $349.95 to $543.95. Careful shopping might net one for less, and after several decades of production, you may be able to find a used cart in your area. I've bought and sold at least a dozen of them myself over the years as my needs and available space changed. Highly recommended.
Black Widow PWC Dolly
The Black Widow brand dolly is a more affordable alternative that has grown in popularity.
Available direct from Black Widow at just $199.95 – with free shipping! – the Black Widow falls a bit short in weight capacity in comparison with AquaCart, but a 1000-pound rating is sufficient for any PWC currently available.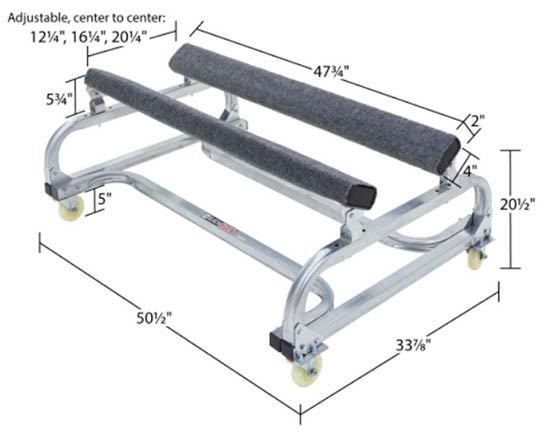 With galvanized steel construction, the Black Widow dolly will be rust proof and well suited for outdoor use. Bunk rails are easily adjustable, and being able to vary the lean angle of the rails is a nice feature.
However, the caster-equipped 3.75-inch wheels – two are locking to keep your cart and craft from inadvertently rolling – are a bit small for anything other than smooth surfaces.
A friend of mine has two of these units and has been quite happy with them with only one small exception – the tapered wheels (not flat across the rolling surface) marred his asphalt driveway slightly on one 95-degree Sunday by just sinking into the hot tar.
Ecotric PWC Dolly
A still more affordable alternative comes from what seems to be a bicycle company.
I wasn't personally familiar with this brand or dolly until another friend of mine purchased one on Amazon recently, and to be honest, it seems like a very good unit for the price thus far.
Weighing in at just over 50 pounds but with a stated load rating of 1000, the Ecotric also features galvanized steel construction. Carpeted bunks are adjustable in a 12-20 inch range.
Like the Black Widow listed above, the Ecotric unit has rather small wheels that will limit its use to smooth surfaces. All four are mounted on casters, with locking mechanisms on two of the four.
One caveat with the Ecotric is that the runners supplied are covered in carpet, but are also made of metal. This may be fine, but as my friend's PWC is pretty new and shiny, we elected to replace those bunks with treated 2 X 4 wooden runners. I suspect the sharp edges protruding from the carpet on the provided rail bunks will be unkind to the finish of your PWC, and would recommend that you do the same.
Time will tell, but I was pretty impressed with the overall build quality – well, we built it, it does come as a kit, but the components seem solid – of this very affordable cart. The Ecotric PWC Dolly is available on Amazon for a mere $149 with free delivery!
(I just remembered a second caveat: The instruction sheet is almost but not quite useless, consisting of just a single breakdown diagram that does a poor job of designating the individual components and proper fasteners for various applications. We're old hands at disregarding instructions and fabrication, so it posed little problems for us. Your mileage may vary.)
What about building your own?
I wouldn't. I have done it, but I wouldn't again. Although a watercraft cart doesn't exactly require advanced engineering skills, it does require the proper materials – and the cost of materials continues to rise precipitously right now.
Wooden construction will decay, and while we once made roll around carts from PVC tubing, I wouldn't trust the weight of a modern watercraft on the latter. As to the former – either, probably – by the time you've bought the materials required you'll have spent more than the lower priced carts above.
Your best budget solution is to buy something built specifically for the task at hand by companies that can achieve economies of scale, and not build your own one-off.
Back to the beach!
Sometimes a riding area can be accessed by land, but not water. Most long sandy strips of beach along the ocean-side are bereft of loading ramps. And the dockside location that might be many miles away from where you want to ride is often a zoo of people jockeying for position. Especially on the weekends.
The fix isn't inexpensive, but balloon tire equipped PWC dollies can be used to transport one's watercraft right from the trailer and into the sea.
Wheeleez PWC (Jet Ski) Dollies
The industry leader in this category is Wheeleez, a multi-faceted manufacturer that makes products ranging from wheelchairs to fishing carts designed specifically for use in deep sandy conditions.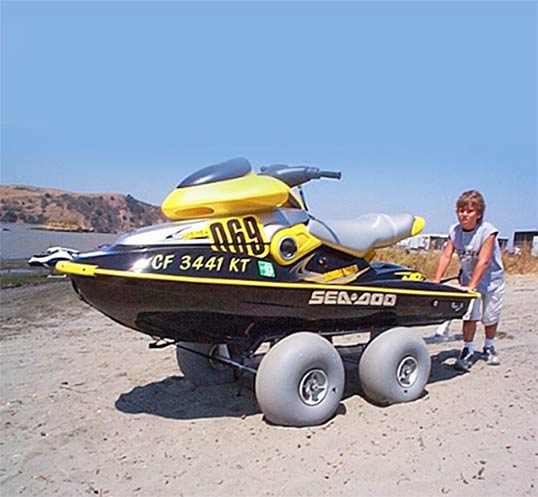 The company's PWC specific product line is certainly a bit pricier than the garage-oriented stands listed above, but one of their carts will work nearly as well in the garage while allowing a much greater degree of versatility if you have the need for it.
Units from Wheeleez start at $860, with a model suitable for larger runabout craft bumping that price of entry up to $1290.
The primary feature that differentiates the Wheeleez product is the polyurethane beach wheels, which measure nearly 20 inches in diameter with a 9-inch width. These wheels allow for reasonably easy passage over even the most sugary of sands.
The Wheeleez carts include retaining straps for safe transport of your watercraft over rough ground, and an option hitch kit can be attached for easy towing behind an ATV. (Note that these carts are not designed to be towed on the road. At all. Strictly off-road use only.)
The four wheel equipped $1290 model offers a maximum load capacity of 770 pounds – this covers roughly 90 percent of the current PWC available, but if you have a particularly large and comfortable machine it may overload the design.
But for sportier and lighter machines most offshore riders would prefer, the Wheeleez is a great way to put in. The quality frame is constructed from hardened 6061 aluminum that is anodized to a marine grade.
The unit a few of us share has been with us for nearly 20 years, and I can personally attest to its trouble free longevity.