Spring is finally here and for many of us that means one thing – time to hit the water and catch fish!
In order to fish legally the first step is usually to buy a fishing license. In most cities, there are a variety of places where you can purchase a fishing license, but one of the quickest and easiest options for most Americans is to buy it at Walmart.
Walmart is a logical place to purchase a fishing license because at Walmart you can buy everything you need for a day on the water in one go, from fishing tackle to beverages, and pick up your license at the same time.
Is Walmart really an ideal place to buy a fishing license? In this article, we'll cover everything you need to know about buying a fishing license from Walmart, from the cost and purchase process to the advantages of buying a license at Walmart vs their competitors.
Why Get a Fishing License at Walmart?
In the USA, there are over 5,000 Walmart stores located all over the country, so no matter where your favorite fishing hole is, chances are there is a Walmart nearby.
Walmart has obtained permission from the government to sell fishing licenses in 47 states.
Since Walmart also carries all kinds of other products that are useful for fishermen, you can pick up your fishing license at the same time you shop for groceries or fill your prescriptions.
The fishing licenses that are available at Walmart are no different than a license bought from the Department of Fish and Wildlife or any other natural resource department and are 100% legitimate.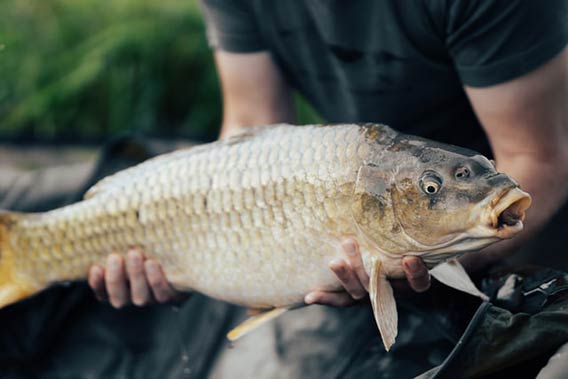 Sometimes when you are traveling out of town on a fishing trip, it can be a real inconvenience to track down the appropriate government agency to buy your fishing license. But Walmart is always easy to locate in any community.
Simply put, for most Americans, there is no place more convenient to buy a fishing license than at your local Walmart.
Related: Important Info on Fishing Safety [Jet Ski]
How Much Does a Walmart Fishing License Cost?
The amount of money that your fishing license is going to cost varies depending on the type of license you are buying, the period of time that you plan to fish, your age, and the location where you plan to fish.
In most cases, fishing licenses are the cheapest for residents of the state where the license was purchased. Walmart also charges a small processing fee, but the same usually applies to any other distributor as well.
Depending on your state, you may be eligible for a discount if you are an active member of the military, a veteran, a senior, or under the age of 16. When purchasing your license, it's a good idea to ask the Walmart associate if you could be eligible for any discounts.
The cost of a fishing license at Walmart is generally the same as you would pay if you purchased it directly from your local natural resource department. Non-residents almost always have to pay for a fishing license in the United States, except for a few exceptions, such as freshwater lake fishing in some National Parks where anyone can obtain a license for free.
You can easily find the current prices for fishing licenses online. Below is an example of the cost to purchase various types of fishing licenses in my home state of Washington as posted on the eregulations.com website:
Annual Fishing Licenses
| | ADULT ANGLER RESIDENT 16+ | ADULT ANGLER NON-RESIDENT | SENIOR ANGLER RESIDENT 70+ | ANGLER AGE 15 | RESIDENT REDUCED FEE | NON-RESIDENT DISABLED VETERAN |
| --- | --- | --- | --- | --- | --- | --- |
| Get Outdoors | $236.18 | — | — | — | — | — |
| Fish Washington (includes a VAP 2) | $69.55 | — | — | — | — | — |
| Combination (includes a VAP 2) | $55.35 | $124.65 | $19.05 | $8.05 | $11.35 | $55.35 |
| Freshwater (includes a VAP 2) | $29.50 | $84.50 | $7.50 | — | — | — |
| Saltwater (includes a VAP 2) | $30.05 | $59.75 | $8.05 | — | — | — |
Short-term Fishing Licenses
| | ADULT ANGLER RESIDENT 16+ | ADULT ANGLER NON-RESIDENT | SENIOR ANGLER RESIDENT 70+ | ANGLER AGE 15 | RESIDENT REDUCED FEE | NON-RESIDENT DISABLED VETERAN |
| --- | --- | --- | --- | --- | --- | --- |
| 1 Day Combination | $11.35 | $20.15 | $11.35 | — | — | — |
| 2 Day Combination | $15.75 | $28.95 | $15.75 | — | — | — |
| 3 Day Combination | $19.05 | $35.55 | $19.05 | — | — | — |
How to Obtain a Walmart Fishing License Quickly and Easily
It's fast and easy to obtain your fishing license from any Walmart store.
Before you shop, keep in mind that most Walmarts don't sell fishing licenses 24 hours a day, even if the store is open all night.
Tips: Since the outdoor section is usually only manned during regular business hours, it's best to plan on purchasing your fishing license between 8 am and 5 pm, although the exact hours will vary by store.
Here's how to buy a fishing license from Walmart.
First, make sure to bring an up-to-date identification and proof of residence. A rent or utility bill should suffice just fine to prove you are a resident of the state.
Next, head to the outdoor section of the store where you will find a counter for purchasing firearms and fishing/hunting licenses. Here you can ask for a fishing license and an employee will hand you a form which can be filled out there at the store.
The employee will then confirm the duration and type of fishing license that you wish to purchase, check your age and inform you of the total cost (This is the time to make sure to ask if any discounts may apply to you).
In most states, you can pick from one of three types of fishing licenses:
A 24 hour fishing license
A 3 or 5 day fishing license
An annual fishing license
You will also get to choose between a freshwater or saltwater fishing license. Once you have paid the fee, the Walmart employee will give you your license as well as a booklet that covers the local fishing regulations for that state.
Congratulations – you are now ready to fish! Don't forget to stock up on fishing tackle and any last minute supplies before you leave the store.
Related: Comparing Jet Ski Models For Fishing
Does Each State Have Different Requirements?
The requirements to purchase a fishing license are the same in every state. Just bring your ID, proof of residency, and payment.
Of course, you'll also want to know ahead of time what type of license you want to apply for ahead of time and know the areas where you plan to fish.
What are the Alternatives to a Walmart Fishing License?
If you prefer not to shop at Walmart, there are various alternatives available for anyone seeking a fishing license.
Many outdoor and recreation stores sell fishing licenses and you can always obtain your license directly from the local natural resource department in the state where you plan to fish.
There have been various claims made around the internet that it's possible to obtain an online fishing license through Walmart, but my research has found this to not be the case.
When you visit Walmart.com and search for a fishing license, the website will direct you to a nearby store where you can buy your fishing license in person.
This shouldn't be a problem though, because if you are unable to visit a store in person, it's possible to buy a fishing license online through the regional natural resource department.
If you plan on taking a road trip to fish in more than one state, buying a fishing license online may be your best bet, since you can take care of the legal part before you leave home. That way you will be able to relax and enjoy your trip instead of finding stores to purchase your fishing license in each new state.
Buying a fishing license is usually a straightforward process no matter where you shop, and the prices are similar at outdoor/recreation stores, government agencies, or Walmart.
The main advantage to purchasing your license through Walmart is that it's a convenient one-stop-shop for everything you could need on the water.
Summary
For American recreational fishermen, there is a no more convenient place to buy your fishing license than at your local Walmart.
Buying a fishing license at Walmart is cheap, fast, and convenient, especially if you are already a regular Walmart shopper.
If you are on a long-distance fishing trip and don't know where to buy your license, just swing by Walmart and you will be legally on the water in no time.