Supercharged personal watercraft provide exhilarating acceleration and performance – and a bit more concern for owners.
Yamaha WaveRunner SVHO owners have less cause than others, however, as the chance of a supercharger failure is quite slim and the possibility of said failure causing extensive engine damage is essentially non-existent due to Yamaha's superior design.
While some may conflate supercharger failure leading to grievous damage from Yamaha's primary competitor Sea-Doo as cause for concern, we're here to alleviate that… mostly.
What are the benefits of a supercharger? How do they work?
The benefits of a supercharger are obvious the first time you step aboard a so-equipped unit.
Superchargers essentially force more air and fuel into an engine, significantly increasing horsepower output – and thus, acceleration and performance.
Normally aspirated personal watercraft engines – that is, non-supercharged motors – can offer up to 180 horsepower. A little forced induction can increase output exponentially. Currently, available supercharged Yamaha, Kawasaki, and Sea-Doo personal watercraft engines provide from 250 to 300 ponies.
So how do PWC superchargers work?
Supercharger systems vary in implementation and method. We'll get back to that. The basics are this: a supercharger is an air compressor consisting of a housing containing an impeller. The impeller is driven off the engine's crankshaft, yet spinning at much higher speeds. Internal blades rotate at as much as 50,000 revolutions per minute to compress more air into the air/fuel mixture.
As you'd imagine, this incredible rate of internal speed does provide a good bit more external acceleration at the seat of your pants, yet also requires an owner to be aware that a supercharger unit requires a bit of extra attention to ensure continued proper operation.
Less so if you choose a Yamaha WaveRunner.
How often does a Yamaha WaveRunner supercharger need to be serviced?
As a testament to Yamaha's corporate confidence in its design engineers, the company doesn't even establish a service interval for its superchargers.
This is in stark contrast to Sea-Doo. Generally, Sea-Doo superchargers require a rebuild every 100 engine hours. This varies from model to model, and if you are a Sea-Doo owner – well, consult your owner's manual, and this article isn't really for you. Be aware, however, that supercharger bearing failure can severely damage a Rotax motor.
Conversely, with a WaveRunner, owners can rest assured that even with a bearing failure, the design ensures that any damage will be contained to the supercharger unit itself and not extend into damage to the entire engine.
How much does it cost to service a Yamaha supercharger?
Certainly much less than its primary competitor in the marketplace.
A replacement supercharger assembly for a Yamaha SVHO or GP1800 can be purchased for under $2500 – but it's quite unlikely that you'll ever need to do that.
First and foremost, there are precious few anecdotal stories of actual supercharger failure on a Yamaha machine.
Far more common is the failure of a one-way clutch that Yamaha utilizes to ensure those supercharger failures are extremely rare. When this clutch fails, the charger just freewheels. If the performance of your Waverunner suddenly wanes, this is by far the most likely culprit.
Let's break it down, in order of likelihood.
Yamaha's one-way supercharger clutch design
In order to forestall a bearing failure in the supercharger itself and to limit damage to the actual engine, Yamaha employs a one-way clutch.
If your Waverunner suddenly loses performance, is sluggish, and doesn't want to come up on a plane to the water's surface, it is relatively easy to diagnose whether or not (more likely than not) if you have experienced a failure of this clutch.
With a flat blade screwdriver, remove the clamp to the rubber tube that leads to the supercharge intake shown in the Yamaha parts diagram below.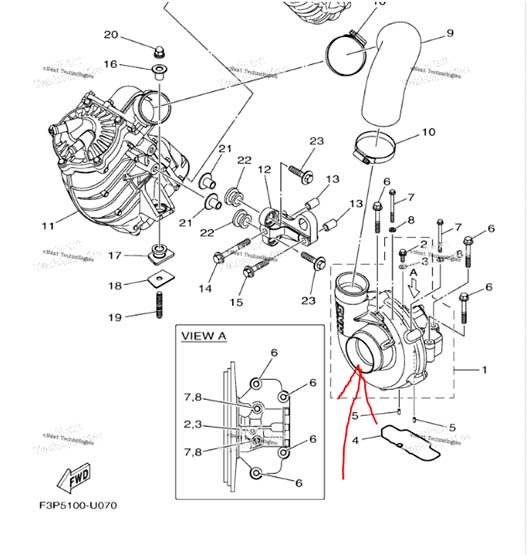 An impeller sits just inside the opening. (To perform this relatively easy check yourself, obviously have the engine off and the safety lanyard removed. You DO NOT want this impeller spinning by any means other than your finger, which you probably don't want to lose!)
With said finger, check to see if the impeller spins only in the clockwise direction. If you can spin it in both directions, the clutch mechanism has failed.
This is not inexpensive. Yet, it is immensely less costly than the sort of engine destruction that has resulted from supercharger failures with Sea-Doo.
Even if you are comfortable with performing your own labor – which will involve removal of the intercooler (and intercooler bracket), supercharger, all attached plumbing, and clamps, not to mention certain special tools that you almost assuredly don't already own – expect to pay in the neighborhood of $500-800 for a replacement clutch assembly using genuine Yamaha parts.
Reputedly superior replacement units are also available at the upper end of that range from are available from an array of aftermarket manufacturers, including but not limited to Riva Racing.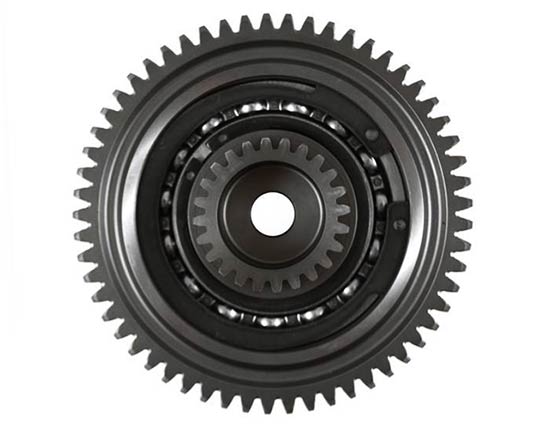 Yamaha changed this one-way clutch mechanism in 2008 and again in 2017. Be sure you are ordering and/or purchasing the correct parts for your specific model.
Or… just take your watercraft to a reputable repair specialist, and have them order the parts.
I began to type the specific steps involved in accessing the clutch mechanism, and before I'd even gotten to the removal of the cover from where it resides, I'd exceeded by far the perceived optimum word count for an article to be placed on the internet with best results for search engine optimization. So strike that.
It's a somewhat complicated process, and requires a modicum of mechanical skill and experience. If you feel confident in yourself, there are numerous tutorials on YouTube that will take you through all the steps.
The other known issue
It's even more rare, but aggressive riders who operate their WaveRunners in choppy waters can experience wear to the supercharger shaft and bearings. I'd hesitate to call it a design flaw on Yamaha's part, but the superior shaft and bearing designs have been developed by Riva.
With Yamaha's factory design, the supercharger shaft and the gear are two separate parts that are force pressed together. If this joint loosens, bearing failure can result.
The company offers an upgraded "super duty" shaft kit that utilized a hydraulic shaft stabilization bearing that is superior to the OEM design, limiting shaft deflection and the wear that results. This replacement shaft is precision machined from high-strength billet steel. For additional reinforcement, the shaft, collar, and gear are all included in a single unit.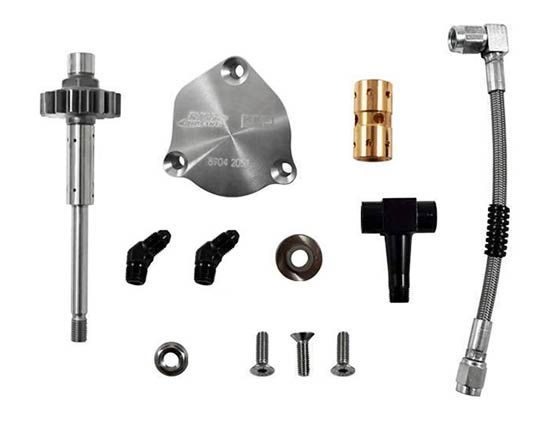 Riva also upgrades the shaft's oiling system with a through-shaft feed, with additional oil supplied by a braided stainless steel oil line that injects into a billet end cap that captures the hydraulic bearing.
Basically, the upgrade will improve the torsional stability of the shaft while also providing more oil to the fast-spinning unit. The shaft and bearing kit is a direct replacement for Yamaha's stock OEM parts, requiring no additional modification beyond installation.
This is, again, not terribly complicated but may be beyond the grasp of most PWC owners to do themselves with common tools.
Rebuild kits are available
For those supercharged WaveRunners that are a bit longer in the tooth, Riva Racing again has Yamaha owners covered with a quite affordable general supercharger rebuild kit for 2008 through 2017 models.
Designed to replace fatigued original components that are beginning to wear excessively and showing signs of fatigue or even failure, this kit includes a replacement thrust plate along with bearings and rings designed to work with either original equipment or aftermarket supercharger shafts.
Riva sells this kit for just $249. Like the components listed above, you may want to pay a qualified mechanic for installation.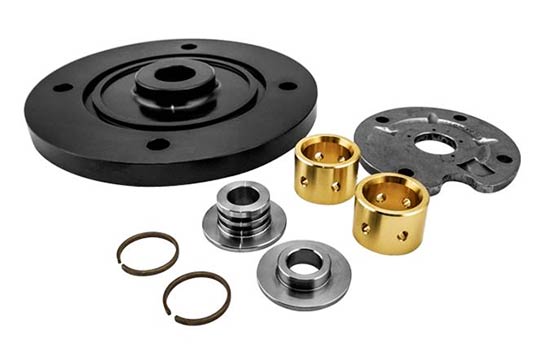 Summing up the supercharger situation
Due to Yamaha's superior design, WaveRunner owners do not need to fear having to replace an entire engine should a failure with supercharger components occur. The manufacturer's engineers have done an excellent job of building in a fail-safe design with the one-way clutch that transfers power from the supercharger to the engine.